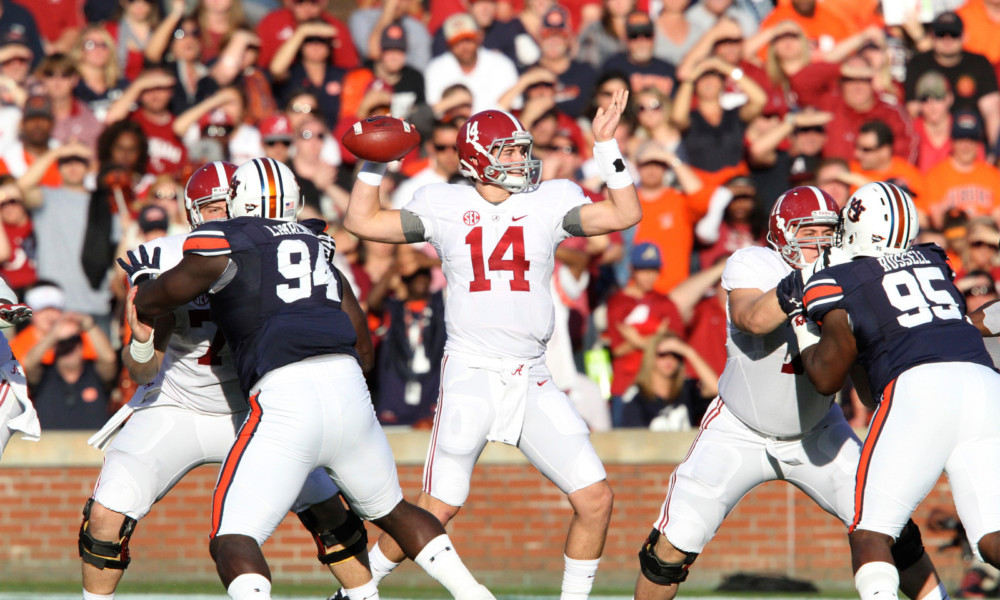 The NFL Scouting Combine is over and many collegiate institutions have finished its respective pro days. With players now working out for pro teams, the 2016 NFL Draft is roughly over one month away.
Alabama football had nine players to participate in the combine and 19 student-athletes to work out during its pro day on March 9. Fans will file inside the Auditorium Theatre in Chicago on April 28-30, as the new wave of talent looks to make its mark.
Yours truly of Touchdown Alabama Magazine has constructed the first installment of a draft projections for former Crimson Tide standouts.
Projections in the NFL Draft for Alabama players
Derrick Henry, RB, Dallas Cowboys
Summary: Henry is set to visit the Cowboys in April. The 6-foot-3, 247-pound back has made it known during multiple occasions of his desire to play in Dallas. He secured the nation's 81st Heisman Trophy last season, totaling 2,219 rushing yards and 28 touchdowns on 395 tries.
Cowboys' owner and general manager Jerry Jones is in a tough situation between either taking Henry or Ohio State defensive end prospect Joey Bosa, yet re-signing linebacker Rolando McClain might have made the decision easier. A strong rushing attack guide Dallas to the playoffs in 2014, when DeMarco Murray (now in Tennessee) put in 1,845 yards and 13 scores.
Help is needed on defense for the Cowboys, but Tony Romo is no spring chicken. He will be 36 years old in April and has already gone through two surgeries with his back and collarbone. Dallas needs a running back to show off its exceptional offensive line.
It will take Henry with the fourth overall pick.
Reggie Ragland, ILB, New York Giants
Summary: New York is hoping it gets half the player Jason Pierre-Paul was, prior to injuring his left hand in a fireworks incident on July 4, 2015. Pierre-Paul recorded 16.5 sacks in 2011 and 12.5 sacks in 2014. The Giants re-signed the six-year defensive end, but also brought him some help in acquiring former Miami Dolphins edge rusher Oliver Vernon. Vernon has 29 career sacks, with 7.5 coming in 2015. An imposing figure at inside linebacker seems to be the next move.
Reggie Ragland fits New York perfectly as a downhill thumper with lateral quickness.
The 6-foot-1, 247-pound linebacker amassed 220 career tackles, with 102 coming in Alabama's national championship run last season. He anchored a Crimson Tide unit that led the nation against the run, allowing 75.7 yards per game. The Giants finished 24th in the NFL, surrendering 1,942 rushing yards (121.4 ypg) and 15 touchdowns.
Ragland has enact for creating negative plays, as he posted 17 tackles for loss and four sacks in two seasons as a starter (2014-15). New York sits with the 10th overall pick.
Rumors have it taking ex-Ohio State running back Ezekiel Elliott; however, it was defense that guided the Giants to two Super Bowls in the 2000s era.
Jarran Reed, DT, New Orleans Saints
Summary: Tight end Coby Fleener gives Drew Brees another weapon on offense, but it does not make up for the atrocious run defense New Orleans had in 2015. The Saints finished second to last in the league, giving up 2,076 rushing yards (129.8 ypg) and 12 touchdowns.
Jarran Reed provides a force on New Orleans' defensive line should it draft him with the 12th overall pick. He led Alabama's defensive front in tackles with 54 and 57 during the 2014 and 2015 seasons. Reed is not a big time pass rusher, nevertheless, he did record two sacks and eight quarterback hurries in his career.
The Goldsboro, N.C. native dropped six pounds between the Senior Bowl and NFL Combine, going from 313 to 306. He has 111 career tackles, including 11 tackles for loss. Reed helped the Crimson Tide limit opponents to 75.7 rushing yards and seven touchdowns last season.
A'Shawn Robinson, DT, San Diego Chargers
Summary: A'Shawn Robinson is projected as the No. 1 defensive tackle prospect in this year's draft class. Robinson, like Reed, lost six pounds between the combine and Alabama's pro day, going from 313 to 307. He collected 133 tackles during his tenure at Tuscaloosa, with 46 of them coming in 2015. Robinson has totaled 22 tackles for loss and despite not being known as a sack specialist, he managed to take down nine quarterbacks in his career.
His athleticism is uncanny for a man who stands at 6-foot-4. Robinson's leaping abilities on special teams became prolific, as he recorded three blocked field goals.
The 2015 Outland Trophy finalist helped a group that ranked among the leaders in rush defense (75.7 ypg), total defense (276.3 ypg) and scoring defense (15.1 ppg).
San Diego needs a presence at defensive tackle that can command a double team and stop the run. The Chargers ended last season 27th in run defense (125.3 ypg) and 24th in sacks (32). It will have the third overall pick in the NFL Draft.
D.J. Pettway, DE, Miami Dolphins
Summary: Miami was able to get Mario Williams to replace Olivier Vernon, yet it still needs depth on its defensive front. Defensive end Cameron Wake had only nine tackles last season, as an Achilles injury ended his 2015 campaign. A healthy Wake bodes well for the Dolphins, but adding former Crimson Tide standout D.J. Pettway into the mix could greatly benefit the team.
He had some character issues in the past, nevertheless, Pettway ended his career strong at Alabama. He put in 48 tackles, 12.5 tackles for loss and seven sacks in three seasons (2012, 2014-15). His size—6-foot-2, 265 pounds—is not ideal for a defensive end, still Pettway has the hands and footwork to be an asset.
Miami was 28th in the league against the run, surrendering 2,019 yards and 13 touchdowns. It tallied 31 sacks and finished 26th in third down defense, allowing opponents to convert 43.4 percent. Pettway was a part of an Alabama defense that allowed 75.7 rushing yards, while leading the nation in sacks with 52 during its national championship run last season.
Ryan Kelly, Center, Washington Redskins
Summary: Kirk Cousins stepped up at quarterback last season during his fifth year in Washington. He accounted for 4,166 passing yards with 29 touchdowns to 11 interceptions, despite being sacked 27 times. Washington finished just outside the top 10 pass offense, averaging 256 yards per game (11th in the NFL).
Regardless of its success through the air, the Redskins are in a tough NFC East Division where balance is key. It ended 2015 being 20th in rushing (97.9 ypg) and 17th in total offense (353.8 ypg). Now, insert Ryan Kelly into the equation.
He enrolled at Alabama in 2011, but started three years at center.
The Crimson Tide averaged 200 yards rushing in 2013 and 2014. Kelly blocked for 199.9 yards per game in 2015, while guiding Heisman-winner Derrick Henry to 2,219 yards and 28 touchdowns on 395 carries.
His instincts as a pass protector came into fruition during the last two seasons, as Kelly did not allow a sack. Alabama's offense averaged 400 yards in all three seasons with Kelly as a starter.
Jacob Coker, QB, Los Angeles Rams
Summary: Four NFL teams—Cleveland Browns, Houston Texans, Denver Broncos and Philadelphia Eagles—are in dire need of a quarterback. The Los Angeles Rams (formerly known as St. Louis Rams) join the bunch as the fifth team that can use a potent signal-caller.
Los Angeles finished last in pass offense, totaling 175.3 yards per game. Nick Foles struggled under center with 2,052 yards and seven touchdowns to 10 interceptions, while posting a quarterback rating of 69.
Jacob Coker averaged 207.3 passing yards a game for Alabama.
He threw for 3,110 yards with 21 touchdowns to eight interceptions on a 66.9 percent completion mark. His toughness and progressive mechanics led the Crimson Tide to a College Football Playoff national title last year.
The Rams were among the leaders in rushing, amassing 1,956 yards and 16 touchdowns. Running back Todd Gurley chimed in with 1,106 yards and 10 scores.
If Coker is drafted within the first five rounds, look for Los Angeles to make a move. Even if he goes undrafted, the Rams will be among the few teams to work with him as a free agent.
Kenyan Drake, RB, Tampa Bay Buccaneers
Summary: Buccaneers' running back Doug Martin put in his second 1,000-yard performance in 2015, totaling 1,402 yards and six touchdowns. Tampa Bay re-signed him to a five-year, $35.75 million contract extension on March 9.
With Martin being its power back, the Buccaneers now need a change of pace guy to spell him. Charles Sims was thought to be that player; however, he was inconsistent last season. Pairing Kenyan Drake with Martin and quarterback Jameis Winston would provide a lot of excitement for Tampa Bay. Winston tossed for 4,042 yards with 22 touchdowns to 15 interceptions. He was a finalist for NFL Rookie of the Year, despite a narrow touchdown to interception ratio.
Drake, 6-foot-1 and 210 pounds, excelled as a back, receiver and return man at Alabama. He recorded 1,189 all-purpose and 23 total touchdowns on 125 plays.
His 4.45 speed makes him a nightmare to tackle in open space. A healthy Drake makes a strong acquisition for a team in the third or fourth round.
Cyrus Jones, CB, Pittsburgh Steelers
Summary: Pittsburgh is a competent secondary away from being a Super Bowl team.
Its pass defense suffered in 2015, landing 30th in the NFL. The Steelers allowed 4,350 yards (272 ypg) on a 64.3 percent completion mark. Opponents' threw for 29 scores to 17 interceptions. Cyrus Jones is not a top prospect, yet he is a textbook defender.
The 5-foot-10, 197-pound cornerback anchored an Alabama secondary that surrendered 3,009 (200.6 ypg) passing yards last season, a difference of 1,341 yards from Pittsburgh. Jones is sound when it comes to defending the run, generating 106 career tackles and 7.5 tackles for loss.
His 25 pass breakups and seven interceptions speak to his good ball skills in coverage. Jones has the speed to stay with receivers—4.49 seconds—yet, he must look for the ball when it is coming.
Dominick Jackson, OG, Indianapolis Colts
Summary: Dominick Jackson is listed at offensive tackle, but he will transition to guard in the National Football League. He did a serviceable job at Alabama, blocking for 199.9 rushing yards a game but he struggled against elite competition.
Jackson could be taken in the sixth or seventh round; however, it is more than likely to see him go undrafted.
Chuck Pagano, head coach of the Indianapolis Colts, saw some good things from Jackson in Alabama's pro day. The Colts were one of the worst rushing teams, mustering up 89.9 yards per game. Indianapolis gave up 37 sacks and finished 28th in total offense (321.4 ypg). It desperately needs to add bodies on its offensive line.
Projections for Alabama players as rookie free agents
Dillon Lee, LB, New York Giants
Denzel Devall, LB, Detroit Lions
Geno Matias-Smith, DB, Atlanta Falcons
Jabriel Washington, DB, Oakland Raiders
Richard Mullaney, WR, New England Patriots
Michael Nysewander, TE, Arizona Cardinals
Darren Lake, DT, Buffalo Bills
Ty Flournoy-Smith, TE, Houston Texans
Stephen M. Smith is a senior analyst and columnist for Touchdown Alabama Magazine. You can "like" him on Facebook or "follow" him on Twitter, via @ESPN_Future.