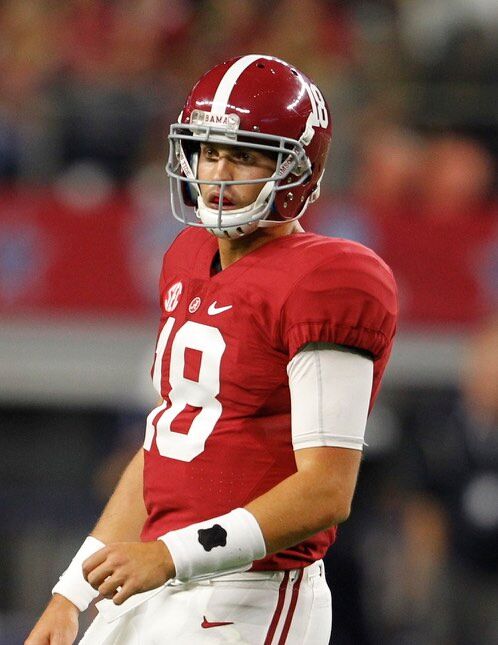 A redshirt  junior, redshirt sophomore, redshirt freshman, and true freshman step on the field … who will be the starting quarterback?
No, this isn't the beginning of a bad sports joke. It's the question facing Alabama Crimson Tide coach Nick Saban heading into the 2016 season. With the departure of Jacob Coker, the Tide will need to find a signal caller to lead them next season.
With spring practice underway, the top contenders seem to be redshirt junior Cooper Bateman, and redshirt freshman Blake Barnett.
Bateman brings experience, battling for the starting spot last season all the way through the Ole Miss game where he was replaced by Jacob Coker in the second half. Although Alabama lost a heart breaker at home, Coker would win the hearts of fans and his teammates for showing his resiliency against Ole Miss.
He would go on to lead Alabama for the rest of the season, and win a national championship. Bateman watched on from the bench.
Does Bateman's past experience as a starter give him an upper hand in the quarterback competition? Well in terms of experience, yes it does.
He has the most experience on the field of all the potential quarter backs, and he has some play making ability with his legs. Bateman's biggest downfall would be the burnout experienced competing against younger guys. He has more wear and tear, which could retract from his appeal as a starter.
We know what Cooper can do … well, at least we think we do. Some plays on the ground, decent arm strength, so basically an efficient signal caller. Really, what he lacks is an "X" factor.
In comes Blake Barnett. The Cali kid who boasts the only five star rating as a quarterback in the competition. He's a hot shot, who trains with quarterback guru George Whitfield Jr. (Cam Newton, Andrew Luck and Johnny Manziel are just some of the guys Whitfield has worked with). Barnett seems to be a fan favorite, an unknown, a bit of a maverick who gets attention from media and coaches alike.
Barnett served as the simulation quarterback for the Tide when they prepared for fast-paced offenses they faced last year. He can do it all on the ground, and in the air. So, why not start Barnett?
Consistency. If Nick Saban is consistent in the way he picks quarterbacks, he'll give Bateman the reigns being that he is the most seasoned player in the competition. It's the scenario we all know: "He's been here, he knows the system, so it's his job to lose."
Don't get it twisted. Barnett has shown that he wants this job. He's put only healthy size, and lots of work with quarterback coaches. Saban may implement a two quarterback system that will separate a leader from a backup, much like he did with Bateman and Coker.
Whoever starts will benefit from some stellar line play out of guys like Cam Robinson (arguably the best left tackle in college football). Receivers like Calvin Ridley and tight end O.J. Howard will be nice targets for any starter. If Damien Harris improves on last season, and Bo Scarborough lives up to his hype, the starting quarterback will also have a nice ground game to even out the pressure. Tide fans aren't looking for a quarterback to carry the offense, just one who can effectively utilize it.
What about David Cornwell? Let's not forget about the Oklahoma native who at one time last spring was considered a serious contender for the starting spot. He has all the physical tools to be a starter, but his name seems to fade in the conversation when the quarterback competition is mentioned. The arm strength is adequate, and the size will help his case, but he really seems to only be a solid No. 2 guy.
True freshman Jalen Hurts only lacks the experience to be named starter. He has the arm, size and the legs to make all the plays. If we look at history, Nick Saban has never started a true freshman under center during his tenure at Alabama. Hurts is definitely the most athletic quarterback on the roster. He put up eye popping numbers during his high school career in Texas. Fans should expect Hurts to redshirt and make a name for himself in years to come.
With that being said, it just seems like Bateman is the safe choice. A guy who has started, seen adequate field time and has respect from teammates and coaches. Putting talent aside, Bateman's experience may just propel him to the starting spot, but as said before, it will be his job to lose.
Blain Bradley is a contributor for Touchdown Alabama Magazine. You can "Follow" him on Twitter, via @blainbradley1 or "like" him on Facebook