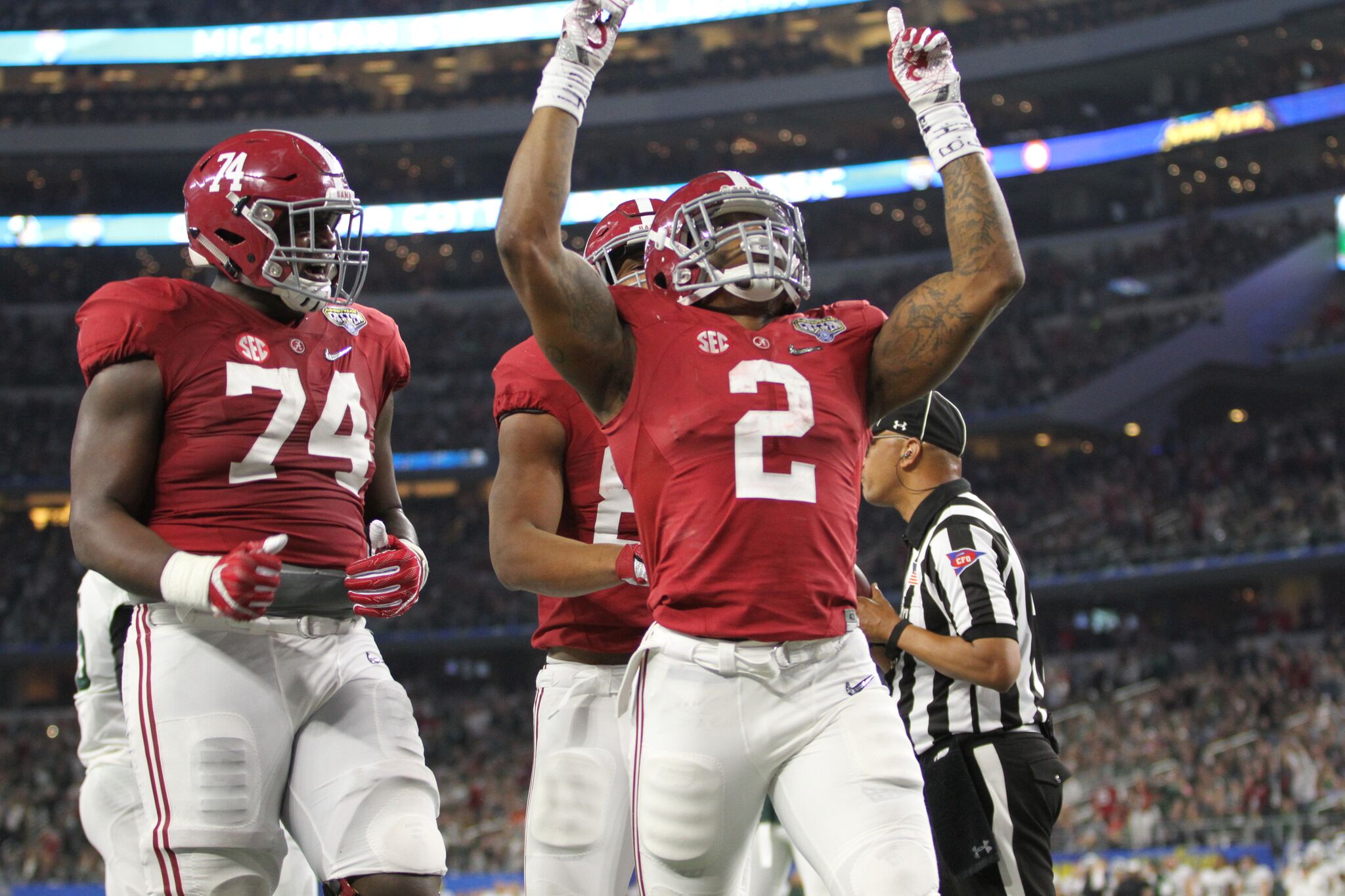 As Derrick Henry gets ready for the NFL draft, Alabama is looking to replace the Heisman winner. For many losing a Heisman winner would spell doom, but for the Tide it won't be a difficult task with numerous four and five star recruit running backs on the roster.
Alabama has made a statement producing all-American and NFL caliber running backs year in and year out. With Mark Ingram and Derrick Henry winning Heisman trophies, running back recruits have looked to come to Tuscaloosa to make a name for themselves as rushers.
Just look at this photo … It tells it all: six different running backs have graced the cover of Sports Illustrated.
All eyes were on Derrick Henry at the 2016 NFL combine, but running back Kenyan Drake turned heads with his 4.45 40 yard dash time. This just adds to the Alabama's case as "Running Back U", showing the Tide's immense depth at tailback.
Henry leaves Alabama as the Tide's all time leading rusher with 3,591 (he surpassed three time pro bowler and 2005 NFL MVP Shaun Alexander). Henry may be Alabama's most decorated rusher, but the lineage of running backs at Alabama runs deep.
Mark Ingram was a Heisman winner and NFL first round draft pick, Trent Richardson also was a first round pick, and Eddie Lacy a pro bowler and rookie of the year. The list goes on (I didn't forget about you Glen Coffee and T.J. Yeldon).
Although 2015 was a tough year for some former Alabama running backs in the NFL, look for a bounce back for the former tide players in 2016.
Eddie Lacy was criticized for his weight gain, but still managed to compile 758 yards on the ground (he has trained with P90X founder Tony Horton, and looks like he has slimmed down).
Trent Richardson was signed by the Raiders in 2015, but missed training camp due to pneumonia, which led to him being cut by  Oakland. The Ravens have been rumored to be interested in Richardson, and he may still have something to offer for NFL teams who need to sign a free agent back.
After signing a four-year deal with New Orleans, Mark Ingram had a strong 2015 campaign with the Saints totaling 769 yards and six touchdowns.
T.J. Yeldon had a solid rookie season in Jacksonville, where he rushed for 740 yards. With Derrick Henry and Kenyan Drake coming into the league, the NFL will have rosters loaded with Tide running back talent.
The only school that could possibly stand with Alabama in the "Running Back U" conversation is the actual "U", the University of Miami. The Hurricanes have produced some stellar running backs including Edgerrin James,Willis McGahee, Frank Gore and most recently Duke Johnson.
Most recently, top 2017 running back prospect (and number 2 overall recruit according to Rivals) Najee Harris committed to Alabama, hoping to join the ranks of Alabama's legendary backs.
The Tide will turn to Tuscaloosa native Bo Scarborough and Damien Harris to fill in for Henry. This may be a large task to take on, but Harris has experience having backed up Henry during 2015. Scarborough is a physical specimen, with great athletic ability very similar to Henry.
If Scarborough and Harris continue to develop like Henry and running backs past, they will uphold Alabama's reputation as "Running Back U".
Blain Bradley is a contributor for Touchdown Alabama Magazine. You can "Follow" him on Twitter, via @blainbradley1 or "like" him on Facebook