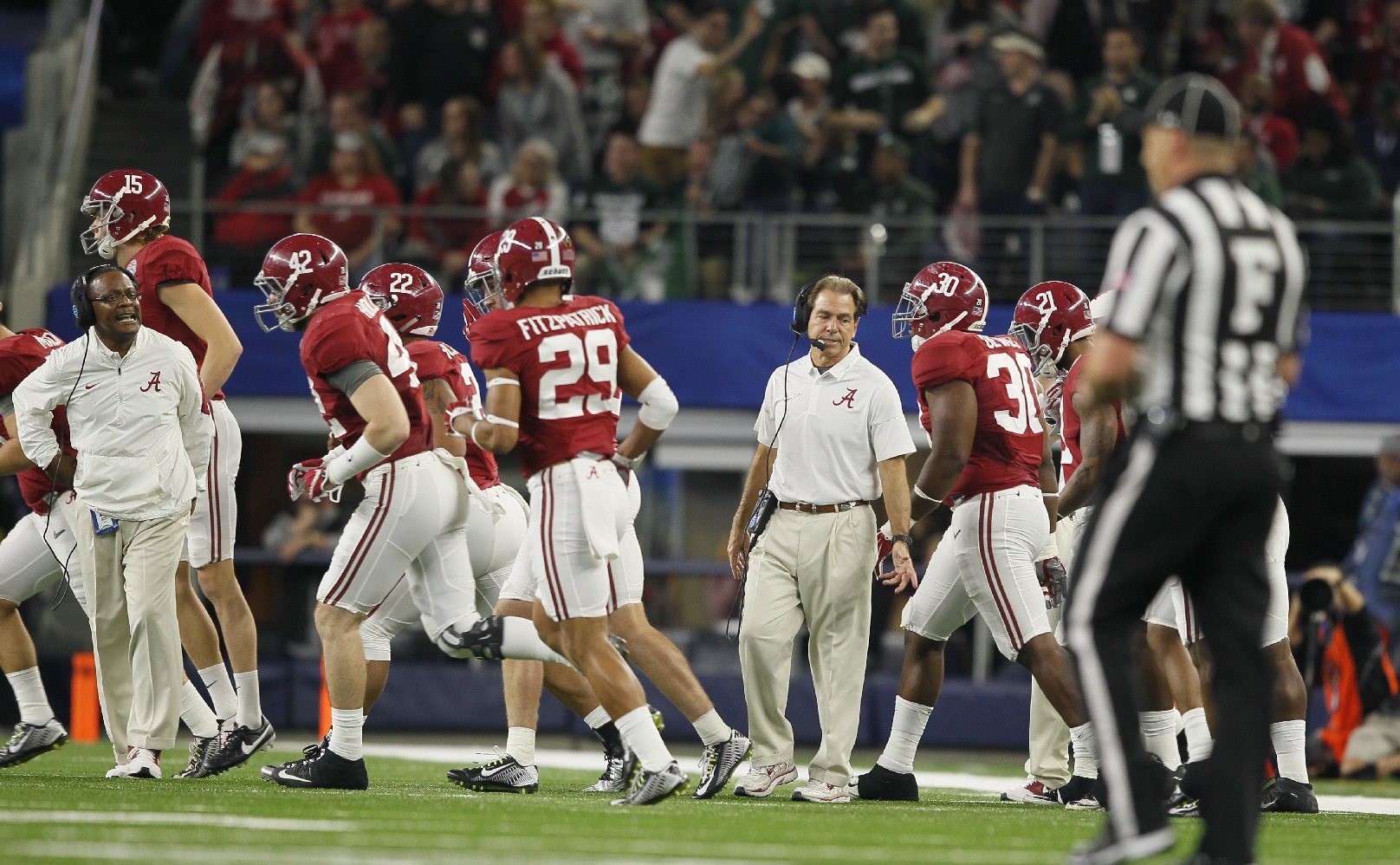 Most teams would have an extremely tough time absorbing the suspension of one starting defensive back and more would collapse with the injury of yet another starting DB. Read why Alabama's not sweating this scenario at all.
Bama's Secondary Not Sweating Brown Outcome
By: Larry Burton
With an "Indefinite" suspension hanging over Alabama's Tony Brown, a rising star in the defensive secondary, one may think that could cause some problems for a team planning on making another championship run. It would be for most teams, as Brown was not only a five star recruit who showed a ton of promise even as a freshman, but also served as a big part of the special team.
Yes, Alabama won a national championship game against the second best team in the nation without Brown, as he was sent home just before the game for a violation of team rules, but they also said goodbye to four defensive secondary players who all played major contributions to that unit. Starting safety Geno Smith was an every game rock as was Cyrus Jones at corner. Plus they lost two good nickle and dime players and solid backups Bradley Sylve and Jabriel Washington and you can also throw in the injury to Eddie Jackson who was slated to be a star.
So what makes Brown's uncertainty at this point less of a stress for the coaching staff and players who were counting on him to provide some special play this coming season? To start with Jackson is likely to recover, but it's mostly the other players that Saban has brought in and the talent level they have and the history of freshmen providing help in the secondary that has always existed in the Saban era.
Minkah Fitzpatrick is going to lock down one of the cornerback slots and certainly looked the part picking off a pass from Blake Barnett in the first scrimmage and returning it for six for the defense. Last year as a true freshman, he sizzled at times and much more is expected this year. Also Marlon Humphrey returns and has great experience at corner. These could be your two starters at corner.
When Eddie Jackson returns, he should lock down one of the safety spots and until then Maurice Smith has been looking good and gaining great reps with the number ones. This experience will prove to be invaluable. Ronnie Harrison is looking good at safety and will be in the fight for the other safety spot. Both Smith and Harrison have experience. That's three great choices for two spots, but if that weren't enough, there is Laurence Jones who has also sparkled at times this spring. He is going to have something to say about who starts and who doesn't. And sophomore Shawn Burgess-Becker is ready to provide some valuable support here too. He is a four star that still hasn't Remember when having enough bodies at a secondary spot was a problem? Not now.
If Brown's suspension is lifted, Saban mentioned this past week that he may slated for the "Star" role. In case you didn't know, Star is the extra defensive back, usually someone with corner experience, who comes in when the "Nickle" package is used and it's used a lot at Alabama. That's why the Star is usually considered a starter on the Alabama defense. But if Brown's suspension lingers on as the season starts, Anthony Averett, a redshirt sophomore with track team speed who has been doing time on the special teams could be a good choice.
Now for the reserves – four star DB's Kendall Sheffield and Deionte Thompson return for their second year. Most teams that have a couple of second year four star DB's would them starting, these are just good backups at this point for Alabama. Then there are the incoming freshmen. Shyheim Carter, Nigel Knott and Jared Mayden will see some time on special teams and get some shots in the dime package.
Is there another team in the SEC or nation with so many four star high upside defensive backs on the bench? Well I checked and the answer is no. Saban's recruiting prowess truly is without comparison and that is the reason that Alabama isn't sweating the suspension of Brown and the injury to Eddie Jackson isn't causing and gnashing of teeth or sleepless nights in Tuscaloosa. They're not sweating things in the defensive backfield at all.
Larry has been published in almost every media outlet for college sports and now primarily writes here for Touchdown Alabama. Follow Larry on Twitter for inside thoughts and game time comments at https://twitter.com/LBSportswriter
THANKS FOR SHARING THE LINK TO THIS STORY ON YOUR FACEBOOK PAGE