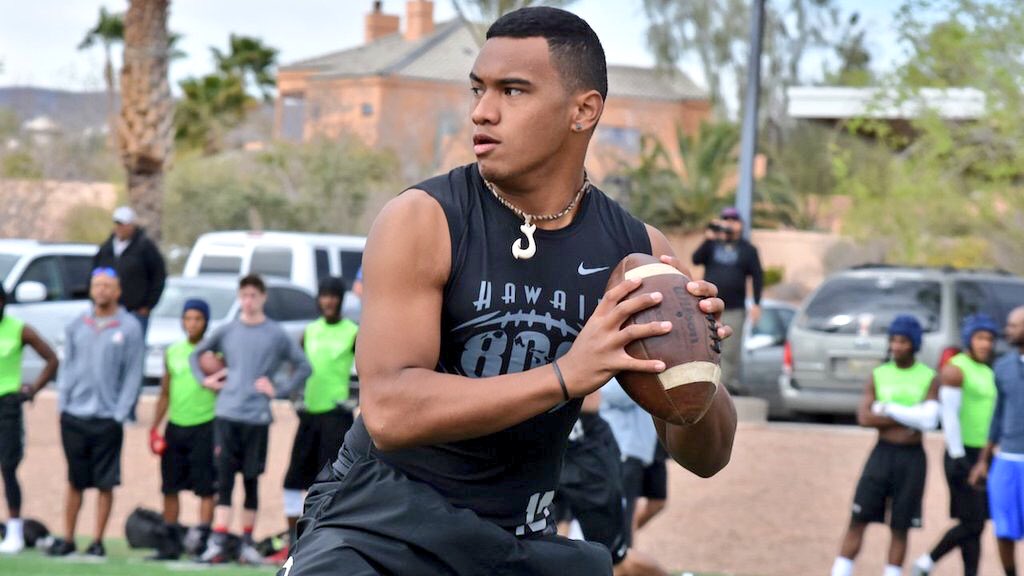 In 2015, it was the nation's number one overall quarterback, Blake Barnett, in 2016 it was the number three dual-threat quarterback Jalen Hurts. These are the last two Alabama quarterback recruits, both who committed to the Crimson Tide relatively early in their recruitment, enrolled early at the university and are turning heads at spring practice this year.
The 2017 recruiting cycle is now full speed ahead and Alabama's quarterback options seem to be dwindling down by the day. 4-star, number three pro-style quarterback prospect Jake Fromm out of Houston County, Ga. had been committed to the Crimson Tide for six months before flipping to SEC rival and childhood favorite, the Georgia Bulldogs. Once this happened, Alabama's recruiting staff turned the heat up on another 4-star QB, Bailey Hockman of Powder Springs, Ga., but the luck once again faltered for the Tide as Hockman committed to Florida State on Monday afternoon.
🏈🏈🏈🏹 pic.twitter.com/YVaPJLK1VM

— Bailey Hockman (@BaileyHockman) April 3, 2016
Before Hockman it was Tristan Gebbia, of Calabasas, Cali. the No.8 pro-style quarterback in the class. Gebbia had interest in Alabama but ended up committing to Nebraska, joining his high school teammate and good friend Keyshawn Johnson Jr., who had Alabama on his trimmed final schools list when he committed to the Cornhuskers two weeks ago.
Go Big Red! 🌽🔴⚪️ Jeremiah 29:11 #AMDG pic.twitter.com/e3dSqQiOqs

— Tristan Gebbia (@tgeb_) April 4, 2016
After Gebbia, the next target was Jake Bently, the top quarterback in the state of Alabama and a 4-star prospect out of Opelika whose father is on the South Carolina staff. Bentley ended up committing to the Gamecocks on March 24 after receiving a late offer from Alabama on March 8.
#SpursUp pic.twitter.com/3peTZBvSv6

— Jake Bentley (@JakeBentley19) April 6, 2016
At this rate it comes down to Tua Tagovailoa and Lowell Narcisse, Tagovailoa who hails from St. Louis High School in Honolulu, Hawaii which has also produced the likes of current Tennessee Titans quarterback Marcus Mariota and Timmy Chang who had a storied career at the University of Hawaii. He is the No.2 ranked dual-threat QB in the 2017 class and he recently released his Top 8 schools in March.
https://twitter.com/Tuaamann_/status/709813645161553920
With that much variety on his list, it's hard to say where Tagovailoa will end up, but Alabama looks to be in good shape to land the Hawaiian gunslinger.
As for Narcisse, the 6'2″, 195-pound dual-threat quarterback out of St. James, La., he was once an Auburn commitment who has since opened up his recruitment and Alabama seems to be outside looking in at LSU and Auburn leading the way.
They have also extended interest in the following prospects:
Taylor Powell – 3 stars – Fayetteville, AR
Jelani Woods – 3 stars – Ellenwood, GA
Jack Walker – 3 stars – Madison, MS
Myles Brennan – 3 stars – Bay St. Louis, MS
If the Tide can't secure a quarterback in the 2017 class, they will likely look to the 2018 class which is littered with talented quarterbacks.
Their first option would be to go after the nation's top quarterback and overall player, Trevor Lawrence of Cartersville, Ga., who happens to be a former teammate and good friend of current Alabama early enrollee tight end, Miller Forristall. Lawrence is a wanted man among the nation, currently holding 23 offers, with Tennessee, Clemson and in-state Georgia leading the way. At 6'6″, 200 pounds, Lawrence has the size that has scout drooling and not to mention an outstanding skill set to match. He has a strong, accurate arm and is a classic stand-in-the-pocket and fire the cannon passer that will benefit any program he chooses to attend.
The second and most likely option for the Tide will be to turn up the heat on the No.2 player in the state of Alabama, Jack West of Saraland, Ala. West has been on the Crimson Tide's radar since he picked up an offer in June and has really seen the interest from Saban and staff rise as time has progressed. At 6'3″, 200 pounds he has the frame to grow into and has the game IQ to play quarterback wherever he wants. He grew up a Crimson Tide fan and many think he will be committed to Alabama sooner rather than later.
The final option in 2018 is Allan Walters, a 6'2″, 200 pound signal caller out of Paramus, N.J. at Paramus Catholic. Walters is a prototypical pocket passer who can create and extend plays outside of the pocket as well. He can throw a dart of a ball when on the run.  He is good friends with Rashan Gary, 2016's top overall prospect and Michigan's soon to be prized freshman. Michigan has pushed hard for Walters and many would say they have the lean right now followed by Alabama and Ole Miss.
If Alabama for some reason can't pick up a quarterback in the 2017 class, it is not the end of the world. The depth right now is at a solid level with Cooper Bateman, David Cornwell, Blake Barnett and Jalen Hurts, who are all competing for this year's QB1 spot. That depth will inevitably thin out, but there is no hurry. The options are open for the Tide in 2018 and they will just have to make sure to go into that recruiting cycle with a full head of steam for the quarterback position.
Justin Wagner is the Lead Recruiting Analyst for Touchdown Alabama. You can follow him at @jwag718