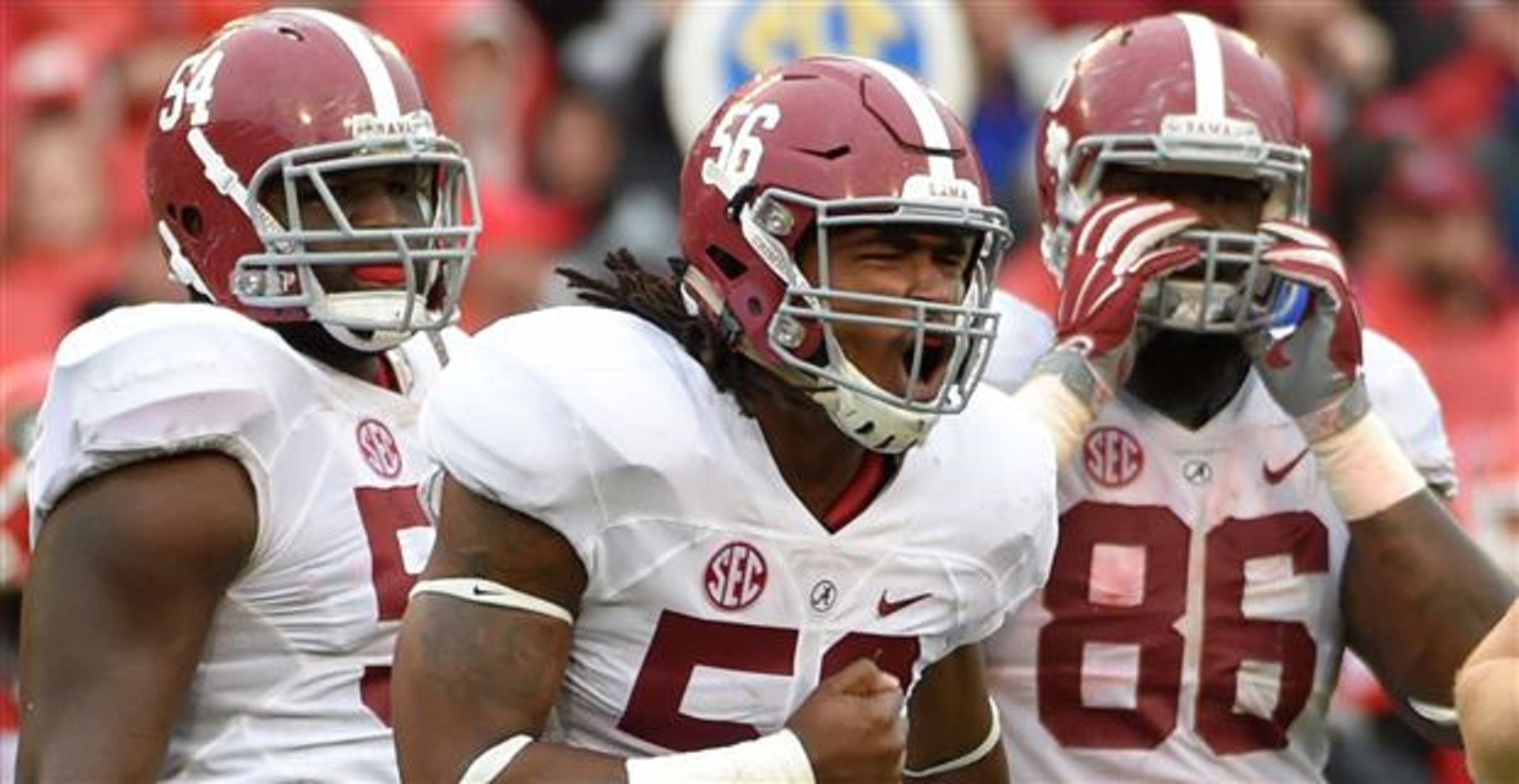 A Yawner? No, Bama's A Day was Great!
By: Larry Burton
First of all, a reported 76,212 people showed up to start the party and even Mother Nature provided an ultimately perfect day for football. And while some folks were disappointed with the lack of offensive output and a miserable day for Alabama's field goal kicker Adam Griffith, it was still a day of fireworks, just mostly on the defensive side of the ball.
If you were paying attention closely, you can see that this Crimson Tide Defense is one special unit, destined to rival the best teams of the Saban era. While the official stats credit Rashan Evans with 17 tackles, 10 solo, it was Tim Williams, the outside linebacker who finished third in the SEC last season in sacks,while only playing part time in situational roles, who showed what teams can expect once he becomes a full time player.
Williams was so disruptive that at halftime, when Saban was being being interviewed by ESPN and asked if the team needed to make an adjustment to slow Williams down, Saban joked that "We probably need to, or Tim's going to ruin the game!"
This was a fun game to watch if you love football. Whether or not you believe it by watching the game, Alabama has a great offense. We all know the receiving corp is one of the best in the nation and the running back position at Alabama will resemble the prior days of the solid one-two punch of Ingram and Richardson, Richardson and Lacy and so forth. Damien Harris slashed the number one defense for 114. That alone was exciting. With Cam Robinson back at left tackle after recovering from his slight injury, the line will be much more solid. This offense will score points, lots of them, just not on this defense.
Another exciting thing to witness was that the second string defense proved every bit as awesome as the first team. proving the depth of talent available for Jeremy Pruitt to exploit this fall. So while it may be bad news to some that there wasn't more offensive highlights, the good news for Alabama fans and what made this game so great to watch is that you now see it's going to be hard for anybody else to score on them also.
You win with defense and boy, does this team have it.
As for the rest, Adam Griffith started last season slow too before becoming a reliable rock at the end of the season and other areas of concern will simply melt away. Things are truly rosey, or should I say Crimson in Tuscaloosa at this point and the influx of new and talented freshmen will only add even more depth to a team that's so rich in it that Bernie Sanders is surely upset that one team has so much while others have so little. Saban and Alabama should be ashamed for their greed in amassing so much talent while others starve for it. And while that is upsetting to some, it's exciting for Alabama fans to witness it on Saturday.
Larry has been published in almost every media outlet for college sports and now primarily writes here for Touchdown Alabama. Follow Larry on Twitter for inside thoughts and game time comments at https://twitter.com/LBSportswriter
THANKS FOR SHARING THE LINK TO THIS STORY ON YOUR FACEBOOK PAGE