Nick Saban
Nick Saban enters his 10th A-Day, wants fans to show support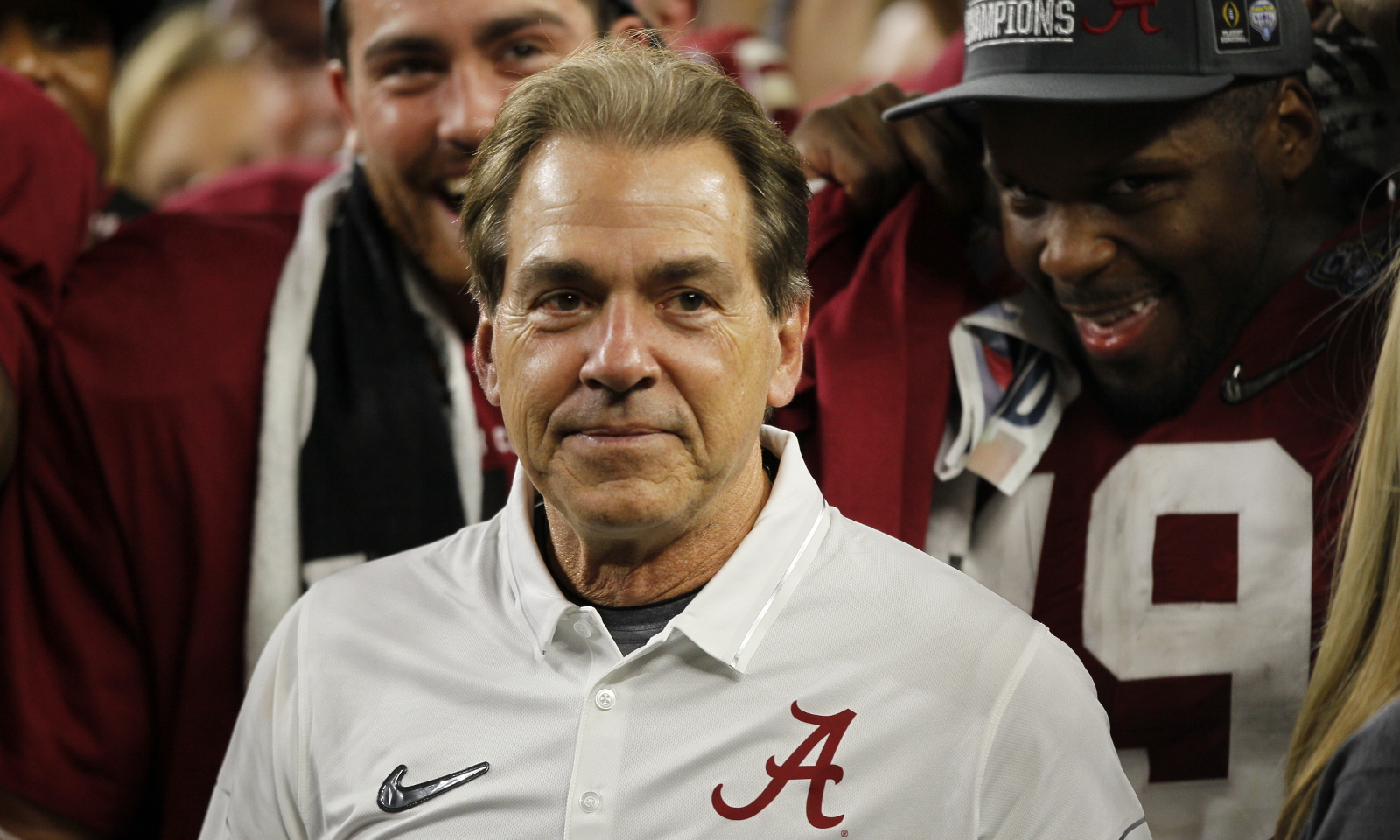 92,138. The number is significant because it marks how many fans came to support Alabama football in its first A-Day game under head coach Nick Saban in 2007. Saban and his wife, Mrs. Terry, were under a microscope of scrutiny prior to arriving in Tuscaloosa on Jan. 4, 2007.
The coach who led Louisiana State University to a national championship in 2003 was bashed after leaving it for the Miami Dolphins (National Football League) and ultimately its arch rival in the SEC West, the Alabama Crimson Tide.
Genuine love and a place to home were two things the Saban clan wanted. Both were achieved when they landed at the Tuscaloosa regional airport.
One woman was so compelled by Saban's agreement to coach the Tide that she got on top of a man's shoulders, flashing a poster that read "Praise the Lord. God is Good. We got Saban."
Despite rumors of him leaving for Texas, accusations of him going back to the NFL or thoughts of him leaving Alabama all together, Saban continues to remain in Tuscaloosa.
"Don't stay in any area longer than five years." It was Saban's pledge to himself at Toledo, Michigan State and LSU, which leads to the idea of there must be something magical about Bryant-Denny Stadium.
The 64-year-old enters his 10th A-Day this weekend and wasn't afraid to remind the press about it during Thursday's press conference.
"This is my 10th A-Day and nobody thought that I would be here for a 10th A-Day," Saban said.
Alabama was a hallowed program before Saban; however, some luster was lost in the eras of Mike DuBose, Dennis Franchione, Mike Shula, Mike Price and Joe Kines.
The 2007 A-Day game was credited in bringing a lot of the zeal back, as fans were excited at Saban's potential.
"The first A-Day had much to do with the success of the program because of the passion, energy and enthusiasm that 91,000 people showed to support the program," Saban said.
The same love that Saban experienced 10 years ago is very much alive, but he also wants it geared toward the players.
He said it's important for the fans to make it feel special for the players to play at Alabama.
"I think it's important for fans to continue to show support because it is so important to our players," Saban said. "The players we have now are just as important as the ones we had 10 years ago, and they need all the help and support that they can get. We want to make it special for them. I hope we have a great crowd on Saturday."
If bringing up the fact of supporting current players wasn't enough, Saban addressed the media on former players that will be in attendance to support the event. Julio Jones, T.J. Yeldon, Kenyan Drake, Mark Ingram, Eddie Lacy, Trent Richardson and more are in town for the spring exhibition.
"This is a great event and they look forward to it," Saban said. "It's really, really special when players want to come back and be a part of Alabama's tradition. It's great for us to be able to express our appreciation to those players when they come back for all they did to create the tradition."
Three years stand out from the rest when it comes to A-Day attendance under Saban: 2007 (92,138), 2010 (91,312) and 2011 (92,310). The Crimson Tide pulled in over 75,000 in 2008, 2012 and 2013, yet last season was a bitter disappointment. A crowd of 65,175 came to support in a season that resulted in Saban and the Tide holding up the College Football Playoff trophy at the start of 2016.
Saban and Alabama is much like Drew Brees and the New Orleans Saints. New Orleans needed a hero and Brees needed a place to call home. The same goes for Saban and this time, he feels like he and this year's team is ode a strong crowd.
Four national championships, four Southeastern Conference titles, multiple No. 1-ranked recruiting classes, numerous NFL first-round picks and restoring life to Tuscaloosa are just a few reasons why he deserves a full house.
Alabama's spring game is set for Saturday at 2:00 p.m. (CT) at Bryant-Denny Stadium.
Stephen M. Smith is a senior analyst and columnist for Touchdown Alabama Magazine. You can "like" him on Facebook or "follow" him on Twitter, via @ESPN_Future.