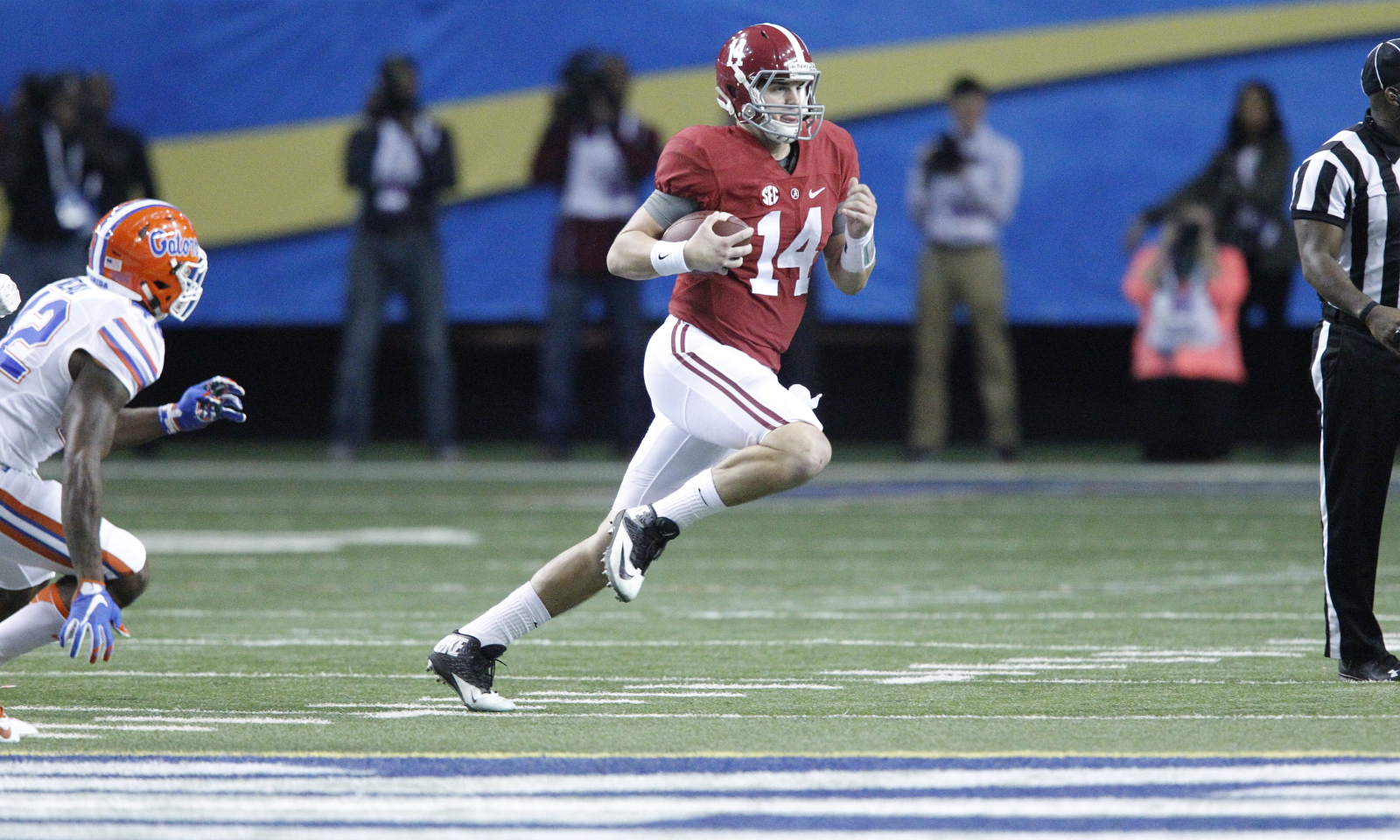 Jake Coker knows just about everything there is concerning quarterback battles and what it takes to win a starting position.
The former Alabama standout was a part of two consecutive quarterback battles that included over five different passers vying for the starting job.
In 2014 Coker lost his first quarterback competition to Blake Sims, who went on to throw for 3,487 yards and 28 touchdowns.
Coker was doubted by many to win the role in 2015, but a valiant effort against the Mississippi Rebels earned him respect.
Now after a successful 2015 season that was capped off with an SEC championship and bringing a 16th national championship to Tuscaloosa, Coker is now set for next level competition.
He signed as an undrafted free agent with the Arizona Cardinals, and will look to battle Matt Barkley for the final quarterback spot on the roster.
Coker will look to impress Cardinals' head coach Bruce Arians, who was named AP Head Coach of the Year two times in three seasons. Arians also has ties to Alabama football.
Arians coached the running backs from 1981–82 under Paul "Bear" Bryant, during the final season of the legendary head coach's career. He would return to Tuscaloosa in 1997 as the Tide's offensive coordinator.
Arians compared Coker and his current situation to Phillip Sims, another former Crimson Tide quarterback that tried out for the Cardinals last season.
"All I can say is Phillip Sims was in a worse spot than he (Coker) last year," Arians said, "and he got right down to the last three guys. He (Coker) is in a great spot. He's got to battle one guy," Arians told Bob Baum (AP Sports Writer).
Currently the Cardinals starting quarterback is Cason Palmer, who turns 37 later this year and has encountered multiple injuries throughout his 13-year NFL career.  Arizona needs to find his successor sooner rather than later.
This bodes well for Coker, who possesses size (6-foot-5, 236 pounds) and experience in a pro-style offense. He accounted for 3,110 passing yards with 21 touchdowns under Lane Kiffin.
Coker believes he has what it takes to make the roster, and hopefully be a mainstay on the team as he told Bob Baum.
"I think if I put the time in and do what I'm supposed to do, I'm confident that I'll be able to play," Coker said. "Who knows when that will be, but when I get the opportunity I'm going to make sure I'm prepared for it."
The National Football League is a completely different monster, but Coker has a chance to excel if he finds a way to adjust.
After seeing this quarterback battle for everything, Coker should do fine in the desert with the Cardinals. The Mobile, Alabama native anticipates bringing a Super Bowl title back to the same city, in which he won a national championship this past January.
Ivan L. White is a contributor for Touchdown Alabama Magazine. You can "like" him on Facebook or "follow" him on Twitter, via @ilwhite1