Alabama in the Pros
C.J. Mosley talks youth camp, Baltimore Ravens and Trent Richardson at Theodore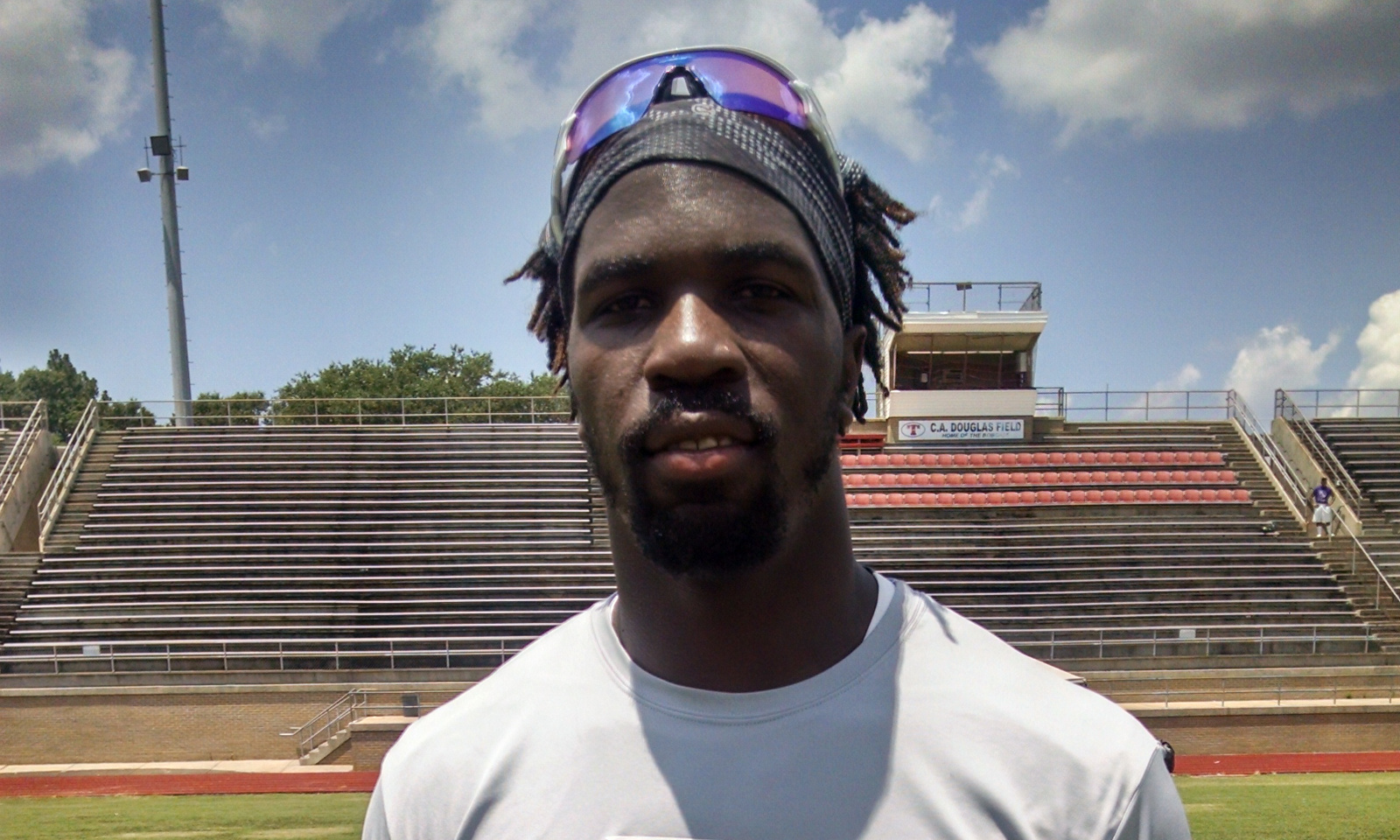 MOBILE, Ala.| Temperatures were in the mid-90s on Saturday, but it did not stop youth of all ages from going to C.A. Douglass Field to learn from someone who gave his all for Bobcats football, Baltimore Ravens linebacker C.J. Mosley.
Through every footwork drill, pass-catching station and tackling activity, children were laughing while understanding the value of hard work. For Mosley, he was brought up on humility, family and to serve his community with joy. Seeing each child wearing an autographed No. 57 shirt at Theodore High School reminded him of how the venue shaped his journey to the National Football League.
"Having this camp means a lot to me," Mosley said. "Everyone at this camp whether it's friends, family, high school coaches or teachers are all people who helped me from Theodore."
His mother, Tracy Mosley, said her son took interest in football at a young age.
"It was a day when my husband came in the house and told me that he saw some kids playing when they were four years old," she said. "I was like 'No, he's too young.' But the minute I got to the park and saw him with the other children, I knew that this was something he loves to do."
Before obtaining the status of an All-Pro linebacker, Mosley was a star for the Bobcats in football, basketball and track. He enjoyed the latter two, but the gridiron game was his first love.
His instincts, work ethic and attitude made him an anchor on defense. Mosley would garner attention as a Parade and US All-American, while being named a two-time ASWA 6A All-State selection. He finished his career as the school's all-time leading tackler, posting over 500 career stops. In 2009, Mosley guided Theodore to the Class 6A playoffs with a 9-2 record as a senior.
He set a school record for tackles (186), and recorded seven sacks, five forced fumbles and four interceptions. The Bobcats would fall to Daphne High School in the first round, nevertheless, the paths of Mosley and Trojans' running back T.J. Yeldon would meet again at the University of Alabama.
His predecessors were sound, but Mosley would make his own name as one of the more decorative linebackers in Crimson Tide history. He enrolled in 2010 and had two seasons in which he totaled at least 100 tackles (2012, 2013). His best year came in 2012, when he collected 107 tackles, eight tackles for loss, four sacks, two interceptions and a defensive score in 14 games as a junior.
After winning a national championship as a role player in the previous season (2011), Mosley was the enforcer on the Tide's defending national title team during the 2012 campaign.
His four-year career ended with 317 tackles, 23 tackles for loss, 6.5 sacks and seven interceptions.
Mosley took home his fair share of individual accolades in 2013, including Dick Butkus Award—nation's top linebacker, Southeastern Conference Defensive Player of the Year, BCS National Championship Game MVP (2012 season) and consensus first team All-American.
Mosley equates Alabama as the school that encouraged him to stay humble and despite not winning any championship hardware in 2013, Tracy Mosley said his senior year was her favorite one.
"His last home game as a senior was one of my favorite moments," she said.
"Just to walk on the field with him as a family and have the people introduce him and tell him thank you was the best moment. It was great to be able to share in that."
Mosley's determination, grit and passion drew the attention of general manager Ozzie Newsome, coach John Harbaugh and the Baltimore Ravens during the 2014 NFL Draft. The franchise selected Mosley in the first round (17th overall pick) and he immediately went to work.
He took the professional game by storm in his rookie year, amassing 133 tackles (led all rookies), three sacks, a forced fumble, a fumble recovery, two interceptions in 16 regular-season games.
Mosley guided the Ravens to a 10-6 season in 2014, culminating in a playoff berth.
National media took notice as he earned a trip to the Pro Bowl, while being named second team All-Pro and NFL's All-Rookie team from Pro Football Writers Association and Pro Football Focus.
Baltimore missed the postseason last year, but Mosley remained consistent. He tallied 117 tackles, four sacks, a forced fumble, two fumble recoveries and seven passes defended.
Mosley is now the head man for the Ravens on defense, after the departures of Courtney Upshaw and Daryl Smith. He was drafted two years after Ray Lewis retired (2012), yet Mosley said he's learned a lot from Lewis and veteran outside linebacker Terrell Suggs on how to be a professional.
"What I learned from them is that you grow every year," he said.
"Just watching what they did growing up, you really don't have to ask them how things are done. They showed it in the way they played and the way they prepared themselves."
As he enters his third NFL season, Mosley intends on getting back to back to the playoffs.
"The main goal is to always stay healthy first off," he said. "The past two years I've put up good numbers. After being healthy and playing my best, the next big thing is winning games."
A number of ex-Alabama players became members of the Ravens organization at one point in time, including Terrence Cody and Nick Perry. Not having Upshaw, Cody and Perry does sting, but the addition of Trent Richardson could be beneficial to both he and Baltimore next season.
"I already know what Trent is going to do in the weight room," Mosley said with a smirk.
"He's a strong man and on the field, he's a playmaker. He can make you miss in open field. The true Alabama fans and true Richardson fans all know what he is capable of. Hopefully with us, he can show what a great player he has been and what he can be."
Regardless of how big he becomes in the pros, the turnout at last week's football camp shows that Mosley is one of the pillars for Alabama's southern border.
"I am very proud of C.J.," Tracy Mosley said. "He's always been involved with the community. This is something we've done since he was a child and to see him want to come back and help his peers, and still remember some of his coaches from the park makes me very proud."
Stephen M. Smith is a senior analyst and columnist for Touchdown Alabama Magazine. You can "like" him on Facebook or "follow" him on Twitter, via @Smsmith_TDALM