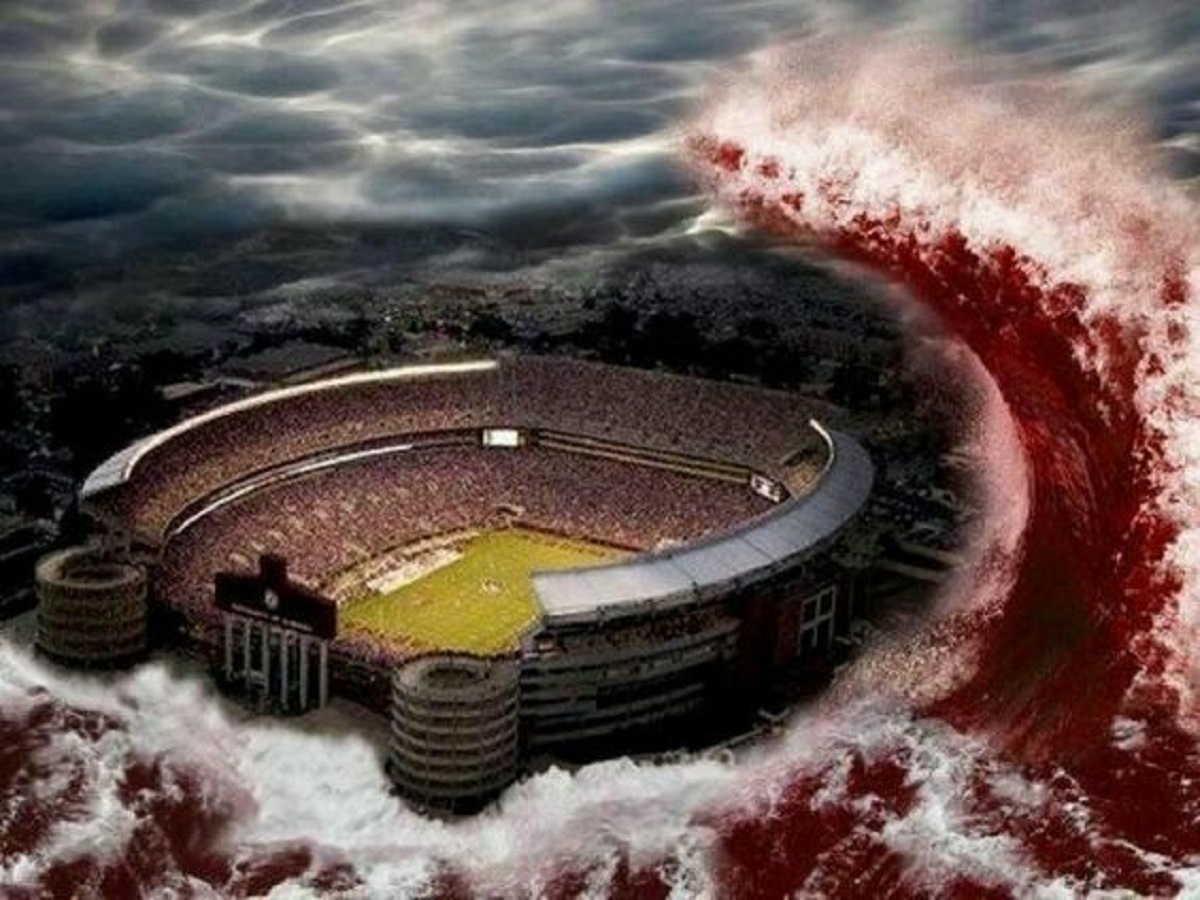 It's always hard to measure teams from one year against another. There are just too many variables to consider, but this could be one of Saban's best defenses.
Tidal Wave! Could 2016 Be the Best Defense Ever?
By: Larry Burton
When you think about stats, that is simply mind boggling, but Alabama has always been known as the team who doesn't dazzle you with a flashy offense or winning in track meets, they usually rack up their wins the old fashioned way, they line up and just beat the hell out of you with superior athletes. They have had many teams do that and many defenses that became famous.
There are so many defenses that could be in the discussion for the "Best Ever" mantle. Certainly you have to consider the 1961 team that only allowed an average of less than three points per game and about a 132 yards per game.
Now Alabama's 2016 won't approach those figures, but then the parity that exists today wasn't around in 1961 and this year's squad won't be playing Tulane, Vanderbilt, North Carolina State, (who was pitiful then), Houston (and they were horrible then) or Richmond (who they beat 66-0). Also in 1961, Coach "Bear" Bryant could sign all he wanted and was clearly one of the haves in a world of have and have nots.
But they certainly could get in the discussion and could actually wind up leading in some important categories. Some you could watch for is this team leading for sacks, hurries and yards for loss. This is going to be a defense that is incredibly quick off the ball and a nightmare to offensive linemen.
I guess a good and better comparison could be comparing what this team does to other modern defenses that were among the best, like the 2011 team. That team did lose a game, to perhaps one of the best LSU teams of all times that went 13-0 before losing in a rematch in the national title game. That Alabama defense kept the number one team in the nation from crossing the 50 yard line only once.
That 2011 Nick Saban team was awesome from top to bottom and allowed just 192 total yards per contest and an average of just 8.8 points per game. All of the members on that defense signed an NFL contract.
That 2011 defense also helped carry the entire team helping the offense by continuously giving them the ball back really quickly for more scoring opportunities of their own. It was the defense that set the tone of the game and allowed a rookie quarterback, AJ McCarron to blossom without fear that a single turnover could cost them the game.
That should be the goal that defense tries to better and it's entirely possible.
They need to carry another rookie quarterback and set the tone for the game. They need to give the ball back quickly with lots of three and outs and turnovers and let the offense know if they make a mistake or two, not to fret, they got that.
Reuben Foster and Tim Williams may the show stealers, but there are up to six other players on the field with them on any given play that can be in the defensive backfield before the quarterback can make the play and if they overcompensate to stop Williams on one side, Ryan Anderson will burst through and make them pay on the other side. Dalvin Tomlinson will anchor one end and new defensive coordinator Jeremy Pruitt has plays designed to send him in blitz packages while someone else nails that end shut.
While most folks expect the defensive stars to be in the front lines, most folks lose sight of the fact that the first team defensive secondary put together for A day, more than shut down, for the most part, a group of some of the most talented receivers in the country.
While there are some new starters, all the new starters have seen action and there are some talented freshmen you can count on being given opportunities. Eddie Jackson, Minkah Fitzpatrick and Marlon Humphrey will all be playing on Sunday in the future and the other players like Anthony Averett and Kendall Sheffield are going to be stars of the future.
Last years squad had all these stars and then some, the then some have moved on to the NFL, so while pundits feel that this Crimson Tide defense won't be as deep, they just don't have a grasp on the ones waiting for a chance to show up and show out. Besides players who have waiting their turn, there are some exciting first year players that are sure to get some snaps, so yes, this too, like last year's squad, will have lots of folks coming and going to keep the defensive front fresh for the fourth quarter.
Like that 2011 team, this too could be a team of all NFL players and this could also be a team of champions and they could possibly beat them out statistically for one of Saban's top defenses of all time.
But at this point, this is all just speculation, but one thing you can be sure of, this will be an interesting defense to watch.
Larry has been published in almost every media outlet for college sports and now primarily writes here for Touchdown Alabama. Follow Larry on Twitter for inside thoughts and game time comments at https://twitter.com/LBSportswriter
THANKS FOR SHARING THE LINK TO THIS STORY ON YOUR FACEBOOK PAGE OR A FACEBOOK GROUP YOU BELONG TO, FACEBOOK RESTRICTS HOW MANY PLACES WE CAN POST IT ON, SO PLEASE SHARE!