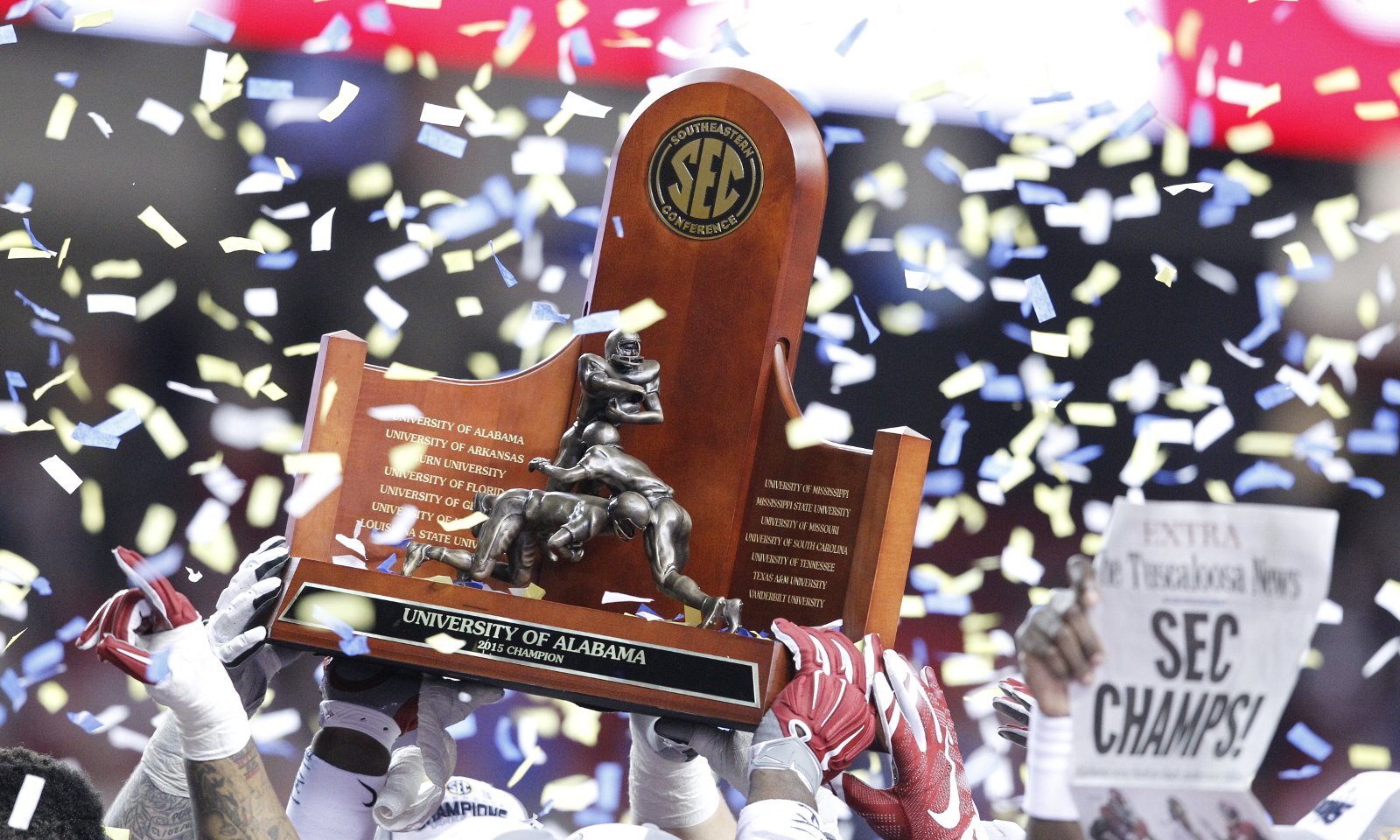 As SEC Media Days come to an end, it means that it is time to make the annual wrong predictions for the conference. Before I get into anything, I have to own up to my mistake last season on picking Auburn to win the SEC. I bought into the hype and I got the backlash that I deserved from it. This season is probably more wide open than last year and it made it almost impossible to pick these teams in order but I tried anyway. So here are my division predictions for the 2016 SEC football season.
East Division
Tennessee (7-1) – The Volunteers have been "on the rise" for a couple of years now and 2016 is when they finally make it to the top (of the East). Josh Dobbs and the Vols offense will be able to score on anyone while the depth and talent on defense could end up being one of the best in the SEC. Two rivalry losing streaks may be coming to an end this year in Knoxville.
Florida (6-2) – There's not much at Florida that makes you think that this team can be really good. But they had a great season last year and Florida may be better on paper going into 2016. So I'm trusting Jim McElwain.
Georgia (4-4) – I'm a big fan of Nick Chubb but with a first year head coach and glaring issues at the quarterback spot are too much to pick Georgia this season.
Kentucky (4-4) – The Wildcat offense is full of talent and November will be just kind enough to Mark Stoops this year to make a bowl game.
Missouri (2-6) – Not the best start for first-year coach Barry Odom but a rather easy non-conference schedule could still have the Tigers in the Birmingham Bowl.
Vanderbilt (2-6) – Derek Mason will probably still be sitting low in the SEC but hey, it's not the very bottom at least.
South Carolina (2-6) – Muschamp's team could make a bowl appearance in their first year but that would probably mean winning at Clemson in the season finale.
West Division
Alabama (7-1) – The questions are clearly there in the backfield but there's a lot of talent on the line of scrimmage. Oh, and that defense might be better than last year.
Texas A&M (6-2) – This might only be because I saw the thrashing Trevor Knight put on Alabama a couple of years ago. But the Aggies are so talented across both sides of the ball and should be one of the most fun teams to watch this season.
Auburn (5-3) – Yes, I know, I'm doing it again. But this team will be improved and will make some noise in the SEC as long as they stay healthy. Keep an eye out for Kerryon Johnson.
LSU (4-4) – LSU's talent is undeniable but that somehow didn't get them anywhere last season. Fournette may be this season's Heisman winner but the Tigers go through a gauntlet that includes road games against Auburn, A&M and Florida.
Ole Miss (4-4) – Ole Miss may be in the same boat as LSU with a little less talent. But they do have a confident quarterback and that can go a long way. Unfortunately, their schedule is just as tough as any in the conference plus an opening matchup against Florida State.
Arkansas (2-6) – The Razorbacks have question marks across the field. If Bielema couldn't make noise with the team he had last season, I don't know how it would happen in 2016.
Mississippi State (1-7) – Losing Dak Prescott will clearly hurt and it will show throughout the season. I don't expect Mullen to get his team to a bowl game still especially with a midseason trip to Provo, Utah.
And to wrap it all up, I think Alabama gets back to the College Football Playoff with a win over Tennessee in Atlanta. Mostly because it's pretty hard to beat the same team twice in a season. (I have Alabama's lone loss coming in Knoxville.)
All-SEC Team
QB: Joshua Dobbs (Tenn.)
RB: Leonard Fournette (LSU), Jalen Hurd (Tenn.)
WR: Malachi Dupre (LSU),  Calvin Ridley (Bama), Christian Kirk (A&M)
TE: O.J. Howard (Bama), Evan Engram (Miss.)
OL: Dan Skipper (Ark.), Cam Robinson (Bama), Austin Golson (AU), Will Clapp (LSU)
C: Ethan Pocic (LSU)
DL: Myles Garrett (A&M), Derek Barnett (Tenn.), Carl Lawson (AU), Jonathan Allen (Bama)
LB: Jalen Reeves-Maybin (Tenn.), Kendell Beckwith (LSU), Reuben Foster (Bama), Jarrad Davis (Florida)
DB: Eddie Jackson (Bama), Jamal Adams (LSU), Jalen Tabor (Florida), Cam Sutton (Tenn.)
K: Daniel Carlson (AU)
P: J.K. Scott (Bama)
Return: Christian Kirk (A&M)
Caleb Turrentine is a contributor and columnist for Touchdown Alabama Magazine. Send all your hate tweets to @CalebTurrentine.