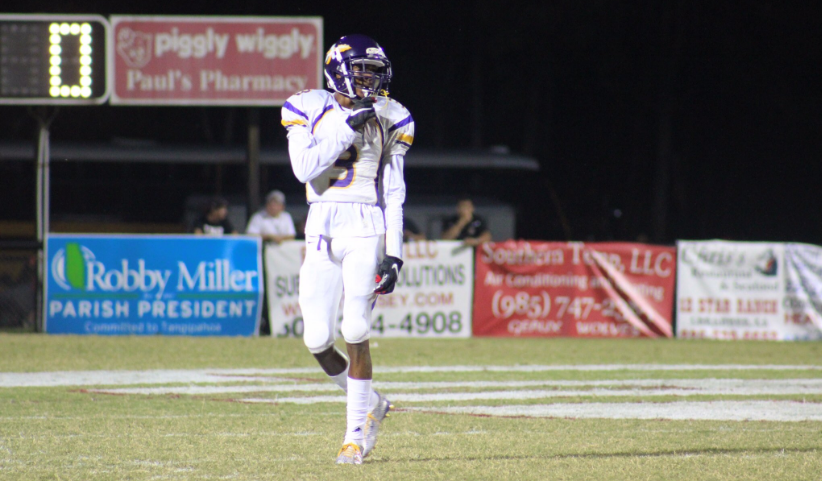 Story by Craig Nolan, Recruiting Intern
Watch highlights from the 2015 Amite High School Warriors (Amite,LA.), it may not be clear who their top player is.  Although you may not see him at first, this is a guy who has over 20 offers from some of the most prestigious college football programs in the nation.
It'll be clear after a few drives you will see No. 3 in yellow get the ball in some way nearly every single play.
Devonta Smith is a 6-foot-1, 160 pound offensive weapon from the out-skirts of Baton Rouge, La. At first while watching his tape, his small frame called for some skepticism, but that skepticism very quickly eradicated after seeing the speed at which he plays at.
Everything he does is a step quicker than his opponents, and that leads to some deadly results. Despite being a playmaker, Smith is going to need to bulk up a bit, but he has a crazy knack for being able to produce big plays on a constant basis, and for that, it's safe to say he's one of the more dynamic players in the 2017 class.
Smith is the most precise route runner in the 2017 class (yes, even above the likes of Jerry Jeudy, Tee Higgins, and Donovan Peoples-Jones). His short-area quickness is exceptional; he has the ability to start and stop on a dime. When Smith is moving full speed, and cuts at the top of his route, there is nearly no hope for his defender.
He is going up against some of the top defensive backs in the nation. The best chance for defenders to stop Smith is to exploit his slender size by jamming him at the line of scrimmage, but the problem with that is, Smith has an extremely dangerous first step. If you are a defender and you do not get a perfect jam on him, he is sprinting past you, and there is a very low chance you are going to be able to catch up with him and his top tier speed, which he put on display when he ran the 40-yard-dash in an eye popping 4.49 seconds.
Smith definitely most excels in the underneath game, but he also has an uncanny ability to come down with the rock on jump ball scenarios. He positions his body perfectly so that he is able to shield the defender away from the ball. There is not a route that Smith struggles with running; he can run to any depth of the field, at any position on the field. This is a huge upside to Devonta Smith's portfolio.
Smith excels at racking up yards after the catch. The Amite High School coaching staff drew up a lot  of plays that gave Smith the ball within five yards of the line of scrimmage. Once Smith had the ball in his hands, everyone watching was in for a treat. Smith is among one of the most slippery and elusive receivers coming out of the high school level.
Straight BEAST : WR DeVonta Smith '17 : Amite High (Amite, LA) Spotlight
He has a full arsenal of moves ranging from a Braxton Miller-esque spin move, to an ankle-snapping juke. One thing to note with Smith is that when a defender is able to get his hands on Smith, he goes down easier than you would like to see. Smith also was subject to some big some hits. This is cause for some concern.
If high school players are able to land big shots on Smith, then one can only wonder what a collegiate athlete would do (especially one playing in the SEC or ACC). This is certainly caused by Smith's light, slender build. If he is able to add 10-20 pounds by the time he is playing college ball (which he should be able to) then this shouldn't be nearly as much of a concern.
Devonta Smith's best asset is his versatility. There really are not many things that he can not do. He can run the short, deep, or intermediate route all very well, and also contributed heavily in the ground game. Smith was often sent in motion for a wide receiver end-around, with some very solid results. Smith also appears to be a promising special teams player. He is a very sure-handed punt returner, with keen instincts to be able to find the seem in the punt coverage team.
The Louisiana wide receiver has narrowed his choice down for where he is going to play to three schools. LSU, Alabama, and the University of Miami are the three finalists.
At Miami, Smith could make an instant impact. Miami lost top receivers Rashawn Scott and Herb Waters, and they do not necessarily have any big names coming their way at the receiver position. Their 2017 Class composes of two three-star receivers, Evidence Njoku and Kevaughn Dingle. Miami will still have guys like Sam Bruce and Ahmmon Richards, two freshman who are planning on playing a lot this season. If Devonta Smith were to commit to The U, he could very easily become the top target right from the get go.
LSU's depth chart at receiver is very thin and clouded in mystery. LSU's best receivers Malachi Dupre and Travin Dural, will both not be on the team by the time Devonta Smith is a freshman (assuming Malachi Dupre decides to go to the NFL after this upcoming season). LSU only has question marks to fill those voids. They do however, have a few big name recruits from the 2017 class. They have committed Mannie Netherly and Jhamson Ausbon. Both are 4 star recruits.
Alabama is far from in the same position as LSU and Miami. Alabama has among one of the deepest receiving cores in the entire nation. Alabama will of course be returning freshman super star Calvin Ridley, and they have already signed five star recruit Jerry Jeudy, who is of the 2017 class. If Devonta Smith were to commit to Alabama they could have one of the most dynamic receiving cores in the country. Smith will have to compete against Jeudy, who has been anointed by his high school coach and fans as a "once in a lifetime player".
If Smith wanted to really make an impact, He would be putting on the green and orange hat of Miami when he commits. It just makes the most sense. He could step in right away in be the top dog down there. And who wouldn't want to be the top dog? LSU threw the ball on only 36 percent of plays in 2015, and it's doubtful Smith is planning on spending his college career blocking the whole time. Alabama simply has too much talent at wide receiver. If Smith were to go to Alabama there is no guarantee he would get sufficient playing time. And let's not forget, we all know Alabama loves their ground game as well. Miami has it all for him. They threw the ball 49 percent of the time in 2015, and has a spot at wide receiver with "Devonta Smith" written all over it.