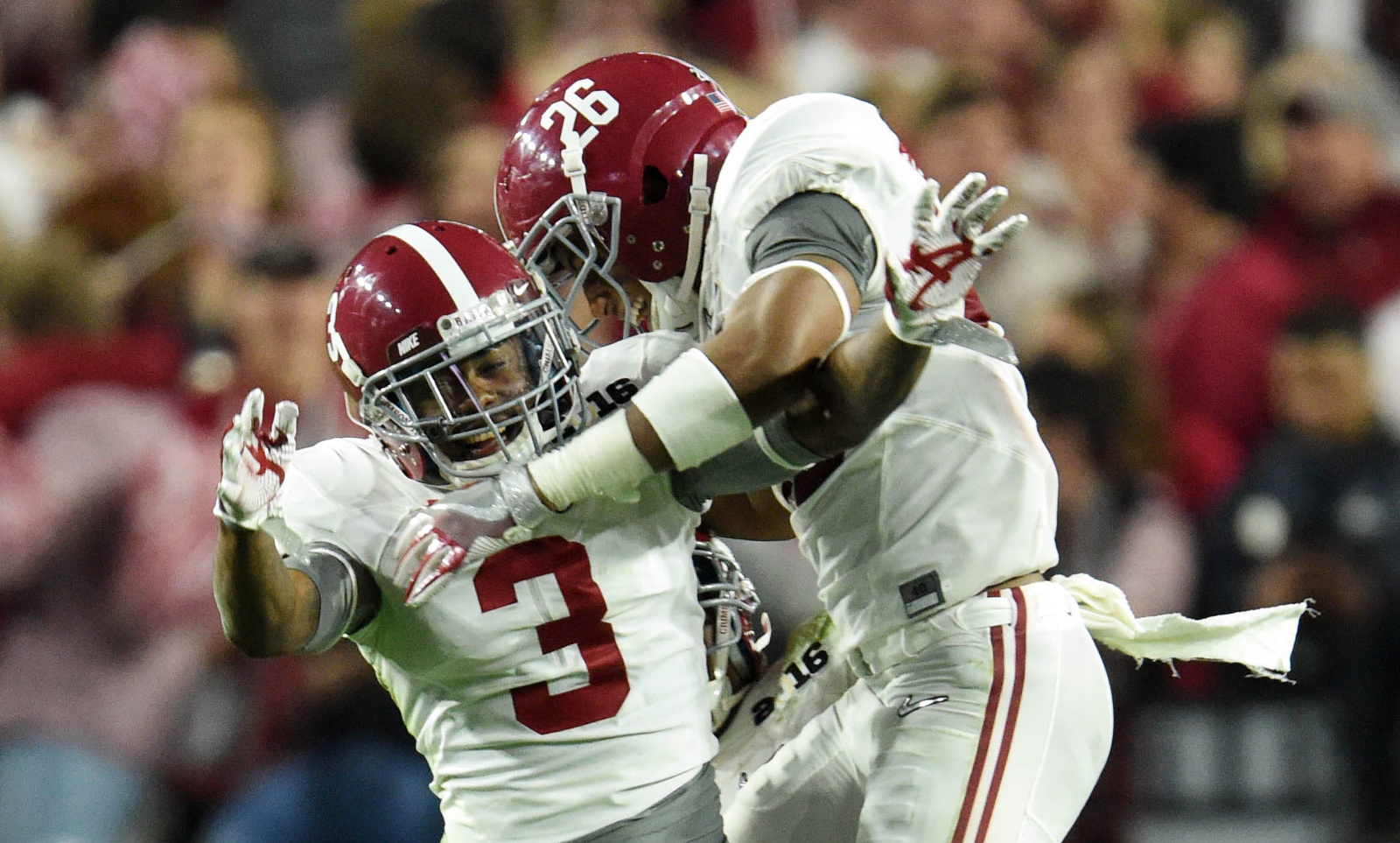 Written By Recruiting Intern, Craig Nolan
In Alabama's recent reign of dominance, there have been two constants: The man on the sideline calling the shots, and an airtight secondary that suffocates opponents. Last Saturday night in Dallas is an indication of those two constants being the focal point for the 2016 season.
The Crimson Tide secondary limited the Trojan offense to 130 passing yards on 37 pass attempts. The secondary also displayed a level of physicality that brought back shades of Miami's 2001 secondary. Yeah, I said it.
It all starts with senior strong safety, Eddie Jackson. Jackson is the unequivocal leader of not only the secondary, but perhaps the entire team. Jackson was thrown immediately into the heap of things at corner as a true freshman, where he saw his ups and downs. The 6'0", 194 pound defensive back had a minimal impact his sophomore season, due to a devastating knee injury he suffered prior to the start of the season. Jackson made the switch to safety his junior year where he accumulated six interceptions, 46 tackles, two touchdowns, and a forced fumble, which earned Jackson All-SEC First Team by the conference coaches and Associated Press.
After the showdown with USC, do not be surprised when you see opposing quarterbacks steer clear of Marlon Humphrey. The redshirt sophomore, and Hoover, Ala. native, completely shut down arguably one of the best receivers in the nation. Marlon Humphrey managed to hold JuJu Smith-Schuster to one catch for nine yards. Smith-Schuster ranked first among Power Five conference players last season with 1,454 receiving yards, averaging over 100 yards a game. Humphrey also intercepted a pass, and returned it 18 yards to the house late in the second quarter which completely opened up the flood gates of last Saturday's dominant performance.
With Saturday's afternoon game against Western Kentucky looming, the tide faithful may be prone to overlook the Hilltoppers. Do not overlook this team. This is a team that was ranked in the top 25 last season and possesses one of the most prolific passing attacks in the nation. The Hilltoppers started their 2016 campaign with a a 46-14 rout of Rice. In the game, first year WKU starter, Mike Wright, passed for 517 yards and an 80% completion percentage.
With Tony Brown still sidelined, Expect junior Anthony Averett to get picked on early and often against the Hilltoppers. Averett was isolated often against USC, and certainly held his own. He gave up a big play in the first quarter, but managed to hold the Trojan's passing attack in check, despite being the guy thrown at for the majority of the night.
Averett ran the 40-yard-dash in an eye-popping 4.3 seconds, so he should not have a problem running with the Western Kentucky receivers, but do worry about the physical side of things. He only weighs 170 pounds, and that was apparent against USC as he struggled to get off of blocks in the run game. This could certainly also play a role in the jump ball scenarios. WKU loves their fade routes, and it is essential to Alabama's success that he comes out on top in those situations.
Ronnie Harrison is the unsung hero of this Alabama secondary. With his size and speed at The safety position , he makes it very tough on the opposing offense. His athleticism is not superb, but he makes up for most of it by playing every down with a massive chip on his shoulder. I love his tenacity. Harrison will also be put to work against WKU, but I do not necessarily worry a ton about him in this game.
Alabama's secondary will certainly be tested, but even with that said they do have some room for error. Western Kentucky's defense is far from elite and the Tide should be able to put up their fair share of points.