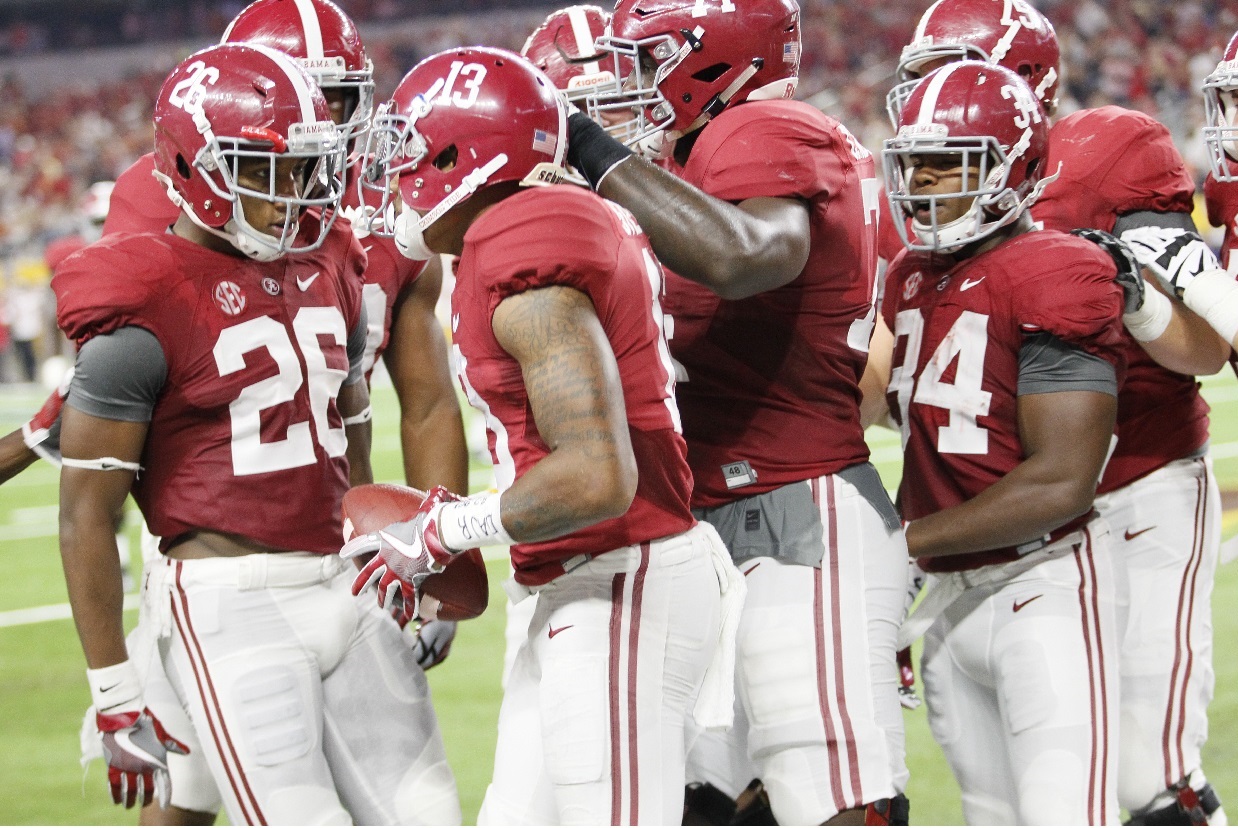 Fans may not remember that this was a 12 win team last season or that they passed for over 550 yards last week in their win. There is going to plenty to watch for if you know what to look for.
What Can We Learn From a Blowout Win This Weekend?
By: Larry Burton
In cupcake games you can't evaluate talent, it's just not fair. You can't say so and so is a great pass blocker when he's blocking a guy that no division one team wanted and maybe wasn't even a one star athlete coming out of high school. You can't judge a quarterback throwing against defensive backs who aren't used to covering the speed and ability of a world class future NFL receiver.
But you can still learn a lot.
You can see who the coaches want a second or third look at by the playing time they'll get and sometimes by the positions they may play in.
This week I think the quarterbacks that got to play last week will both play this week. It wouldn't shock me to see Blake Barnett get a few more minutes of playing time than he did last week and it wouldn't surprise me to see some third and fourth string running backs get a little more playing time too.
It's not that Saban is keeping from risking his stars prior to the start of the SEC schedule, I believe he genuinely wants to get firm grasp of just how good some of the backups are against real time competition and what kind of ammunition he truly has on the bench to call on if and when he needs it.
Last week I brought up some things that I thought were worth mentioning, that Calvin Ridley wouldn't be the big receiving star in that game and neither would Bo Scarbrough be the running star. While I still think Damien Harris will be running stud all season long, expect to see Ridley pick up the pace in catches this weekend as Kiffin wants his quarterback and Ridley to start to get in the same kind of rhythm that he had with Jake Coker last season. Ridley is just too dangerous not to be a huge part of the offense.
Also we may find out if Saban is going to continue to redshirt Alabama's big defensive tackle Raekwon Davis or let him play this season. Davis was being held out from play due to an NCAA investigation, but now that this was cleared up in Davis' favor, he is eligible to play this weekend. It's not that defense really needs Davis this season, but with Dalvin Tomlinson getting nicked with an ankle injury, it's likely to see coaches want to let him rest up a little before Ole Miss next week.
What a difference a half makes. In the first quarter of last week's USC game, the offensive line failed to provide starting QB Blake Barnett with any kind of protection, but as the half went on, things seemed to start gelling. By the second half, they seemed to dominate the line play in both passing and running situations. So watch this week if they pick up where they left off, or it they start slow again.
Also, look for Alabama to work on passing plays that get O.J. Howard a little more involved. Last week he had three catches for just 39 yards for a 13 yard per catch average with the long pass to him being a 40 yarder. That tells you his other three catches weren't very productive. Look for them to find ways to incorporate Howard into more yardage making routes this week.
Speaking of passing attacks, you need to know that Western Kentucky has a fine one and last week they passed for over 550 yards. That's quite a number in anybody's league, even throwing against just plain air, so we'll get to see how new defensive coordinator Jeremy Pruitt deals with such a passing threat. Will he turn up the heat on the rush of stay in nickle or dime packages all day long and try to cover? This will be a good test for the secondary to have to endure before Chad Kelley and Ole Miss get a chance to test the Tide's secondary.
Also, Saturday's game will be plenty hot and humid. Temps expected to be around 94 with around 60% humidity. Watch for players to be leaving the game with cramps due to not properly staying hydrated as well as watching fans leave with sunburned faces after the game.
Lastly, I know I started out calling this a cupcake game and technically it isn't because the Hilltoppers are actually a darn fine team. WKU won 12, that's right folks, 12 games last season including a big bowl win over a good University of South Florida team. They lost a nail biter to Indiana 38-35 and hung with LSU 17-7 at the half until finally losing 48-20 after Brandon Harris finally got hot and started hitting receivers while Fournette also had a huge game. This is not a cupcake team at all, but if Alabama can make a top 20 USC team look like a directional college from Tennessee, they will handle this team in similar fashion.
But that is not to say that if someone has a standout day against this WKU team that they can't repeat that same feat against an SEC foe. These Hilltoppers aren't afraid and are capable of strapping it up with just about anybody. Problem is, Alabama is just not anybody, until they're beaten, they're the gold standard of college football.
Larry has been published in almost every media outlet for college sports and now primarily writes here for Touchdown Alabama. Follow Larry on Twitter for inside thoughts and game time comments at https://twitter.com/LBSportswriter
THANKS FOR SHARING THE LINK TO THIS STORY ON YOUR FACEBOOK PAGE OR A FACEBOOK GROUP YOU BELONG TO, FACEBOOK RESTRICTS HOW MANY PLACES WE CAN POST IT ON, SO PLEASE SHARE!