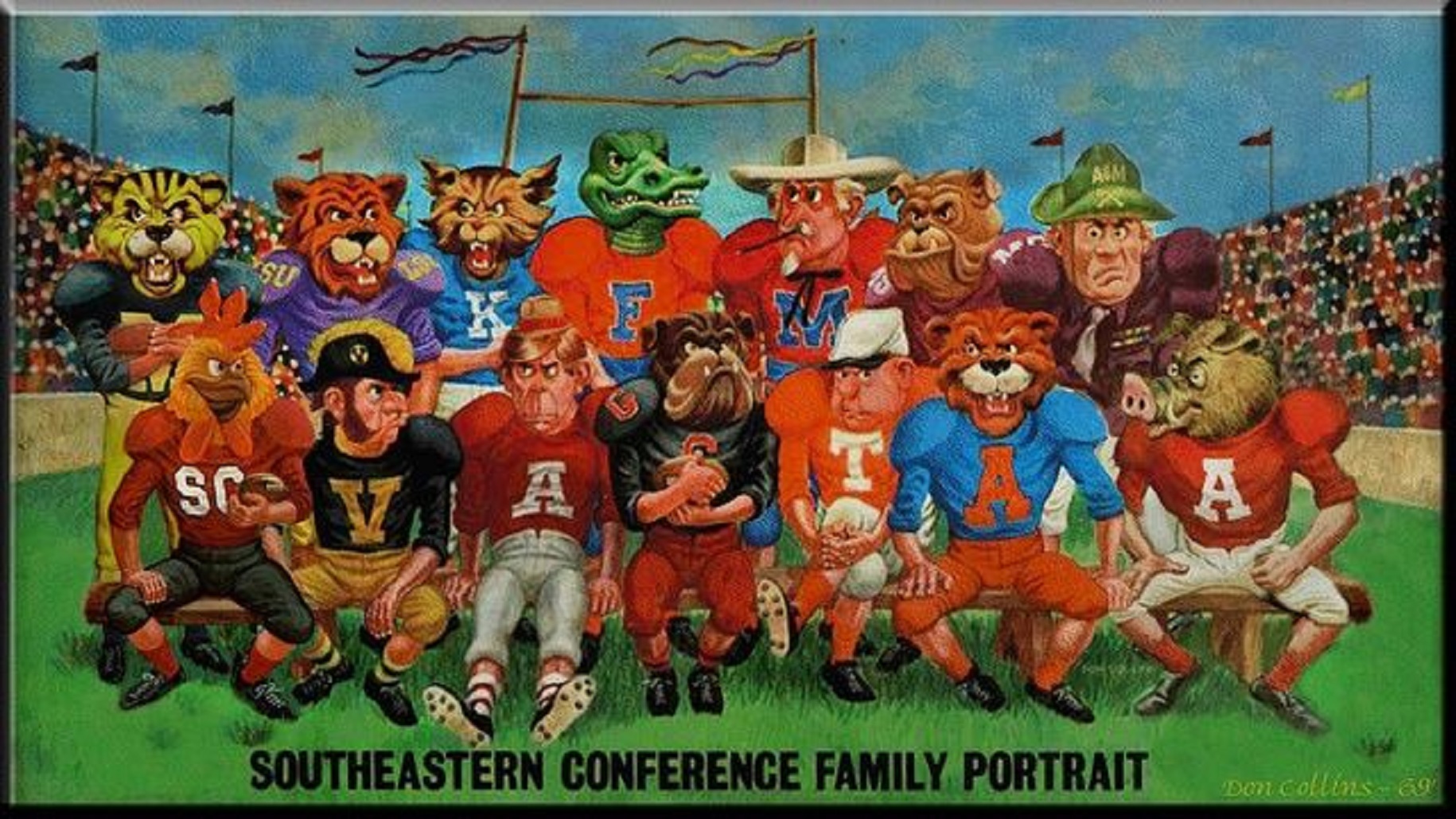 Week three has some games that will shape the leaders and losers of the SEC. Do you agree with this pair of near perfect pickers on who will be who? Read and see.
Larry's Losers in the SEC – Week 3 – 2016
By: Larry Burton
Well folks, we would have had a perfect last week except for Kenny Hill of ticked off TCU slashing his finger across his stupid throat to set up a big Pig comeback. Stupid selfish people seem to always cost their own team some misery, but this week it caused us to be miserable too. That loss puts us at 21-4 and gets us back up an 85 accuracy rating, but we'd have preferred to be at 88. Still we can smile that even though we got one wrong, it was an SEC team that triumphed, so that helps a little.
While there's still a few cupcakes on the SEC table, this is a week where we'll see some goodies grind it out and just like you, we'll be sitting with our fingers and in Bacardi's case, his paws crossed, hoping for the outcomes we're not too sure of.
Let's change things around this week and list the losers per kickoff, this way you can keep up with the losers as they fall by the wayside, so let's begin.
Ohio at Tennessee – Get your sweet tooth going because at noontime the Bobcats from Ohio come knocking on the door at Knocksville's Neyland Stadium and the Vols will be more than welcoming to a team they should finally put a stomping on.
Yes folks, these bumbling Bobcats don't have a chance of beating the Vols, but the fans won't care as they just finally want to see this offense running on all cylinders and running off with a big win.
So here's the game they've waited for and the Vols and Bobcats will play the roles they're supposed to and by the end of the game the points on the Vol's side of the scoreboard should be as lopsided as the excuses they give for bad performances. Larry's Loser – Ohio
Vanderbilt and Georgia Tech – At 12:30, the Captain Crunch Bunch from Song City drop anchor in the Atlanta Beehive as they plan on taking on and taking out the Yellow Jackets. They may have started out on a bad note, but with the 'Dores, they'll be bores at the end too.
It's always fun to see an SEC team take on a wishbone team. Even Alabama's had problems with them, so while the strong point of the Song City Sailors is their defense, we just don't see it being strong enough to keep these Wasps from planting stingers in the sailors all day long.
The real question is if and when the Commodores get full sails on the offense and make some headway in that part of the ocean of football. Our guess is not soon enough. Larry's loser – Vanderbilt
Alabama at Ole Miss – The second slate of games gets going when the Pachyderms parade into Oxford to get things going in the Grove for a 3:30 kickoff and a lot of payback. Nick Saban's never been beating three times in a row by any team and he's got his pachyderms pacing the playground just waiting for the whistle to start this stampede.
The boys in Lost Wages see this as a closer game than old Bacardi and I do and despite how much talent Chad Kelley has, he'll find he can't complete passes on his back or running for his life.
And that's just how we see this one. Without a decent running game, this herd will pin their ears back, stamped and make this a tough day on this "Revenge on the Rebels" Saturday. In a big loss, Larry's loser – Ole Miss
East Carolina at South Carolina – At 4pm the pillaging Pirates drop anchor and fire up the cannons in Columbia and they're hoping to end the afternoon with a Chicken dinner after taking on these Carolina Cluckers on the old home farm.
But this is a confidence game for the Cluckers because after last week's loss, the dogs need to feel like they're back in winning ways before jumping back in SEC play again.
We thought this coop was flown when the season started, but Coach Boom has got this gaggle going and this win could be just what the Dr. ordered to get things back on track. Larry's loser – East Carolina
New Mexico State at Kentucky – Another four o'clock kickoff sees the Aggies from out in the dry dessert country of the Southwest coming to the bluegrass country of Kentucky to tussle with the local Tabbies down in dessert country.
This season ain't going well for these Kentucky Kitties and they really need a win or two to keep the fans from coming to the next few games without pitchforks and torches.
Yes Mike Stoops seat is hotter than a silver fork in a microwave and this game will at least cool his cheeks for one week anyway. Larry's loser – New Mexico State
Texas A&M at Auburn – As night time falls more good contests come up with the moon and this contest between Coach Kevin's bunch of Aggie men take on the Tigers down on the plains. The fight begins at 7pm and won't end till there's just one team left standing.
Folks, this could be fight of the night as there are as many good things on each team as the bad traits, so they are pretty evenly matched up when you look at the man on man positions and match ups. This is gonna go till the final whistle unless something goes badly wrong for one team.
I'd like to say that the home team gets the nod in this one, but despite the productive outpouring on the offense last week, neither the pigskin pickin' pooch or I are sold on Gus' "Smoke and Mirror" offense and feel like they'll come up just a little short as the Aggies plant 'em out in the South 40 after this one. Larry's loser – Auburn
Mississippi State at LSU – Another 7pm battle sees neighboring states not acting very neighborly as the Bulldogs come down to Cajun country to conquer the Cats of bayou Bengal persuasion.
But the dogs ought to know better than to tussle with this Tabby on his home turf and especially at night because they'll put more than fright into these pack of pooches, they'll give them their claws too.
Mullen has lost too many big mutts for this one to come out in an upset, but we're both feeling that it could have the possibility of being a very close game for a while, but in the end, talent rises to the top. Larry's loser – Mississippi State
And for Les, that could be a reality….
Texas State at Arkansas – 7:30 sees the second round of night games flip the coin and come out fighting but this game against this contest between the beleaguered Bobcats from Texas and the hungry Hogs from Arkansas won't be much of a fight.
Last week the Hogs benefited from a selfish "Kenny Kill Hill" and his throat slashing move that instead of predicting the Hog's slaughter instead showed what his team wanted to do to him for his selfish TV moment. They won't need a dumb ass helping them this week as they'll take care of business on their own.
This is a team that has a history of starting out slow and figuring things out as the season goes on, but this week they'll get a jump on figuring out how to whip an opponent good as they thoroughly out battle these Bobcats. Larry's losers – Texas State
North Texas at Florida – At the same 7:30pm slot, another team from Nowhere, Texas come to the SEC for a big check and a bigger butt kicking.
McElwain's Mud Puppies are prepping for an SEC showdown next week with Tennessee, so they'll take this week to manhandle these not so Mean Green men and maybe fine tune a bit against this practice squad.
I'd like to say this could be fun to watch, but only if your child is playing for Florida will it be fun to watch. That makes Larry's loser – University of North Texas
Georgia at Missouri – The final game at 7:30 game may not be as bad a cupcake game, but the Bulldogs from between the hedges aim on sure making it look that way.
We're glad the mighty Mo's had a good week last week and gave the fans a lot to cheer about, because this week there won't be many highlight reel moments for the Tigers this week.
Though they're winning, you get the sense that coach Kirby still ain't got that Dog trained as they're struggling with every win so far, but this week, much to the chagrin of these Kitties, they'll finally look like a big dog ready to run in the SEC. Larry's loser – Missouri.
Well that it for this week folks. Thanks so much for coming back each week to get the list of likely losers from this laughable pair of pigskin pickers. Next week there's still a few cupcakes out there, but there's also some slobber knocking season deciding SEC contests that could be real nail biters. So start sharpening your pencils and see if your list of losers lines up with ours when we roll out the roster.
Till then, remember, cheering hard burns calories so stock up on game time snacks and enjoy the game.
LARRY HAS BEEN PUBLISHED IN ALMOST EVERY MEDIA OUTLET FOR COLLEGE SPORTS AND NOW PRIMARILY WRITES HERE FOR TOUCHDOWN ALABAMA. HE WRITES IS A COLLOQUIAL AND IRREVERENT STYLE FOR THIS SERIES OF ARTICLES. LARRY'S VIEWS AND SENSE OF HUMOR MAY OFFEND, BUT HE AIMS TO OFFEND EVERYONE EQUALLY. IF HE HASN'T INSULTED YOUR FAVORITE TEAM WITH LARRY'S LOSERS, JUST WAIT. FOLLOW LARRY ON TWITTER FOR INSIDE THOUGHTS AND GAME TIME COMMENTS AT

 HTTPS://TWITTER.COM/LBSPORTSWRITER
THANKS FOR SHARING THE LINK TO THIS STORY ON YOUR FACEBOOK PAGE