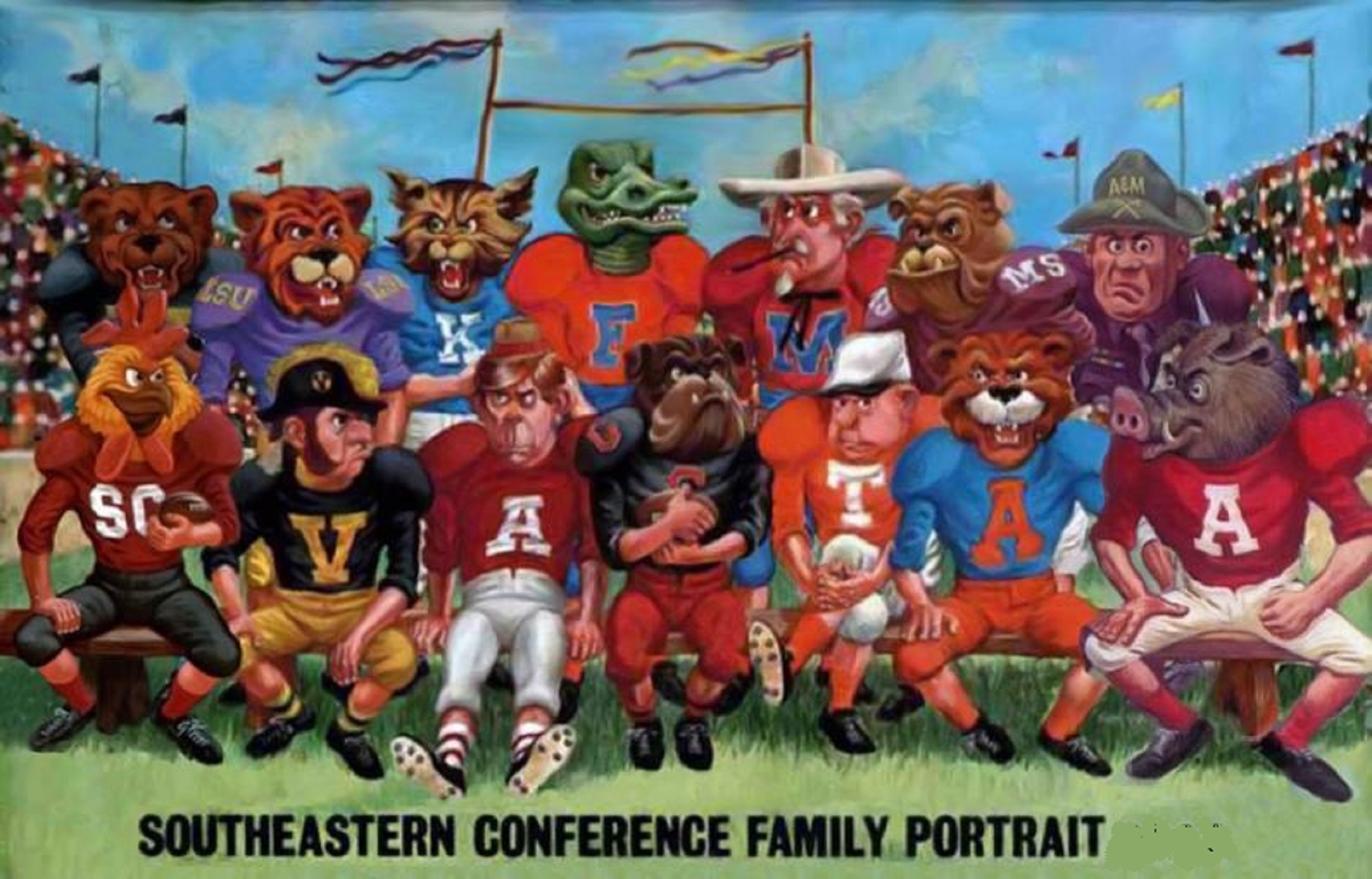 There's a bunch of lopsided losses looming this weekend and one noteworthy game that's gonna shape the SEC East. See if you agree with this pack of picks.
Larry's Losers in the SEC- Week 5- 2016
By: Larry Burton
What a crazy Saturday! Vandy wins because U Mass missed a two point conversion, Auburn won because of another miracle second, Florida blows an 18 point lead and loses and Carolina got their Chickens choked. What weird endings to so many games. Especially Auburn who lost and then won. And we got all four of them wrong. We also lost a friend who gave us many grins and took a lot of shots from us, we'll miss having less Les in the SEC, you made it more fun.
This disastrous weekend brings us down to 36-8 for the year. These four losses equal our whole loss output for the season so far before this week and knocks us down to 82%. Still better than anyone at ESPN or any of the big boys, but bad for us. After a perfect pack of picks last week, the poor Wonder Dog and I are humbled we stumbled.
And the bad news is, there's games coming up in the next few weeks that's got us chewing our nails over trying to list the losers. So without further excuses, let's jump into this week of picks.
Kentucky at Alabama – The Kentucky Kitties come to Tuscaloosa hoping for a little compassion from the Crimson Tide. They've already given up hope of winning this game, but they're hoping to get in and out without being trampled by the tusked ones.
And even with Nick Saban resting the roughed up ones for next week's Pig party, he is still going to let his boys skin this cat.
The question is not whether they'll win or lose, but whether Kentucky can score a touchdown. That's about the only reason to watch this little brother SEC battle. Larry's Loser – Kentucky
Texas A&M at South Carolina – Texas Aggies take off on a road trip to Columbia's Chicken coop and hope to raid the hen house and pick up a little chicken dinner to boot.
But these Carolina Cluckers haven't dodged bullets all season long to go down without a fight so they've sharpened their spurs and polished their peckers and they plan on making this a pecking party the Aggies won't soon forget.
Though we're sure the outcome will come out as we think, we also think this could be a surprisingly close game, but still, in the end, Larry's loser will be South Carolina
Tennessee at Georgia – The Vols come down South to Red Clay Country and aim to finally show the SEC that they're ready for the big time by deflating the Dogs in their own back yard and locking up the East. Maybe they don't realize that would be two games with Alabama this season if the Tide gets going.
But Kirby's Kritters ain't the kind of Dogs that cut and run when they see somebody with a rolled up newspaper and they're gonna mangle and maul till the final whistle is blown.
This could be a doosey, the Vols are ripe to still be patting themselves on the back from last week, but the Dogs just looked like whipped puppies last game, but a Dog defends his own yard to the last bite, so the Dogs will have their day today. In an upset – Larry's Loser – Tennessee
Alcorn State at Arkansas – The Alcorn State Braves dance on the warpath down to Little Rock and hope to catch the Hogs licking their wounds from previous battles and overlooking this poor little tribe of Indians.
But these little Piggies don't go wee wee wee all the home, they're the kind that charge you and rip you to shreds with those Razorback tusks.
So in another blowout game to waste your weekend if you're part of the Hog herd, Larry's loser – Alcorn State
Missouri at LSU – Here's another tussle of Tigers  and this cat fight is going down in Baton Rouge. One Tiger had high hopes and is struggling and the other had low expectations but became surprising, so this one could be closer than most folks think.
Les Miles lost last weeks cat fight and his job because he still hasn't mastered clock management and the offense seemed to struggle all night long.
Meanwhile, the Missouri brand of Tiger was scoring at will all day long. We really wouldn't be shocked to see an upset in this one, but with the game being in Baton Rouge, we'll lean to the home team who feels like they have a lot to prove. Les, your boys do you proud. Larry's loser – Missouri
Florida at Vanderbilt – McElwain's Mud Puppies slither and slide on up to Song City to slaughter the Sailors of the Vandy and few think it will go anyway but that.
But this squad of generally sinking Sailors usually has one surprise a season up their sleeves and this could be the time the catch the Gators playing down to the level of their competition and get that lucky shot in late to seal the deal.
But we're thinking that even if they fire all their cannons their aim is gonna be off and the Gators grab another SEC win making Larry's loser – Vanderbilt
Memphis at Ole Miss – Another tribe of Tigers come traveling and this one from Memphis moseys down to Mississippi to try and rustle the Rebels out of a win and claim some fame for this season as the little team that could.
Now Hugh Freeze knows that this team from the American Conference is one that can play with the big boys and he knows there ain't a lot of icing on this cupcake. Far from it, this is a team that can claw with the best of them.
But when it's all over, the Rebels will know they've been in a game and whether it's by one point or a dozen, they'll be glad this contest is over. Larry's loser – Memphis
UL Monroe at Auburn – In a battle of the birds, the Warhawks come flying East to the plains of Auburn to try and down the War Eagles of Auburn. Warhawk coach Matt Viator is hoping he can catch this flock of War Eagles looking ahead to a bigger game against the Mississippi Mutts and get them to lay an egg.
But as hard as wins have been to come by for these Auburn boys, they're not about to overlook any opportunity for a win so they're gonna be ready, rowdy and rude when this company comes a calling.
This game is gonna let a lot of frustration flow from the plains and this could be just what the doctor ordered to get their bowl dreams back in focus. Larry's loser – UL Monroe
Well that's it for this week folks. It's really sad that there's only one big game in the SEC this week but that one is either going to be really exciting or really disappointing. There's one game we might miss as we're trying to upset the upset bug, but we don't see more than one miss in our picks.
On the other hand, next week has got us worried big time, so thanks for coming this week, but be sure and see how we see next week's wars. It looks like overtime in the study hall for your truly and the pigskin pickin' pooch. So till then, thanks for coming by.
LARRY HAS BEEN PUBLISHED IN ALMOST EVERY MEDIA OUTLET FOR COLLEGE SPORTS AND NOW PRIMARILY WRITES HERE FOR TOUCHDOWN ALABAMA. HE WRITES IS A COLLOQUIAL AND IRREVERENT STYLE FOR THIS SERIES OF ARTICLES. LARRY'S VIEWS AND SENSE OF HUMOR MAY OFFEND, BUT HE AIMS TO OFFEND EVERYONE EQUALLY. IF HE HASN'T INSULTED YOUR FAVORITE TEAM WITH LARRY'S LOSERS, JUST WAIT. FOLLOW LARRY ON TWITTER FOR INSIDE THOUGHTS AND GAME TIME COMMENTS AT

 HTTPS://TWITTER.COM/LBSPORTSWRITER
THANKS FOR SHARING THE LINK TO THIS STORY ON YOUR FACEBOOK PAGE