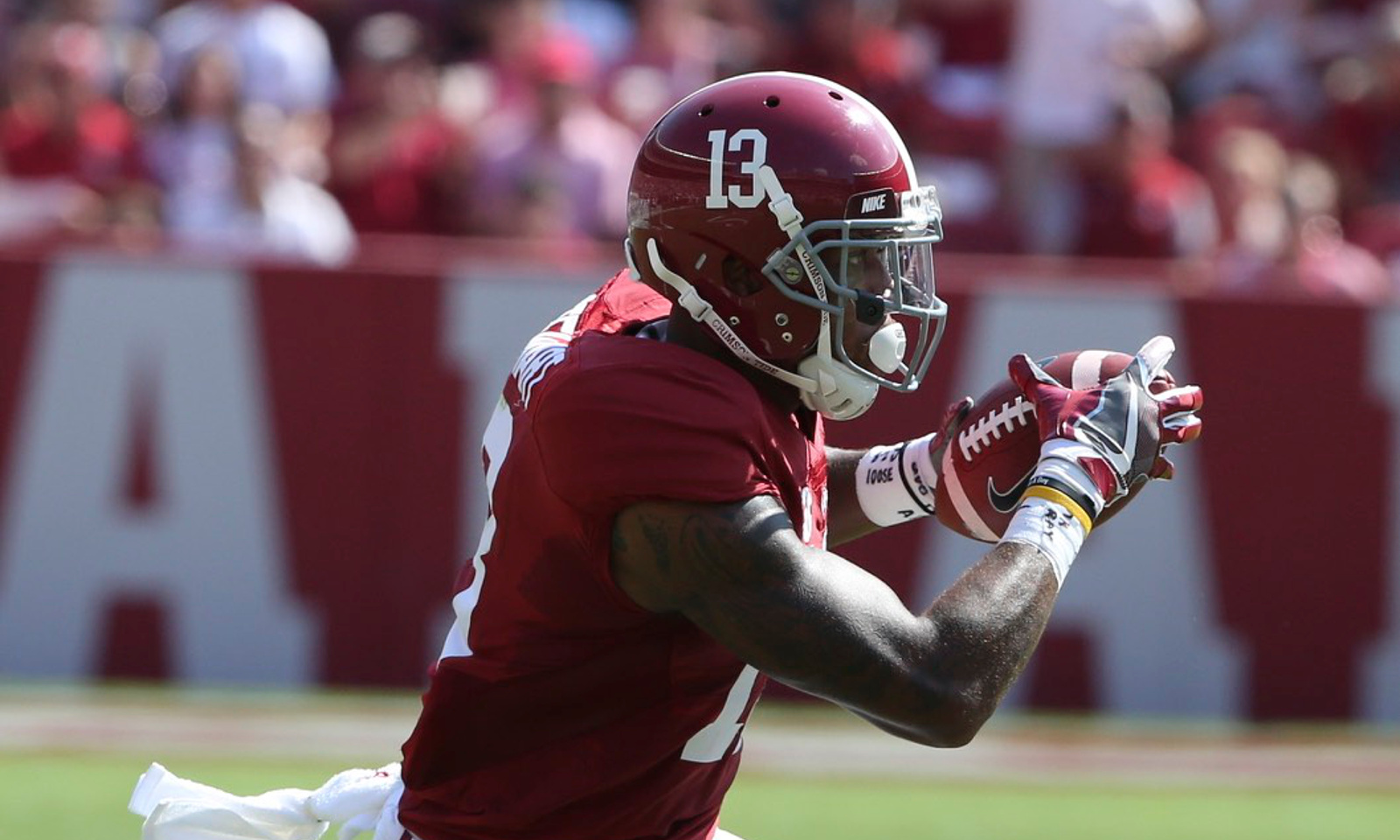 TUSCALOOSA—ArDarius Stewart would not allow Jalen Hurts to be intercepted.
Whether it's assassins, band of brothers or players carrying a huge axe because it looks cool, Stewart is the anchor that keeps this unit of talented wide receivers in line. His presence was missed prior to last week, but Hurts reunited with his safety valve against Arkansas. The 6-foot-1, 204-pound junior snatched five passes for a career-high 120 yards, including two 13-yard receptions that converted third downs. Stewart's growth in both working back to the quarterback and fighting for the ball came into play during the first quarter.
Despite completing 13 of 17 pass attempts, one of Hurts' targets to Stewart almost became a disaster.
Upon its first third down of the game, Hurts placed the ball to close to the inside. Arkansas' defensive back Josh Liddell broke on the play, and attempts to step in front of Stewart for an interception.
Quick hands and solid positioning allowed Stewart to wrestle the ball from Liddell, en route to getting a first down and maintaining possession on offense. Two of his five grabs came on touchdown drives in the first quarter, while his longest effort occurred on a 67-yard reception in the second half. Coach Nick Saban was pleased with how Alabama's offense generated balance in both run and pass game. When asked about Stewart's performance, especially on third downs, he said "Stewart is capable of making those plays."
"We missed explosive players who can make big plays, and ArDarius Stewart is certainly a guy who can that," Saban said. "ArDarius made a fantastic play and didn't take care of the ball at the end of it, which is a shame because you love to see him make those plays. Hopefully, he will get healthier and healthier as we go down the stretch here. It gives our offense more diversity and weapons when he and Calvin [Ridley] are both in there."
The Crimson Tide's 2015 match-up against Tennessee was the first marquee outing for Stewart (five catches, 88 yards), before setting a career-high of 113 receiving yards against Southern California in week one of this season. He was one of few players that spoke to the media after a 49-30 win over Arkansas. When it comes to providing a quarterback with a dependable target, he said "when the ball is in the air, it is your ball."
"I just went up and got it," Stewart said on the first third down conversion.
He has more to learn about running the offense, but Jalen Hurts is going with each game. After tossing for 253 yards (76.5 percent) and totaling four touchdowns, he now has 14 scores on the year.
"He's [Hurts] a speed option guy," Stewart said.
"He can run it in one-on-one situations and throw it on the run. Lane Kiffin has done a great job of putting the offense around him. We are trying to get everything together and it's been working so far."
It may be bowl eligible at 6-0, but Alabama is after another national championship. Quarterback Joshua Dobbs and the Tennessee Volunteers will present a new challenge on Saturday at Neyland Stadium in Knoxville, Tenn.
Stephen M. Smith is a senior analyst and columnist for Touchdown Alabama Magazine. You can "like" him on Facebook or "follow" him on Twitter, via @Smsmith_TDALMag.