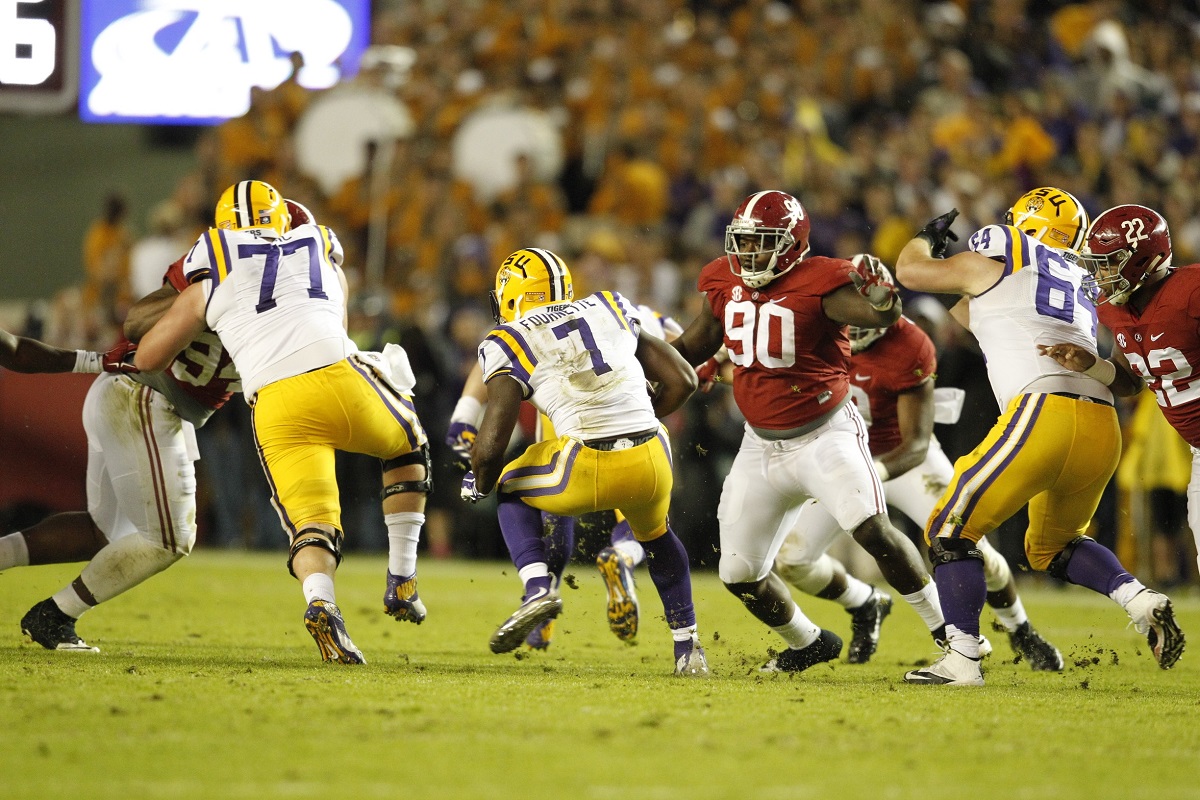 Last year Alabama not only killed LSU's dreams of a great season, but absolutely killed Leonard Fournette's hopes to win a Heisman. Will it happen again? See the reasons pro and con and decide for yourself.
Will Alabama Kill Leonard Fournette's Heisman Dream Again?
By: Larry Burton
Almost one year ago, Alabama not only stomped the LSU Tigers enroute to a College Football Playoff Championship win, they absolutely killed any chance Leonard Fournette had to win the Heisman Trophy by throttling him all day long and limiting him to just 31 yards rushing.
Now the question is, can Alabama do it again?
The chilling answer for LSU fans is simple: Yes.
And for the LSU fans who want a second opinion: Absolutely yes.
Now the only question left asked to be answered is: Will they?
And therein lies the meat of this article. Presently Alabama is number one in the nation in rush defense allowing teams a mere 70.13 yards a game. Let me repeat this in more detail. Allowing teams 70.13 yards per game, not the team's leading rusher, but the whole entire team.
Last season, one in which the defense was hailed as on of the best in the country, their average per game was 75.73. So there is no reason to think that this Alabama team can't do once again what it did last year and that is the strongest argument of why they will do as well or better.
In the interest of fairness, let's explore the reasons why they may not. First of all, it takes only one run, one missed tackle, or one missed assignment to shoot that 31 yard record down. Secondly, LSU has a bit better passing game and a bit more of a passing mindset than the team did last year and that too can help loosen up the run defense.
You must also figure in that last year's game was in Tuscaloosa and this one is a night game in Baton Rouge where the Tigers and their fans feel and extra electricity in the air.
But in the end for a summary judgement, yes Alabama will once again remove Fournette from the Heisman race. Everyone will once again say that he can run on cupcakes and pile up numbers, but against good teams, he lies down and plays dead.
As we already discussed, this year's Alabama team is better with rush defense than year's team and lastly, this year's LSU squad is averaging just over 239 yards a game rushing and last year's squad had slightly more at just over 257 yards a game. So this year's Tiger squad is behind what last year's team did playing a better defense. They will lose right along with Fournette.
Therefore you can assume that a better Alabama defense produces better results over a worse LSU rushing offense. Oh but those assumptions can be tarnished with just one missed tackle, one great juke or one missed assignment. That's why they're so fun to watch and so hard to predict.
Larry has been published in almost every media outlet for college sports and now primarily writes here for Touchdown Alabama. Follow Larry on Twitter for inside thoughts and game time comments at https://twitter.com/LBSportswriter
THANKS FOR SHARING THE LINK TO THIS STORY ON YOUR FACEBOOK PAGE OR A FACEBOOK GROUP YOU BELONG TO, FACEBOOK RESTRICTS HOW MANY PLACES WE CAN POST IT ON, SO PLEASE SHARE!