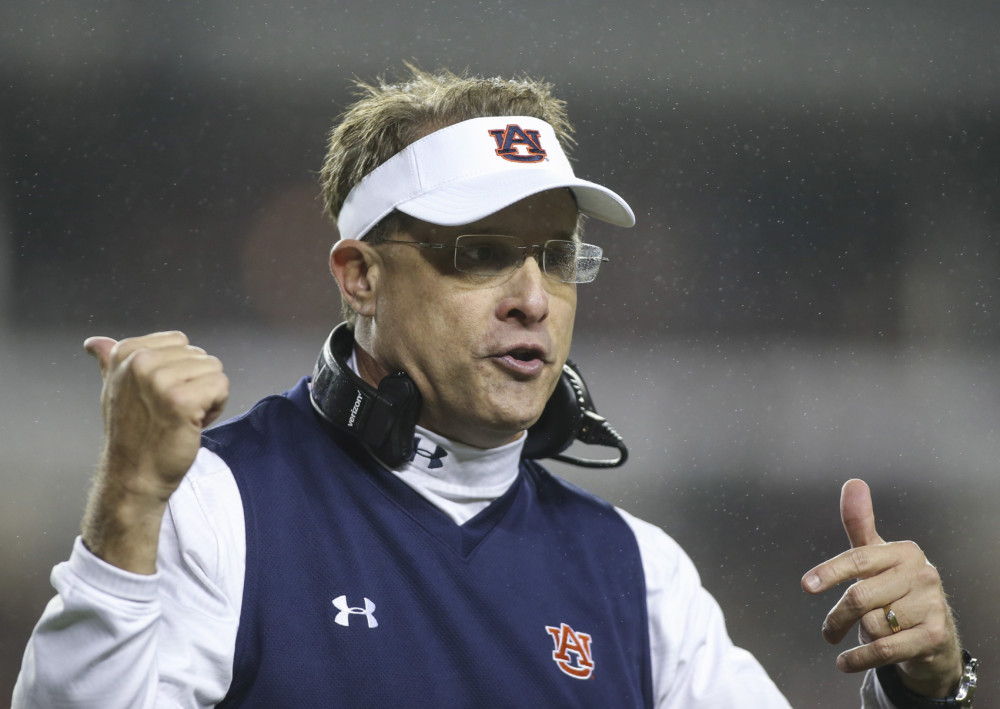 By all means, the Alabama Crimson Tide need to be focused on their showdown this Saturday against LSU. It's a road game in a hostile environment. Alabama is 8-0, and Nick Saban's squad is looking to repeat as national champions. LSU is sitting at 5-2, and a victory against Alabama would most likely move the No. 15 Tigers back into the top 10.
Although LSU is a formidable foe, it' s another team in the SEC West that Alabama fans need to worry about. It's the one team the Crimson Tide faithful despises more than LSU: Auburn.
At a time, Gus Malzahn's team looked far from impressive. Thanks to a resurgence, Auburn is now sitting at No. 9 in the College Football Playoff rankings. If you look at Auburn's schedule, they took two respectable losses (one to Clemson, and one to Texas A&M, both of whom are ranked in the playoff system).
Going into the Alabama game, Auburn has a fairly easy schedule (Vanderbilt, Alabama A&M and Georgia). Auburn could be 9-2 heading into the Iron Bowl. Alabama will face Mississippi State and Chattanooga after they play LSU. They should win out the rest of their schedule before the Iron Bowl.
LSU is a very respectable team, but they shouldn't be an issue for Alabama. Last year, Bama's defense held Fournette to 31 yards on 19 carries. The defense this year looks to produce similar numbers. Alabama will try to control the line of scrimmage, and force LSU to throw the ball. Alabama should be able to defend the pass against LSU, despite the loss of Eddie Jackson in the secondary. The pass rush should cause pressure for LSU, and force some wayward throws.
But, let's talk about Auburn. Auburn's offense has evolved as the season has progressed. SeanWhite has been a solid option at quarterback, while John Franklin III adds some dynamic playmaking abilities as a scrambler. Kamryn Pettway and Kerryon Johnson have combined for 15 rushing touchdowns this season. Alabama does have the top ranked run defense in the country.
There's an X-Factor, and that's the magnitude of the rivalry. It's the Iron Bowl. It's everything for these two teams. It would mean the world to Auburn to dethrone Alabama in Tuscaloosa. It would probably help Auburn find a spot in the top four rankings for the College Football Playoff. For Gus Malzahn, this could be another one of those signature career wins against his in-state rival.
No, Alabama shouldn't look past LSU. They should go into Baton Rouge and play a dominant game. Hopefully, they play so dominant that they send a message to Auburn: Watch out. We're not playing around.