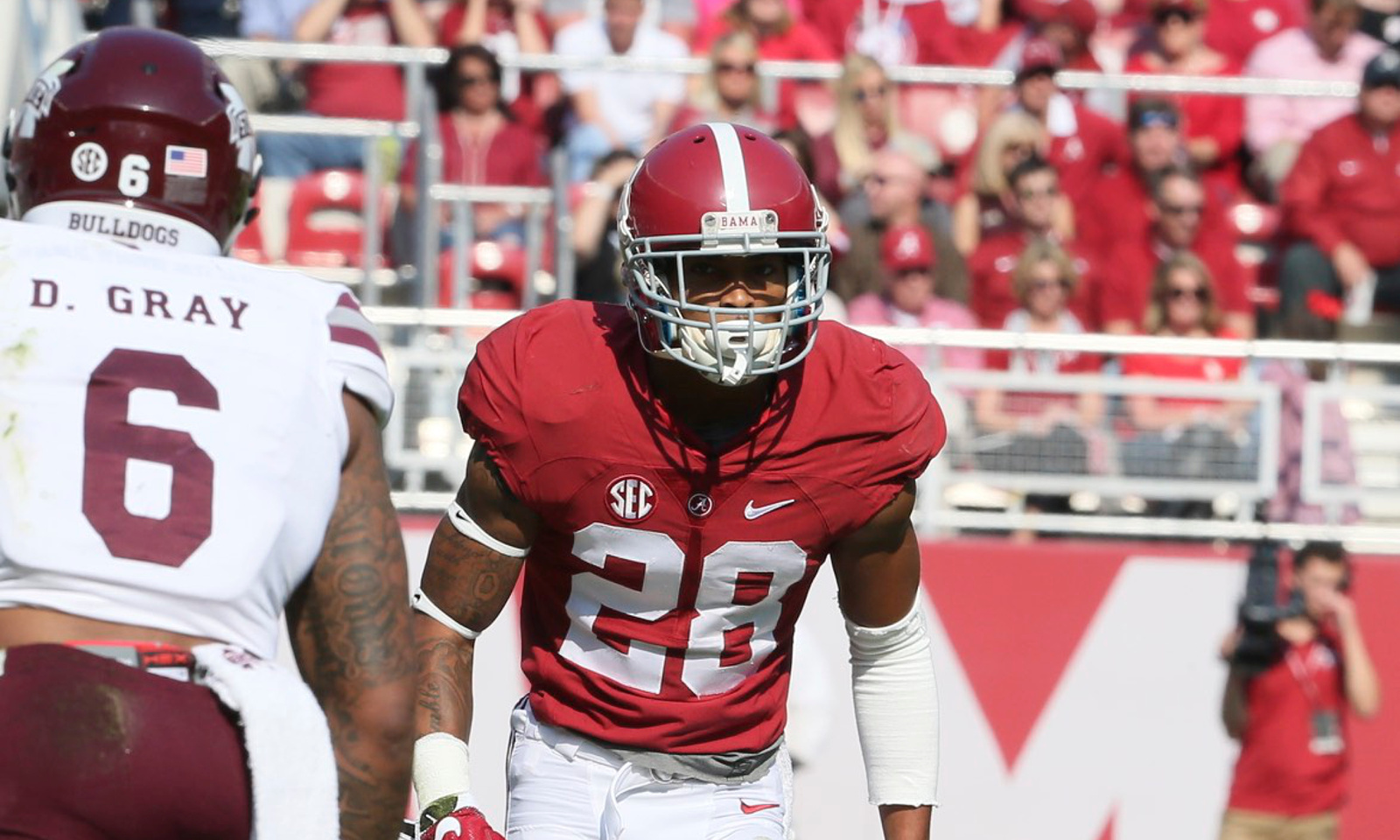 TUSCALOOSA—Alabama football appears to have its version of the National Football League's Darrelle Revis, or least that's what Anthony Averett tried to portray at Bryant-Denny Stadium against Mississippi State.
With each game, the junior defensive back is getting more comfortable in taking on the elite wide receivers of college football. Both Fred Ross and Donald Gray had productive outings, prior to facing the Crimson Tide.
Ross, a senior, totaled six receptions for 98 yards and two touchdowns in the Bulldogs' 35-28 victory over then No. 4 Texas A&M two weeks ago. Gray, a junior, had a career day against Samford. He brought in four passes for 207 receiving yards, including three touchdowns in a 56-41 win at Davis Wade Stadium back on Oct. 29.
Averett locked down both players, limiting them to a combined 102 yards with no scores on six catches.
The 6-foot, 183-pound cornerback spent much of the game on Gray, while being switched onto Ross in different situations. Despite being targeted eight times, Gray had just three catches (76 yards) and two with Averett defending. The New Jersey native denied Gray a target in the fourth quarter, as Damian Williams replaced Nick Fitzgerald. As for Ross, he was held to three grabs (25 yards) with two coming in the second quarter on 10 targets. Both he and Gray caught less than 50 percent of their targets, resulting in Fitzgerald becoming the sixth quarterback that Alabama's held under a 50 percent completion mark (10 of 33, 30.3%).
His coverage skills were crisp, but it was Averett's hustle on special teams that excited coach Nick Saban.
One of his four tackles came in the second quarter on a kickoff return. Brandon Holloway found a crease and was looking to be headed for a touchdown. Averett, who happens to be one of the fastest players on the team, tracked Holloway down inside the Tide's 45-yard line to preserve a score. One foul was called on him during the game, and it came via a pass interference in the second half. Averett was defending Ross on the play.
Regardless of giving up a couple of big plays, coach Nick Saban was pleased with how his secondary was able to disrupt the timing of Dan Mullen's offense at Bryant-Denny Stadium.
"I thought out guys did a great job of cutting their wide receivers off," Saban said. "We got called for a couple of pass interference penalties when I thought we had good position, but it is what it is."
When asked about how Averett held up, Saban said he didn't give up any plays.
"I thought Anthony (Averett) did a really good job," he said. "We gave up a big play in cover two, but that came from us not jamming people and cutting them off like we need to."
Bottling up both Ross and Gray helped Alabama defeat Mississippi State, 51-3. Averett and the Tide will have Monday off, before returning to work in preparation for senior day vs. Chattanooga on Nov. 19.
Stephen M. Smith is a senior analyst and columnist for Touchdown Alabama Magazine. You can "like" him on Facebook or "follow" him on Twitter, via @Smsmith_TDALMag.