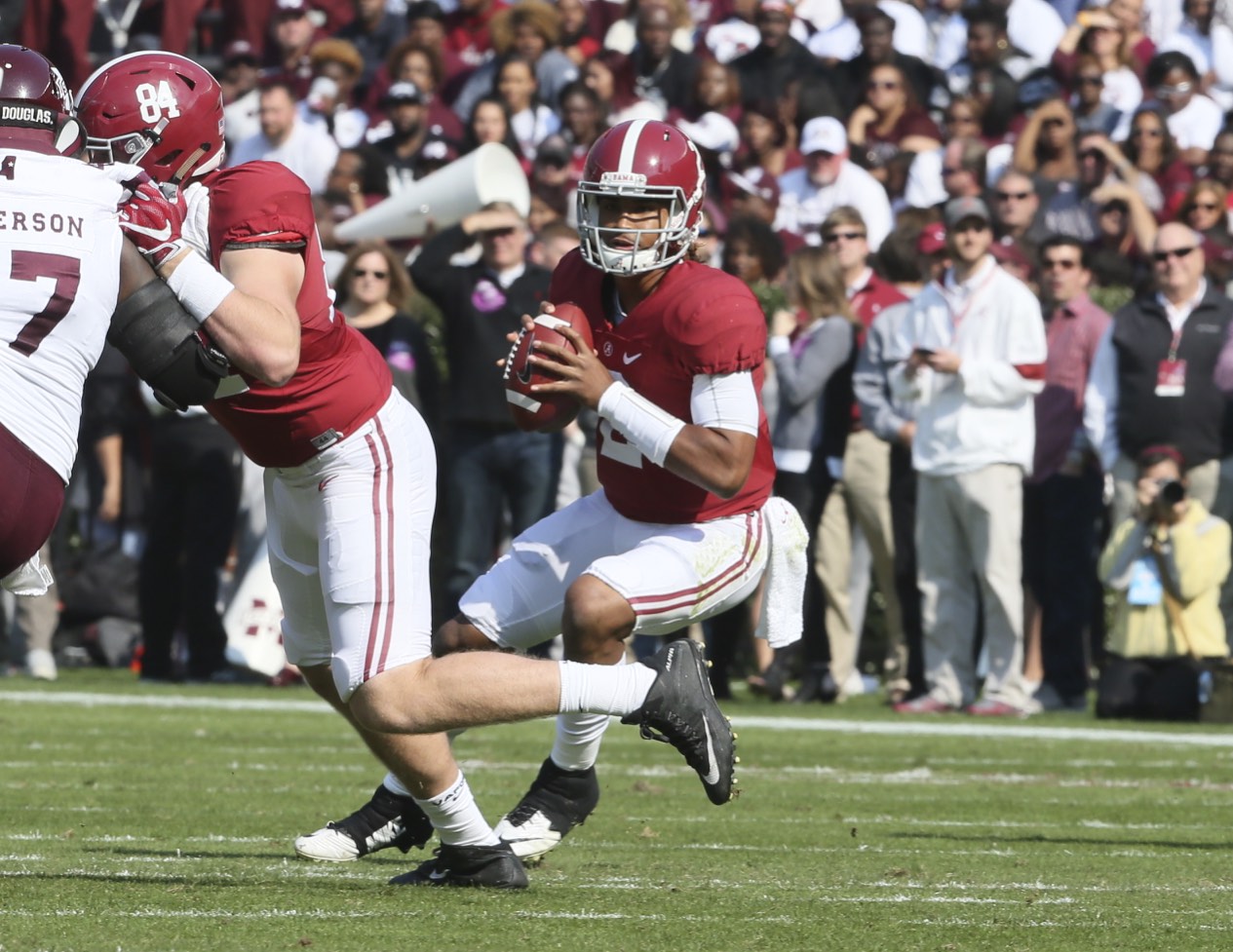 To other teams, it's bad enough that Alabama was the best team in the nation, but now they're getting even better. Jalen Hurts passing is now scaring teams even more.
College Football Cringed When Alabama's Passing Game Got Going
By: Larry Burton
It was bad enough was Alabama was unbeatable with a mediocre passing game and a great running game, but now with Hurts shaping up his passing skills and throwing for over 300 yards over a good SEC defense, the rest of college simply cringes.
When Alabama beats a quality team by 38 to 48 points and Hurts only throws for say 118 yards as he did against USC maybe teams think if they can just stop the run, Alabama can be stopped. But now with Hurts showing he's developed the skills to throw for over 347 yards to a big group of receivers, what's an opposing team supposed to try and stop.
When Hurts chose which college to come to, his reasoning was if he came to Alabama, Lane Kiffin could polish his drop back passing skills and get him even more ready for the pros. He saw what a job he did to a converted running back, Blake Sims and to first year starter Jake Coker and he thought that was just the spot for him. That and he could play for championships.
Well apparently what he wished for is coming true and with Alabama playing a game this week against a team that could only be described as a practice squad by Alabama's standards, there's no doubt that Saban will let Kiffin turn Hurts loose again to polish up his skills in preparation for the final regular season game and post season.
Take a look at this graph:
And then consider that for many games the coaches simply didn't loosen the reigns on Hurts for a while, but given his latest performance, I think they'll stay loose for the coming games. And with Hurts running for over a hundred yards, throwing for over 300 and the other running backs getting over a hundred yards rushing, opposing defensive coordinators will just throw up their hands in frustration trying to stop this offense and we don't even have to mention that Alabama's defense gives up points with exceeding stinginess.
It's getting to the point that this Alabama team may have to start playing NFL teams to have some serious competition. Because this world class defense has always had a great running offense to compliment it, but now with Hurts coming of age as a passer, there simply isn't a team in all of college football that would be favored in any game anywhere at any time by the boys in Las Vegas.
While most of the country is rapidly getting bored with waiting for Alabama train to run out of gas, the bad news is it's only gaining momentum.
Larry has been published in almost every media outlet for college sports and now primarily writes here for Touchdown Alabama. Follow Larry on Twitter for inside thoughts and game time comments at https://twitter.com/LBSportswriter
THANKS FOR SHARING THE LINK TO THIS STORY ON YOUR FACEBOOK PAGE OR A FACEBOOK GROUP YOU BELONG TO, FACEBOOK RESTRICTS HOW MANY PLACES WE CAN POST IT ON, SO PLEASE SHARE!