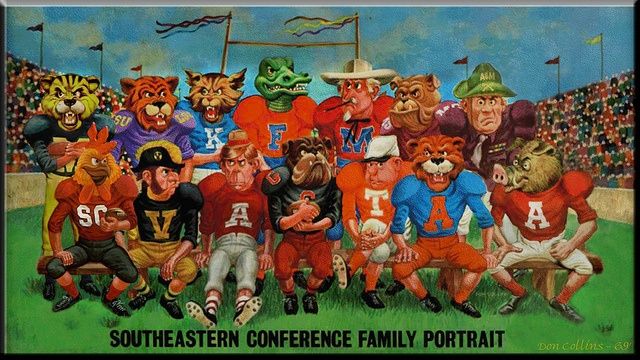 LARRY'S LOSERS IN THE SEC-WEEK 13-2016
By: Larry Burton
Well folks, we're ashamed to say that like every pencil jockey predictor of we got all the cupcake contests, but we missed two of the three games that could have been contested. While 8-2 is respectable, it sure doesn't feel like it when you missed two of the three that were pickable. That brings our total to 80-22 for the year and just under a 79% accuracy rating.
To make it worse, this is rivalry weekend and anything can happen, so we've been burning the midnight oil to find the tidbits that can help us bring home better predictions. At least we know the teams for two weeks from now and that one should be an easy pick, but for now, let's just jump into this week's wars and place our wages on this week's losers.
LSU at Texas A&M – Thursday night starts off this SEC slugfest weekend when the Bayou Bengals bus on over to take on the Texans of A&M variety at 6:30 after stuffing their tummies full of festive dinners.
Now neither team had the season they were hoping for and both want to end things on a high note and he knows that with this win and a big bowl win too, a ten game winning season will sure take the heat off his seat.
In that respect, poor old coach O may have left his chance of being Bengal's boss sitting on the one yard line last week as that failure to punch it in from just outside the goal line cost him the game and his job. But we see his boys sending him out a winner this week as they scrape out a close one. Larry's loser – Texas A&M
You'd have thought by now, someone would have told these two that this is the symbol for "LOSER".
Arkansas at Missouri – On Friday at 1:30, the happy Hogs haul their keisters over to Missouri to take on the Tigers of the Show Me State.
Unfortunately, these Tigers haven't shown too much to too many this season and since they aren't going bowling, this is the last game of the season and they'd love to end things on a high note.
However, the Hogs ate our lunch last week as the pulled off a win we were sure they wouldn't, so were' not going to betting against a hoard of hot hogs this week and that makes Larry's loser – Missouri
Georgia Tech at Georgia – Kicking off the weekend wars, the Buzzing Bees bus on down to Athens to try and make life miserable in the Dog pound between the hedges at 11am.
Now this Ramblin' Wreck has crashed a few good teams this year and they're always a handful for teams that have trouble with a running game.
But Kirby Smart has seen it all and he's taught his old dogs some new tricks when it comes to tackling the Techers and though it be a toughie, the old dogs get the bone this weekend. Larry's loser – Georgia Tech
Kentucky at Louisville – The other prenoon promenade starts at 11am too but this time it's the Battle of the Bluegrass when the Kentucky Kitties take on the high flying feathered footballers from Louisville.
Now this has been a special season for these stripped Siamese and they've truly gone from Mildcats to Wildcats who will make some noise in post season for the first time in a while. But nothing would be sweeter than to sock the Cardinals in the tweeter and ruin their playoff dreams once and for all.
But these Red Birds aren't about to let this SEC also ran ruin their chances of making it to the big time so once the fur and feathers stop flying and all the smoke clears, it'll be a bird that has the last chirp. Larry's loser – Kentucky
Mississippi State at Ole Miss – At 2:30pm, Mullen's Mutts muddle over to Oxford to raise their legs on a tree or two in the Grove and mark it as their territory.
Both these teams had disappointing disasters this season, and even though the dogs won't be bowling this holiday season, an Egg Bowl trophy on the mantle this winter would sure help heal those blues.
But this is the game that could get these Bad News Bears to bask in post season and that's the big incentive that will make all the difference in this one and that makes Larry's loser – Mississippi State
Auburn at Alabama – The other 2:30 tussle is in Tuscaloosa as the Worn Eagles try and heal up enough to take on tusked ones in T-Town.
Auburn has been up and down more than an Otis elevator this season and it's hard to tell which team is gonna be the one to show up on Saturday. But they spent last week licking their wounds and they think they're ready for another epic upset in Title Town.
But reality will kick in about kick off and the only thing upset will be the Auburn faithful who thought there was just a slight chance in this one, because once this one is over the Auburn training staff may need spatulas to scrape these Southern Kitties off the field after this trampling. Larry's loser – Auburn
Does this picture really need a caption? I thought not….
South Carolina at Clemson – At 6:30 in the first sunset special, the Carolina Cluckers travel in state to call on Clemson and the bragging rights of South Carolina are on the line in this one.
A tip of the hat to coach Boom who somehow got this under cooped henhouse full of Cluckers into bowl season this year and we hear he's hoping to pull off one more surprise and take these Tigers from the talk of a playoff contender.
But Dabo ain't about to let a mid pack of pullets pull of playoff upset like that and he giving orders for his posse of pussycats to pulverize and pluck these feathered footballers as he gets the barbeque ready for some grilled Chicken. Larry's loser – South Carolina
Tennessee at Vanderbilt – The other sunset soiree at 6:30 finds the Vols swinging over to Song City to take on the Shoulder Braided Sailors for the bragging rights to Tennessee.
Vandy has had a better than expected season and if they can pull off a pummeling in this party, they'll prance on to post season participation and that's just what they intend to do.
But even though this was supposed to be the year that Vols quit being vanquished from the SEC race, at least by losing the East they won't have to be embarrassed by Tusked Tuscaloosans in an SEC Championship Game. So they'll take skipping that and instead skipping on season ending bowl games with folks they might could actually beat. Larry's loser – Vanderbilt
Florida at Florida State – Another Friday fight, this one at 7pm, finds the Florida championship on the line when those Gainesville Gators gather at the big tee pee in Tallahassee.
The Tribe from Tallahassee is entertaining their instate nemesis and while this season didn't go the way these face painted footballers wanted, they will take a lot of solace in spearing the gigging these Gators and winning the fame of first in Florida.
Now these gaggle of Gators are about to take on two tough games in a road, but they're not going to save anything for the second if they can use it all up and win this one. So look for a tougher game than most think, but in the end, this ain't the day the SEC wanted. Larry's loser – Florida
Well that's it for this regular season folks. I guess all those vacations just vacated our vaunted place as the perfect pair of prognosticators and we need a fantastic finish to flush us back up to over 80% so we can flaunt a fine finale.
In the meantime, we have a big Thanksgiving here, but Bacardi the Wonder Dog is already in trouble.
"A whole turkey you say? No, this was how it looked when I sat down!"
But just when you thought it was all over, next week we'll have Larry's Losers in the 2016 SECCG edition. And Lord, just in time to mess up another wonderful vacation, then we'll do Larry's Losers Bowl Bonanza! So if you thought you weren't getting something great for Christmas, look what you have to look forward to.
Till then, the pigskin picking pooch will be holding down the Prediction Palace with his grandparents house sitting for us. But we'll be skyping semi daily to discuss the disasters to come, so Happy Thanksgiving and save the ham bones for the four legged boy.
LARRY HAS BEEN PUBLISHED IN ALMOST EVERY MEDIA OUTLET FOR COLLEGE SPORTS AND NOW PRIMARILY WRITES HERE FOR TOUCHDOWN ALABAMA. HE WRITES IN A COLLOQUIAL AND IRREVERENT STYLE FOR THIS SERIES OF ARTICLES. LARRY'S VIEWS AND SENSE OF HUMOR MAY OFFEND, BUT HE AIMS TO OFFEND EVERYONE EQUALLY. IF HE HASN'T INSULTED YOUR FAVORITE TEAM WITH LARRY'S LOSERS, JUST WAIT. FOLLOW LARRY ON TWITTER FOR INSIDE THOUGHTS AND GAME TIME COMMENTS AT HTTPS://TWITTER.COM/LBSPORTSWRITER
THANKS FOR SHARING THE LINK TO THIS STORY ON YOUR FACEBOOK PAGE