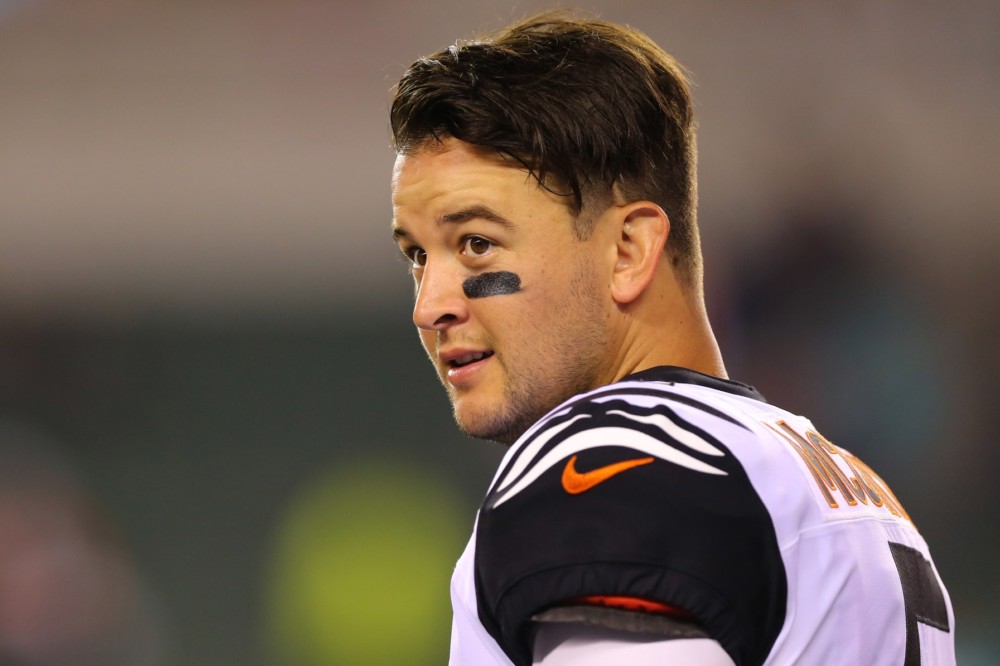 The Cincinnati Bengals will have many decisions to make regarding the outlook of 2017's team. For starters, they may very well finally part ways with Marvin Lewis after another disappointing season where his team has failed to win a playoff game, and in his case, eliminated from playoff contention altogether after their collapse yesterday against the Pittsburgh Steelers. The symbolism of yesterday's defeat is apropos considering the Steelers ousted the Bengals from the playoffs last year in  an epic collapse, after it appeared a heroic comeback would give the franchise its first playoff win in ages.
The man behind that comeback? That would be none other than former Alabama quarterback AJ McCarron, who led the Tide to back-to-back BCS Championships, and was a miracle play away from a three-peat. With Lewis' future hanging in the balance, McCarron too may be one the Bengals will seek to move given the right offer in return. With the quarterback play around the league showing plenty of holes that need filling, there are many teams who could use a new signal-caller.
For starters, the fact there is no franchise-type quarterback coming out of this year's NFL Draft is helpful for McCarron. I mentioned earlier this year that Hue Jackson would be doing himself a favor if he traded for the very guy who helped lead his former team to its first playoff victory — and one who already knew his system. Of course, Jackson opted to bring in Robert Griffin III, whose had his share of injuries, and surely did not disappoint in that department this season after only surviving the first game before going down, and hence the Cleveland Browns' season as well.
The Browns are reportedly looking for defensive help with their likely overall first pick of the draft, and rightfully so. Out of 32 teams, the Browns rank 31st in overall team defense. To save further embarrassment, I will refrain from listing statistics, but it's not pretty. The likes of McCarron, coupled with an elite pass rusher and defensive prospect with the overall pick, are enough to breath new life in this team.
In addition to the Browns as an option, the Chicago Bears, New York Jets, Houston Texans, and possibly the Jacksonville Jaguars are contenders who will possibly entertain the services of McCarron. The Bears and the Jets are the most likely with the Texans not wanting to give up so soon on their investment in Brock Osweiler as well as the Jaguars needing to see the Blake Bortles experiment through before making a change.
Either way, it is more than plausible to believe McCarron's days as a backup are coming to an end. Andy Dalton has solidified himself as one of the better quarterbacks in the league, and thanks to yesterday's debacle, he won't have to worry about flaming out in the postseason again.
The decision ultimately will rest on the shoulders of the Bengals' brass who must decide if dealing away a sure backup is worth whatever will be given in return. With McCarron's NFL resume, albeit not long, and college credentials, it may be enough for one team to pull the proverbial trigger and bring him a part of their team in 2017.
Brandon Williams is an Editor and Columnist for Touchdown Alabama. You can follow him on Twitter, @BWilliamsTDAL, "Like" him on Facebook, or add him to your network on Google.