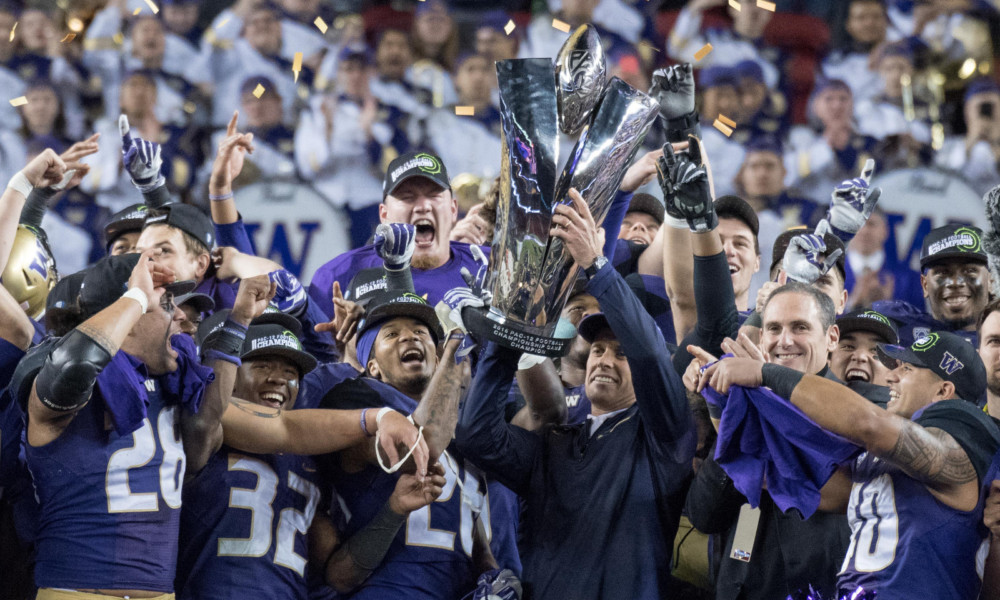 The Washington Huskies have an extremely talented group of guys on the back-half of their defense.
Of the five main defensive backs that they use, all three that are eligible to come out for the draft — Budda Baker, Sidney Jones and Kevin King — are projected to go in the top-three rounds of the 2017 NFL draft. True freshman Taylor Rapp is also well on his way to joining them in the next couple of years.
Let's take a look at the Huskies' starters in the secondary.
SIDNEY JONES (#26)
Position: Cornerback
Class: Junior
Height: 6'0
Weight: 181
Hometown: Diamond Bar, California
2016 Statistics: 37 tackles, 2.5 tackles for loss, three interceptions, six pass breakups
Player Analysis: Budda Baker might be the most fun player of the Huskies' secondary to watch, but Sidney Jones might be the best overall defensive back on the roster. His ability to mirror receivers and play a variety of coverages gives him the mental and physical makeup to be a true "shutdown" cornerback.
Jones is the type of player who is able to consistently stay in hip-pocket of the receiver, and his understanding of route development and ball skills are on an elite-level.
https://vine.co/v/5EIqe9Yle6D
Attempting to fool Jones is more than likely going to end up with you fooling yourself. Throwing his way is extremely dangerous, and that is something that Alabama is going to have to take into account on Saturday.
Jones has not given up a touchdown so far this season. Alabama has a talented group of receivers, but don't be surprised if that doesn't change. Hurts will need to look elsewhere if he wants to have any consistent success through the air.
Also, Alabama needs to make sure to watch out for Jones in the run game. He has shown a willingness to come up and make physical plays against the run.
KEVIN KING (#20)
Position: Cornerback
Class: Senior
Height: 6'3
Weight: 192
Hometown: San Leandro, California
2016 Statistics: 35 tackles, 2.5 tackles for loss, two interceptions, 13 pass breakups
Player Analysis: King doesn't have the overall talent that Jones possesses, but physically, he is a specimen on the perimeter. At 6'3 192-pounds, King has ideal length that makes him difficult to throw on.
With his size, one would think that King was just a big, physical cornerback who can excel in press coverage, but might struggle with staying in the hip-pocket of the receiver. That has not been the case so far this season. King has surprising fluidity in his hips that also allows him to mirror on a pretty consistent basis.
He doesn't quite have the same ball skills and understanding of route concepts/developments of Jones, but he is still a talented player. He leads the team in pass breakups with 13 — a testament for how hard it is to get the ball to the receiver when King is covering them.
If Alabama is going to attack a cornerback, they will more than likely have to try to pick on King (not ideal).
BUDDA BAKER (#32)
Position: Free Safety
Class: Junior
Height: 5'10
Weight: 192
Hometown: Bellevue, Washington
2016 Statistics: 65 tackles, 9.0 tackles for loss, two sacks, two interceptions, one forced fumble, five pass breakups
Player Analysis: If you want to watch game film on one of the most exciting defensive players in college football, turn on some tape of free safety Budda Baker. This kid has been as exciting to watch as anyone I've seen on tape since Earl Thomas was at the University of Texas.
Despite his smaller size, Baker can do it all. He can be an effective blitzer from the nickel, he can cover tight ends, he's technically sound as a tackler and he can make game-changing plays from anywhere on the field. His versatility and understanding of the game has been a strength, and that has allowed Huskies defensive coordinator Pete Kwiatkowski to let Baker's instincts take over in a lot of crucial situations.
https://vine.co/v/5ULdUtMb1aV
When talking about Baker's talent, it may shock the average person to find out that Baker, despite playing safety, leads his team in solo tackles (46) and tackles for loss (9). This play is the perfect example of why that statistic shouldn't be surprising:
https://vine.co/v/5PjijqKnjxu
Baker anticipates the play, closes quickly on the line of scrimmage, sheds the attempted block from the running back and makes the tackle for a loss. He could be the X-factor in this game, so don't be surprised to hear his name called early and often.
TAYLOR RAPP (#21)
Position: Safety
Class: Freshman
Height: 6'0
Weight: 202
Hometown: Bellingham, Washington
2016 Statistics: 45 tackles, four interceptions, one forced fumble, two pass breakups
Player Analysis: When talking about the Washington secondary, most people focus in on the big three — Baker, Jones and King. It would be a huge mistake if the Alabama players and coaches were to take that same mentality heading into this playoff game.
Taylor Rapp is only a true freshman. He was playing high school football just a year ago, but that hasn't stopped him from making a significant impact for the Huskies' secondary. His emergence has allowed the team to move Baker around and let Baker make an impact in a variety of ways.
Rapp was only a three-star prospect coming out of high school, but that didn't stop major programs such as UCLA, Stanford and USC from making a run at him. It's now clear that Rapp was being overlooked by most recruiting services. He was named Pac-12 Freshman Defensive Player of the Year, and it's an honor that he earned.
The Huskies defense uses a lot of nickel — five defensive backs — and Rapp has been a major reason why that has been a successful strategy. He seems comfortable when he is coming downhill to bring down a ball-carrier  — evidenced by his ability as a sure-tackler. However, Rapp has also shown the ability to make plays on the ball. He leads the team with four interceptions which includes two against USC back on November 12th.
Here is Rapp's first interception against USC:
JOJO McINTOSH (#14)
Position: Strong Safety
Class: Redshirt Sophomore
Height: 6'1
Weight: 209
Hometown: Canyon County, California
2016 Statistics: 59 tackles, 0.5 tackle for loss, two forced fumbles, two pass breakups
Player Analysis: Of all the starters on the back-end of the Huskies' defense, McIntosh might be the least talented. With that said, that isn't a negative reflection on McIntosh, but rather a positive reflection on the rest of the Huskies' secondary.
What McIntosh brings to the Washington defense is different than any other player on the roster. He is a physical presence that can strike fear into receivers and running backs alike. While it is normally Rapp that plays as the single-high safety in most situations, McIntosh has also been used in that role.
Clint Lamb is a columnist for Touchdown Alabama Magazine. You can "follow" him  on Twitter @ClintRLamb.