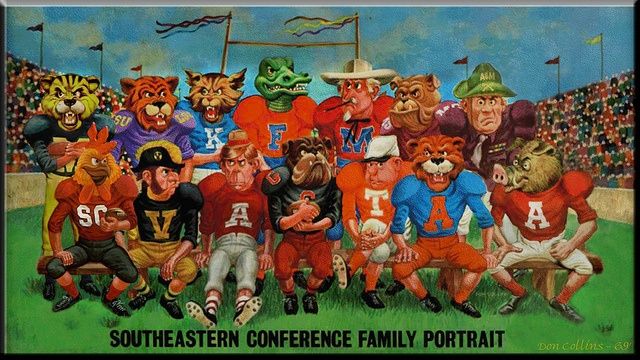 Well folks and then there were just two left standing. Alabama and Clemson face off once again for all the marbles. Who will win it all? Read it all here.
Larry's Losers in the SEC – 2016 Championship Season Game
By: Larry Burton
Well sports fans, Chihuahuas chase busses, but just like Washington wanting Alabama, they didn't know what to do with them once they caught them. They were just as run over as the poor little Chihuahua.
Likewise, Ohio State proved to be all fluff and puff just as we suspected all season long and fell as hard and as ugly as the other so called tough team from the Little Ten, Michigan.
So that leaves us with the same two contenders as last year's championship game and once again, both prove deserving to be in this position.
This whole season has proven to be both short and dizzying and except for the Crimson Tide, everyone was bitten and some were absolutely chewed up by the upset bug this season.
Leaving just after the SEC Championship Game, I took a month and a half to go to Southeast Asia to consult with some famous Buddhist and Hindu priests who can see the future. After traveling to Thailand, Vietnam, Cambodia, Singapore, Malaysia, Indonesia and more while visiting over a dozen temples, all the soothsayers had the same clear vision as the mystic pigskin pickin' pooch and myself, so here we to with the details of the pick.
No matter the pick being right or not in this last game, we'll finish the season with just over a 70% accuracy rating for the year or a flat C on anybodies report card. We'd feel really bad, it being our worst rating in 12 years, but with the upset bug epidemic that plagued this season, it was still better than anyone else in the prediction business. We can't wait till next season to regain our pride and lofty picking percentages. Even when we're not together, the pigskin pickin' pooch and I stay in touch.
Bacardi kept in touch with Skype and kept the Loser's Lair control seat hot.
Jan. 9th – Alabama vs Clemson – National College Football Playoff Championship Game – Raymond James Stadium – Tampa, Fl.
Nick Saban's pack of Pachyderms were able to humble the Huskies without showing any trick plays or new formations and now they plan on taking on rolling into Tampa and spring some surprises on the Carolina Cat show squad.
But Dabo's Tabbies have had tricks pulled on them before and have the "fooled me once, shame on you, fool me twice shame on me" mentality going into this game. They clearly think they've learned from their prior mistakes and are ready to go from underdog to top Cat this time around.
But the real trick of this game for the Tide may be that they don't need to pull a rabbit out of a hat to win this one, they just have to line up and let the beat down begin. It won't matter than Lane Kiffin won't be on the sideline because this could be a much better team than the one that tangled with these Tabbies last year and it's a well oiled machine. We all see visions of confetti falling on Crimson shoulders at the end of this one. Larry's loser – Clemson
We've ridden Alabama all season long and they haven't let us down, so while here in Southeast Asia, I met up with some of Big Al's kin and they let me ride them too!
My elephant Pharaoh said he'd love to mascot a Tide Game.
What a memorable season this has been as well as humbling and what a great way to end the season with such a memorable trip.
Well that's it from the Loser's Lair this season sports fans. Bacardi the Wonder Dog, all our soothsaying guests and I have sincerely enjoyed bringing you the 12th year of Larry's Losers in the SEC and we're hoping the next dozen years brings us more fans and better predictions and also that all our fans, friends and haters have a wonderful New Year and that all their future football dreams come true and the teams they love avoid Larry's Losers list in 2017.
We may come back with a season ending recap edition and an all too early look forward to the 2017 season, but that'll come after we get back to the good old United States.
LARRY HAS BEEN PUBLISHED IN ALMOST EVERY MEDIA OUTLET FOR COLLEGE SPORTS AND NOW PRIMARILY WRITES HERE FOR TOUCHDOWN ALABAMA. HE WRITES IN A COLLOQUIAL AND IRREVERENT STYLE FOR THIS SERIES OF ARTICLES. LARRY'S VIEWS AND SENSE OF HUMOR MAY OFFEND, BUT HE AIMS TO OFFEND EVERYONE EQUALLY. IF HE HASN'T INSULTED YOUR FAVORITE TEAM WITH LARRY'S LOSERS, JUST WAIT. FOLLOW LARRY ON TWITTER FOR INSIDE THOUGHTS AND GAME TIME COMMENTS AT HTTPS://TWITTER.COM/LBSPORTSWRITER
THANKS FOR SHARING THE LINK TO THIS STORY ON YOUR FACEBOOK PAGE