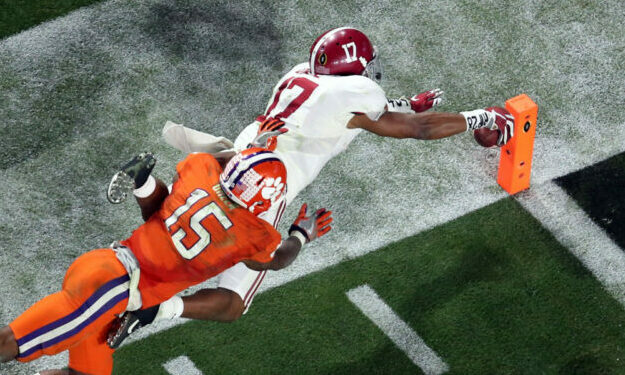 One season has passed and the college football world has not changed much. Alabama and Clemson will once again be facing off for a national title, just one year removed from the Crimson Tide's 45-40 victory in Phoenix.
The Tigers have been waiting for their chance at revenge and it has finally arrived. The two teams have been in Tampa since Friday and they will get to face each other on the field on Monday night. Our full preview gives you everything you need to know about the National Championship Game between Alabama and Clemson.
The Essentials
Who: Alabama Crimson Tide vs. Clemson Tigers
Where: Raymond James Stadium, Tampa, FL
When: 8 p.m. ET
TV: ESPN (Traditional Broadcast), ESPN2 (with Barrett Jones and Tajh Boyd), ESPNNews (Coaches Film Room), SEC Network (Finebaum Film Room), ESPN Classic (Broadcast without commentary)
Line: Alabama -6.5 (OddsShark)
O/U: 50.5 (OddsShark)
Matchups to Watch
1. Clemson offensive line vs. Alabama pass rush
Alabama's defensive line has been a strength all season. Led by the likes of Jonathan Allen, Tim Williams and Ryan Anderson, the Crimson Tide is second in the country in team sacks and leads the nation in total sack yardage. Meanwhile, Clemson quarterback Deshaun Watson always poses a scrambling threat and the Tiger offensive line has allowed just 16 sacks all year. Rashaan Evans registered the Tide's only two sacks against Clemson last season and this will be a key factor in deciding Monday's title game.
2. O.J. Howard vs. Clemson defense
Clemson's defense may be tired of the the narrative surrounding the Alabama tight end since last year's game but Howard could be the key to victory for the Tide's offense. Howard's 208 receiving yards and two touchdowns were a big part of last year's championship for Alabama. Clemson's only loss this season was a 43-42 defeat to Pittsburgh, a game in which the Tigers allowed Pittsburgh's tight end to finish with 128 yards and two touchdowns. In their overtime win against North Carolina State, the Tigers gave up 100 yards on eight receptions to the Wolfpack's tight end. It will be interesting to see how Steve Sarkisian and Jalen Hurts will use the senior tight end on Monday night.
3. Alabama secondary vs. Mike Williams
Mike Williams is the big name that always comes up when people talk about why Clemson is better this year. After missing last year with an injury, the junior receiver returns as the team's leader in receptions, receiving yards and receiving touchdowns. Marlon Humphrey has often lined up across from opponent's top targets but expect him to get help from everyone in the secondary against Williams. Cornerbacks Humphrey and Anthony Averett have combined for 13 pass deflections this season, while safeties Ronnie Harrison and Minkah Fitzpatrick have recorded seven pass break ups each.
Alabama Will Win If…
Jalen Hurts finishes with 0 turnovers. The freshman quarterback has not had major production in the last two games but his ability to take care of the ball has led the Tide to victories. Winning the turnover battle will be a good start but if the Crimson Tide can finish the game on Monday night without any turnovers, it will go a long way in giving Nick Saban his sixth collegiate national title.
Alabama Will Lose If…
Clemson scores at least 35 points. After allowing 40 points in last year's title game, the Crimson Tide still came away with a victory but it got major help that cannot be expected again. Last year the offense had a Derrick Henry to rely on and it had that career performance by Howard, plus the big plays on special teams – Kenyan Drake's kickoff return and Humphrey's onside recovery. Alabama cannot expect to get that same production this year and this offense is not equipped for another shootout. It's still possible for the Tide to win but 35 points is a good limit for their defense.
X-Factors
Alabama RB Bo Scarbrough: The Peach Bowl's Offensive MVP used a 2-touchdown performance to bring the Crimson Tide to Tampa and he may end up being the go-to-guy in the offense on Monday night. Last year, Alabama needed every bit of Henry's 158 yards and three touchdowns on the ground but that may be setting the bar too high for Scarbrough. He may not necessarily be the main factor in the success of the Tide's offense, but a good game by the sophomore running back would make Steve Sarkisian's job a little easier.
Clemson DB Jadar Johnson: The senior safety jumped on to the scene in a big way this season and finished second in the ACC with five interceptions. He is currently fourth on the Clemson defense in solo tackles and second in pass deflections. Four of Johnson's interceptions this year have come in big games for the Tigers. He had one interception against each of the other two SEC schools that Clemson has faced this season (Auburn and South Carolina). Johnson also added interceptions in wins against Louisville and Florida State. He has the ability to show up for big games and may be needed to help shut down Calvin Ridley and ArDarius Stewart.
Predictions
(Disclaimer: This is not an easy matchup to predict and these are probably going to be wrong.)
Alabama is not perfect in the turnover department but still wins the turnover battle, thanks to a Minkah Fitzpatrick interception.
Deshaun Watson finishes with 150 total yards more than Jalen Hurts but the two quarterbacks finish with the same amount of total touchdowns.
ArDarius Stewart finishes with more receiving yards than Mike Williams.
Wayne Gallman finishes with more rushing yards than Bo Scarbrough.
Alabama will need a late scoring drive but the Crimson Tide will win and bring a second consecutive national championship back to Tuscaloosa.
Alabama 28, Clemson 27
Caleb Turrentine is a columnist and contributor at Touchdown Alabama Magazine. He also does work for Alabama's team page at Bleacher Report. Follow him on Twitter, @CalebTurrentine.