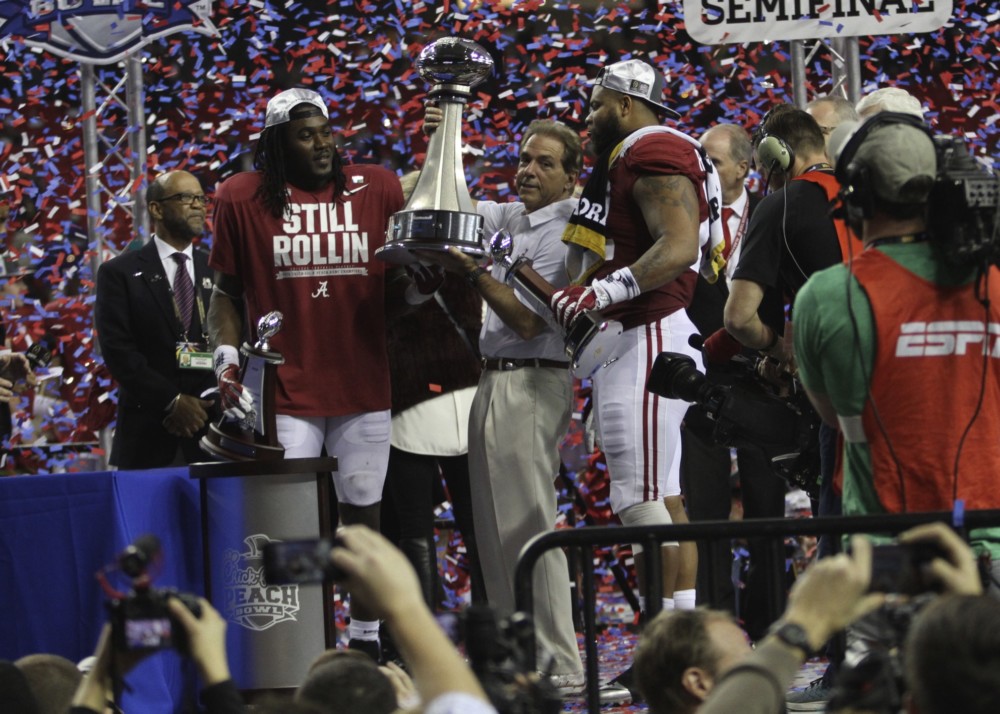 Some fans are fretting the loss of coaches and players from this team so what is the real State of the Union for Alabama football? Read and see for yourself.
State of the Union for Alabama Football
By: Larry Burton
Alabama loses a national championship it looked like they should have won. Some of their better players will leave Tuscaloosa and fill the ranks of different NFL teams. Alabama also lost some valuable coaches and presently Nick Saban is considering who will fill those roles.
These may seem like real problems to some teams, but this is Alabama. They'll return to the national championship game yet again and odds are they'll leave with a trophy. As for the players they lost, did any other team redshirt a five star last season? Can any other team put so many athletes in the NFL and replace them with people their equal or better? And as for the coaches, this is Nick Saban, he's got this, just as he always does.
To quote Sonny and Cher, "And the beat goes on."
Just when you think that Saban can't possibly beat this year or that year's recruiting class, he goes out and lands what may be the best class of all time in all of college football history. Even if you hate Alabama, you have to admit the shelves are full of great players and for years to come.
Yes, the State of the Union for Alabama football is not just bright, it's blinding. While Clemson will absolutely fail to be the same team without  Deshaun Watson, Alabama will just keep on rolling without a bevy of NFL picks. This is a team that doesn't revolve around one player, and pair of player or any three top players. This is a seamless machine with interchangeable parts including assistant coaches and players.
Though the preseason picks are officially still a long way off, would anyone be surprised to see Alabama go right back to the number one spot?
What other team has a quarterback that did as much and meant as much to the team as Jalen Hurts did at Alabama and yet isn't assured that he may be starter this year. Tua Tagovailoa, one of the highest rated quarterback prospects in the nation can make that push.
What other team has a player that sat on the bench all last year as a redshirt who may more than fill the shoes of Reuben Foster, now going to the NFL? Ben Davis may just do that. This was one of the nation's top inside linebackers, a five star phenom and now with a whole year of schooling and conditioning behind him, he's more than ready to be the next big thing.
Losing offensive linemen is always tough, but given Alabama's stellar recruiting in that area, it looks like two freshmen may more than fill those holes. Elliot Baker may very well fill a spot a guard for the next four years and Alex Leatherwood is another freshman that will be hard to beat out at tackle. He could be another four year starter. Does this sound like there's any reason for Bama fans to panic.
One could easily go on and on. The depth pool is just that deep at Alabama.
The only position that Saban is not bubbling over with happiness with is cornerback, but with strong safety play expected to be outstanding, he'll do what he always does and school up the corners to playoff caliber. Landing a pair of top corners is his priority for the next recruiting class and given his past history of getting what he wants, not many feel he will fail to get them.
Yes, the State of the Union at Alabama is blindingly bright. The Tide will simply keep on rolling over the SEC and continue their run into the college football championship playoffs.
Perhaps it's fitting their war cry is "Roll Tide" because that is indeed what Alabama is doing, just continuing to roll along. Yes, the State of the Union at Alabama is not just bright, it's normal and that is perhaps the best thing you could possibly say about a top flight school.
Larry has been published in almost every media outlet for college sports and now primarily writes here for Touchdown Alabama. Follow Larry on Twitter for inside thoughts and game time comments at https://twitter.com/LBSportswriter
THANKS FOR SHARING THE LINK TO THIS STORY ON YOUR FACEBOOK PAGE OR A FACEBOOK GROUP YOU BELONG TO, FACEBOOK RESTRICTS HOW MANY PLACES WE CAN POST IT ON, SO PLEASE SHARE!