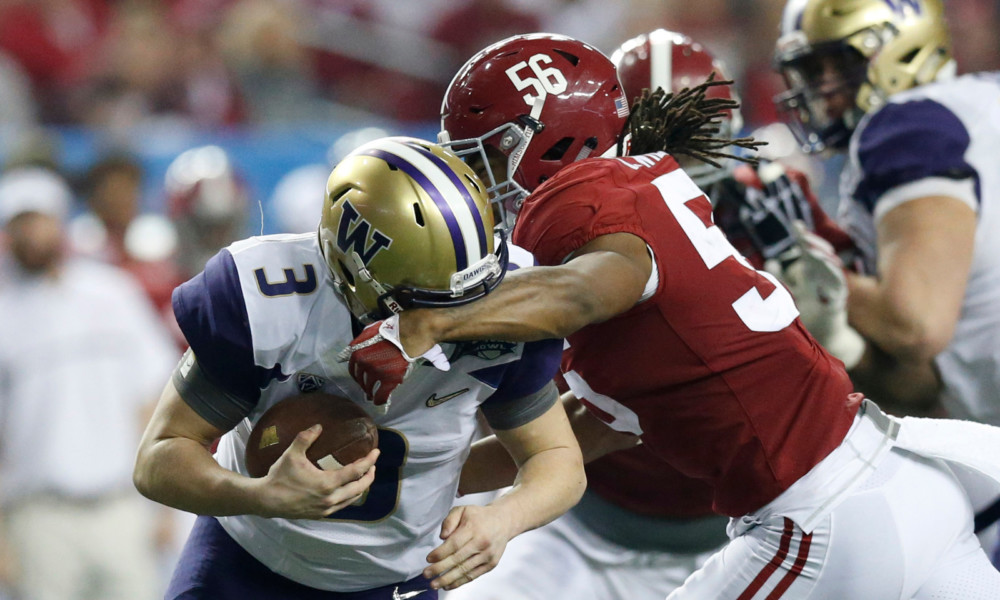 The most intense group has arrived at Lucas Oil Stadium for the NFL Scouting Combine, as today ushered in defensive linemen (groups seven and eight) and linebackers (group nine).
For the University of Alabama, five marquee names—Jonathan Allen, Reuben Foster, Ryan Anderson, Tim Williams and Dalvin Tomlinson—from its stout defensive front in 2016 all weighed in.
Jonathan Allen's measurements
Height: 6-2 5/8″
Weight: 286 pounds
Hand size: 9 3/8″
Wingspan: 80 7/8″
Reuben Foster's measurements
Height: 6-0
Weight: 229 pounds
Hand size: 10 ¼"
Arms: 32 3/8″
Ryan Anderson's measurements
Height: 6-2
Weight: 253 pounds
Hand size: 9 3/8″
Arms: 31 ½"
Tim Williams' measurements
Height: 6-2 7/8″
Weight: 244 pounds
Hand size: 9 ¼"
Arms: 32 ¾"
Wingspan: 78 5/8″
Dalvin Tomlinson's measurements
Height: 6-3
Weight: 310 pounds
Hand size: 10 1/8″
Arms: 33 ½"
Career outlook at Alabama
Defensive linemen Jonathan Allen and Dalvin Tomlinson and linebackers Reuben Foster, Ryan Anderson and Tim Williams spearheaded one of the better defenses  in Alabama football history.
All five players were catalysts behind 106 sacks, 56 turnovers and 15 defensive touchdowns combined in the 2015 and 2016 seasons. Allen, who took home numerous awards last year, ended his career with 28.5 sacks—falling second to College and Pro Hall of Famer Derrick Thomas. After battling injuries in his freshman and sophomore seasons, Foster was one of the team's leading tacklers in 2015 and 2016. The 2016 Butkus Award winner collected a team-high 115 tackles, 13 tackles for loss, five sacks, eight quarterback hurries and two pass breakups. Anderson went from unsung hero in 2014, to big play machine in the next two years.
He recorded 30.5 tackles for loss, 15 sacks, 20 quarterback hurries, six forced fumbles and two fumble recoveries in 30 games. Williams, like Anderson, was a dynamic edge rusher during 2015 and 2016.
A native of Baton Rouge, La., Williams turned in 28.5 tackles for loss, 19.5 sacks and 16 quarterback hurries in the last two years. As for Tomlinson, he overcame two knee surgeries to be a valued starter on the Crimson Tide's defensive line in 2016. He returned with his best performance, registering 62 tackles (5.5 for loss), a career-high three sacks, seven quarterback hurries and four pass breakups in 15 games.
Both Allen and Foster were recognized as unanimous All-Americans, but all five earned three Southeastern Conference championships and a College Football Playoff national title in 2015.
Combine Grades per NFL.com
Jonathan Allen- 6.81, "Good NFL starter with Pro Bowl potential"
Reuben Foster- 6.43, "Chance to become good NFL starter"
Ryan Anderson- 5.89, "Could become early NFL starter"
Tim Williams- 6.24, "Chance to become good NFL starter"
Dalvin Tomlinson- 5.64, "Backup or eventual starter"
Round projections per CBS NFL Draft Tracker
Jonathan Allen, first round
Reuben Foster, first round
Tim Williams, first round
Ryan Anderson, second round
Dalvin Tomlinson, second-third round
Stephen M. Smith is a managing editor and columnist for Touchdown Alabama Magazine.  You can "like" him on Facebook or "follow" him on Twitter, via @Smsmith_TDALMag.