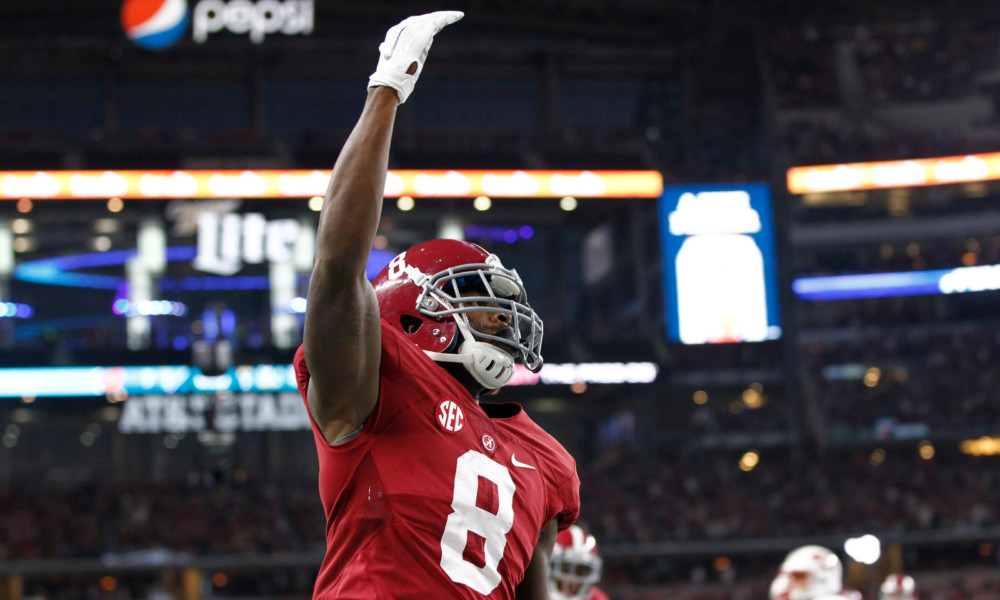 If we discuss solely academics, then the University of Alabama is the Capstone for higher education.
On the football field, however, head coach Nick Saban has created a program known for running backs, linebackers, defensive backs and most importantly, consistent national championships.
While ex-Crimson Tide quarterbacks Greg McElroy and AJ McCarron have three national titles between them as starters, there's a fourth position group that draws much attention in Tuscaloosa. Julio Jones, Amari Cooper, Calvin Ridley and ArDarius Stewart all knew when their time came to emerge as big play wide receivers.
With spring practice starting next week, a former five star recruit will look to finally seize an opportunity that's been eluding him since the 2013 season. Robert Foster was one of three offensive juggernauts signed in Alabama's top-ranked recruiting class for 2013. Listed at 6-foot-2 and 191 pounds, he destroyed competition at Central Valley High School in Pennsylvania, amassing 107 receptions for 1,860 yards and 26 touchdowns.
Despite being labeled a "can't miss" prospect, Foster took two years to learn the Tide's scheme under coordinators Doug Nussmeier and Lane Kiffin. Aside from some spurts on A-Day and fall scrimmages, he didn't see much field time until the 2015 season. Things begin to click for Foster during his redshirt sophomore year, as he caught 10 passes for 116 yards and two touchdowns.
He was on the verge of a breakout year, until a rotator cuff injury versus Ole Miss sidelined him for the remainder of the season. After returning strong in the spring, Foster would soon find himself behind a graduate transfer – Gehrig Dieter – on the roster entering the 2016 campaign.
Regardless of the hype that surrounded him, he's managed to total 21 catches for 215 yards and a touchdowns in four years. Rumors concerning a possible transfer surfaced during the offseason, but it appears as though Saban and his staff are really pushing for Foster to have success.
This spring will go a long way into deciding whether he stays or leaves, but for now, yours truly of Touchdown Alabama Magazine has three reasons why 2017 will be the year for Foster.
1. Trevon Diggs switching to defensive back
Per a source close to TDAM, this is a serious possibility.
Trevon Diggs lined up at receiver and defensive back in high school and during his freshman season at Alabama. He caught 11 passes for 88 yards and a touchdown on offense, while securing five tackles and a forced fumble. Defensive coordinator Jeremy Pruitt knows that with losing Minkah Fitzpatrick, Ronnie Harrison, Tony Brown, Anthony Averett and Hootie Jones after next season, Alabama will have to reload.
"Trevon Diggs was with defensive backs throughout the fourth quarter program," the source said.
Should Diggs make the transition, it opens up a  job for Foster at one of two vertical passing spots.
2. New offensive coordinator equals clean slate
Though no one knows as to whether Lane Kiffin had a solid relationship with Robert Foster, yet and still, it is perplexing to see an athlete of his caliber rarely used. The hire of Brian Daboll at offensive coordinator and promotion of Mike Locksley to Co-OC and wide receivers coach should be beneficial to Foster.
Prior to Alabama, Daboll spent 17 years in the National Football League as an assistant, wide receivers coach, quarterbacks coach and offensive coordinator. He was on five Super Bowl championship teams in New England, primarily working with receivers and tight ends. Contrary to his ball control tactics, Daboll has tutored some of the finest receivers in the game. During his first five seasons with the Patriots (2002-06), he helped Deion Branch, Troy Brown, David Patton, David Givens and Reche Caldwell all become stars.
Locksley, who was promoted to on-field assistant before Steve Sarkisian left, was in Tuscaloosa for a year under Kiffin's offense. He's very familiar with spread tendencies, and produced both Arrelious Bend (Illinois) and Stefon Diggs (Maryland) to be NFL-caliber wide receivers.
"Foster is just a physical freak," former Tide quarterback Josh Palet said. "He's very talented and I think this could be his year because he'll get a fresh start with the new offensive coordinator."
3. Experience within the system
It is hard to wait behind other four and five-star players, especially when you know how good you are.
O.J. Howard was one of the better tight ends in Tide history, and yet he had to exercise patience. The 6-foot-6, 250-pounder did not get the targets he deserved, until headline matchups in the College Football Playoff against Michigan State and Clemson (twice).
Quarterback Jalen Hurts will not have ArDarius Stewart, Gehrig Dieter or Raheem Falkins (transfer) in the upcoming fall. Foster has knowledge of the system and per multiple sources, the coaching staff and players are expecting a monster season from the Pennsylvania native.
Stephen M. Smith is a managing editor and columnist for Touchdown Alabama Magazine.  You can "like" him on Facebook or "follow" him on Twitter, via @Smsmith_TDALMag.