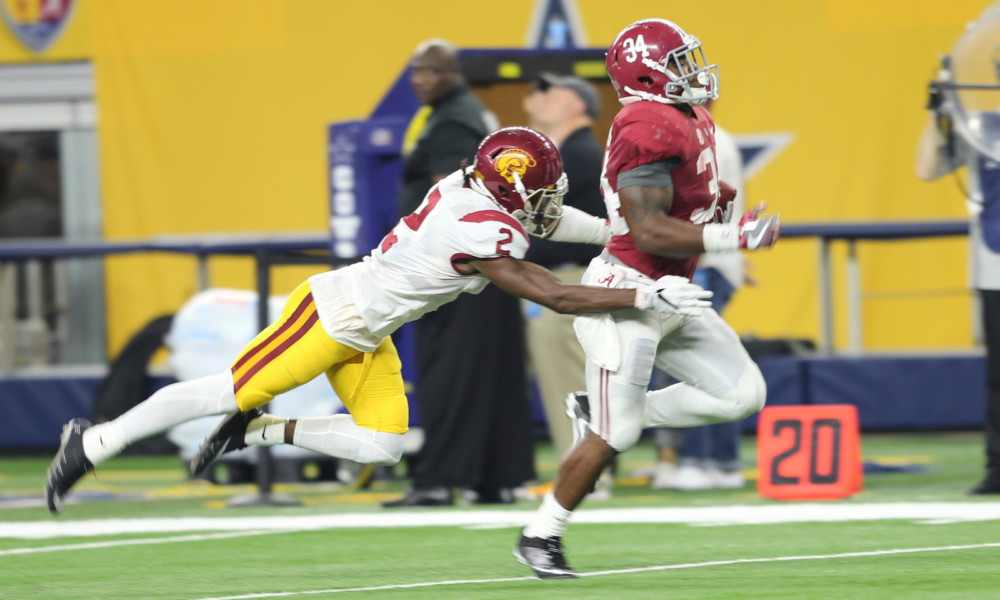 The first whistle from strength coach Scott Cochran and teachable moments from head coach Nick Saban will start next Tuesday, as Alabama football kicks off spring practice. More toughness, better accuracy, finishing plays and creating depth are four aspects that Saban will hit on this semester. After not ending the 2016 season with a national championship, the Crimson Tide is motivated to destroy every team in its path.
Following it's A-Day game, which is scheduled for April 22, the Tide will shift its attention to what looks to be another gauntlet of a regular season for this year. While it continues its fourth quarter program, yours truly of Touchdown Alabama Magazine has compiled the top five toughest matchups that await Alabama in the fall.
5. Mississippi State Bulldogs
With the exceptions of both 2015 and 2016, Mississippi State gives Alabama a tough contest.
Despite its 5-7 regular season mark, the Bulldogs' APR rankings set it up for a bowl. Mississippi State finished last season at 6-7, and part of its success was the play of sophomore quarterback Nick Fitzgerald.
Under the guidance of head coach and quarterback guru Dan Mullen, Fitzgerald turned in 2,423 passing yards, 1,375 rushing yards and 37 total touchdowns. Aries Williams, a junior, will flank Fitzgerald in the backfield.
His toughness between tackles complement the zone read signal caller, as he posted 720 yards rushing and four touchdowns. It loses Fred Ross to the National Football League, but returning Donald Gray and Malik Dear gives Fitzgerald two productive vertical targets. Gray was second on the team in receiving a year ago, amassing 41 catches for 709 yards and five touchdowns in 13 games.
Defensively, the Bulldogs return sophomore Leo Lewis and senior J.T. Gray at linebacker.
Both players had at least 70 tackles and a sack, while Gray put in eight tackles for loss. In its secondary, Mississippi State has Jamoral Graham, Jamal Peters and Mark McLaurin.
Graham, a senior, led the team with three interceptions (one for a touchdown).
4. Vanderbilt Commodores
Believe or not, Vanderbilt was one of the hottest teams late in the 2016 season.
Offensive coordinator Andy Ludwig and sophomore quarterback Kyle Shurmur began piecing things together and by midseason, the Commodores earned four wins in its last six games. During the stretch, it defeated Georgia, Ole Miss and Tennessee, while Shurmur had 798 yards with four touchdowns to one interception.
Coach Derrick Mason and company inked a postseason berth for the first time since 2013, and now fans on the West End are expecting more. Joining Shurmur in the backfield next season will be running backs Ralph Webb and Khari Blasingame. Webb accounted for 1,283 rushing yards on 250 carries through 13 games, and the duo together combined for 23 rushing touchdowns.
A trio of juniors – C.J. Duncan, Trent Sherfield and Caleb Scott – return at wide receiver for the Commodores, with Duncan leading the group at 44 receptions for 494 yards last year.
Though Zach Cunningham moves on to the NFL, safety/outside linebacker Oren Burks emerges as Vanderbilt's tone setter on defense. He tallied 59 tackles, 6.5 tackles for loss, 3.5 sacks, six pass breakups, five quarterback hurries and an interception throughout his junior season. The defensive secondary will serve as Vanderbilt's strength with the returns of Ryan White, LaDarius Wiley and Tre Herndon, who led the team in interceptions (two) last season. Four intriguing Southeastern Conference matchups will occur at Vanderbilt Stadium in Nashville, Tenn., this fall – especially a pivotal September meeting versus Alabama.
3. Arkansas Razorbacks
Even after putting up 400 passing yards, Austin Allen and the Razorbacks fell 49-30 to the Crimson Tide at home. The rising senior faces one final opportunity under head coach Bret Bielema to do something that his older brother Brandon failed to achieve, defeat Alabama.
One of the more physical SEC backfields in Rawleigh Williams III and Devwah Whaley will join Allen.
Williams, who returned from a neck injury in his freshman year, racked up 1,360 yards and 12 touchdowns on 245 carries. Some young faces must rise in its vertical passing game, however, Arkansas does return senior Jared Cornelius on offense. He brought in 32 passes for 515 receiving yards and four touchdowns.
Defensive linemen Randy Ramsey and McTelvin Agim create havoc for opposition.
The duo combined for 11 tackles for loss, five sacks and six quarterback pressures. As for its secondary, Arkansas' Ryan Pulley, Henre' Tolliver and Josh Liddell each had two interceptions during the 2016 season.
2. Auburn Tigers
Gus Malzahn's future at Auburn rests on this upcoming season.
For the Tigers, it has neither produced a 10-win season nor an SEC title since 2013. Fans who are loyal to the plains thought success would come with Jeremy Johnson under center, but disappointment reigned instead.
Now that it knows a championship won't come from Johnson, Sean White or John Franklin III (moved to receiver), Malzahn acquired help from a graduate transfer. After escaping in the wake of Baylor's sexual scandal, quarterback Jarrett Stidham enrolled at Auburn. Stidham, a five-star prospect, threw for 1,265 passing yards with 12 touchdowns to two picks as a freshman in 2015.
He backed up Seth Russell at Baylor, assisting the team to a 10-3 record.
Regardless of its experience in the run game (Kamryn Pettway, Kerryon Johnson) and on defense, the Tigers must develop consistency at wide receiver in order to help Stidham. Three straight loses to Alabama has Auburn's front office on edge. Rumors of a Go Fund Me account to buyout Malzhan's contract have surfaced.
1. Florida State Seminoles
Alabama defensive coordinator Jeremy Pruitt will be face to face with his former team in Atlanta on Saturday, Sept. 2, to start the 2017 season. Before accepting an on-field role with the Tide, Pruitt navigated the Seminoles to a BCS national title in 2013 as its defensive play caller.
College football loses a dynamic player to the NFL in Florida State's running back Dalvin Cook; nevertheless, coach Jimbo Fisher and the Seminoles return Deondre Francois at quarterback.
Listed at 6-foot-2 and 205 pounds, Francois completed 58.5 percent of his throws for 3,350 passing yards with 20 touchdowns to seven interceptions. Jacques Patrick will take over for Cook in the backfield.
Patrick, a junior, totaled 350 yards rushing and four scores on 61 carries.
In the departures of Travis Rudolph and Jesus "Bobo" Wilson, Nyqwan Murray and Auden Tate will be catching passes from Francois. Both receivers totaled at least 400 yards receiving, while Tate had six touchdowns.
Patrick checked in with four catches for 21 yards a year ago.
On defense, the Seminoles return 35 of its 51 sacks – 69 percent – with defensive linemen Brian Burns, Josh Sweat and Derrick Nnadi leading the group. Cornerback Tavarius McFadden tied for the most interceptions in FBS Division I, registering eight for 16 return yards in 2016.
Stephen M. Smith is a managing editor and columnist for Touchdown Alabama Magazine.  You can "like" him on Facebook or "follow" him on Twitter, via @Smsmith_TDALMag.