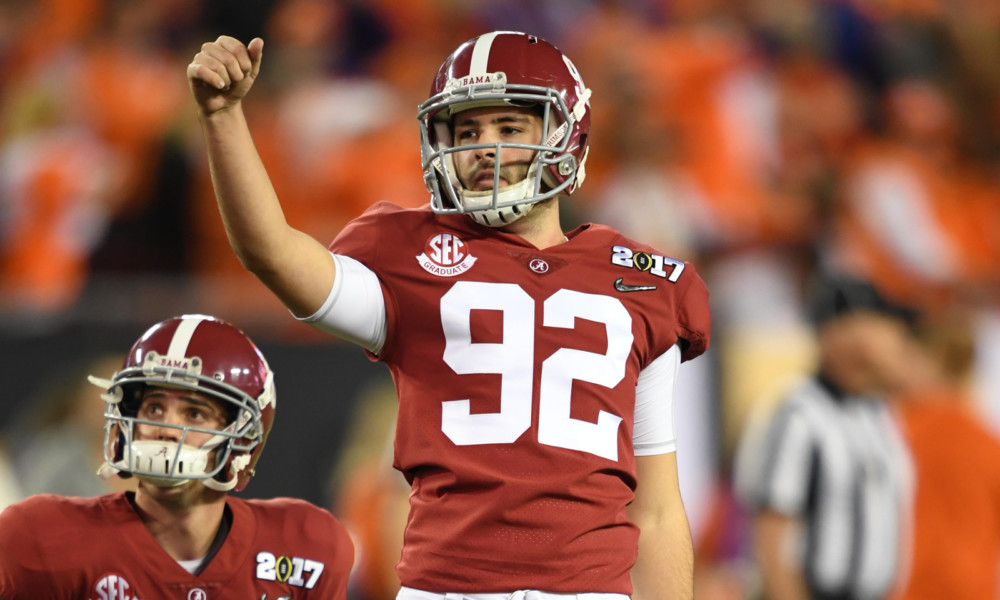 Whether he made you smile or cringe in uncertainty, placekicker Adam Griffith got your attention during his five-year tenure at the University of Alabama. His journey to peace began at the age of 12, when he arrived in the United States from Poland via adoption by a family from Georgia.
Clutch field goals drew him to Alabama football head coach Nick Saban, including a game winner off Griffith's foot that led Calhoun (Ga.) High School to state championship in 2011. An infamous moment tried to claim his career in 2013, but even the loudest Auburn fan in the "Kick Six" incident couldn't break his confidence.
He would encounter injuries along with other bumps in the road; nevertheless, the 5-foot-10, 190-pounder responded with greatness in 2015. He made 23 of 32 field goals – 71.9 percent – including a 55-yard attempt against Louisiana State University and a 33-yard try versus Clemson in the 2016 College Football Playoff national title game. While his mark earned him a No. 4 all-time spot in school history for a single season, Griffith made all 62 of his extra points in assisting the Crimson Tide to a national championship.
Alabama's onside kick against Clemson.
Were there moments when one wanted to leave upon him attempting a kick? Of course.
But overall, he made 58 of 82 tries (fifth all-time) and was on a pair of national title teams. After seeing someone who executed the perfect onside kick leave, the Tide returns senior Andy Pappanatos at the position. Joining him as candidates are specialists JK Scott and three-star freshman Joseph Bulovas.
Pappanastos, a transfer from Ole Miss, is 14 for 15 on career PATs.
Despite him being a solid punter, Scott was graded a top-10 placekicker out of Mullen High School in Denver, Colo. He made 23 of 24 PATs and eight of 15 field goals during his senior year in 2013, before enrolling in Alabama's 2014 signing class. Scott's only attempted two extra point tries in his career, but he's averaged 61 yards on 34 kickoffs with 12 touchbacks (35.3 %).
Bulovas was considered the nation's No.1 kicker in the 2017 recruiting cycle.
Saban and the Tide latched on to him, following Brandon Ruiz's decommitment going into signing day in February. He's got a strong leg at 6-feet and 210 pounds, but will he bring a level of consistency?
Bulovas did share a video to Twitter back in September of 2015 that featured him drilling a 70-yard kick.
A nice 70 yarder today. #SCtop10 pic.twitter.com/LJz0EBInpI

— Joseph Bulovas (@JosephBulovas9) September 16, 2015
Pappanastos appears to be the one replacing Griffith with his experience; however, it will be fun watching the trio him, Scott and Bulovas in documenting which one takes over.
Stephen M. Smith is a managing editor and columnist for Touchdown Alabama Magazine.  You can "like" him on Facebook or "follow" him on Twitter, via @Smsmith_TDALMag.