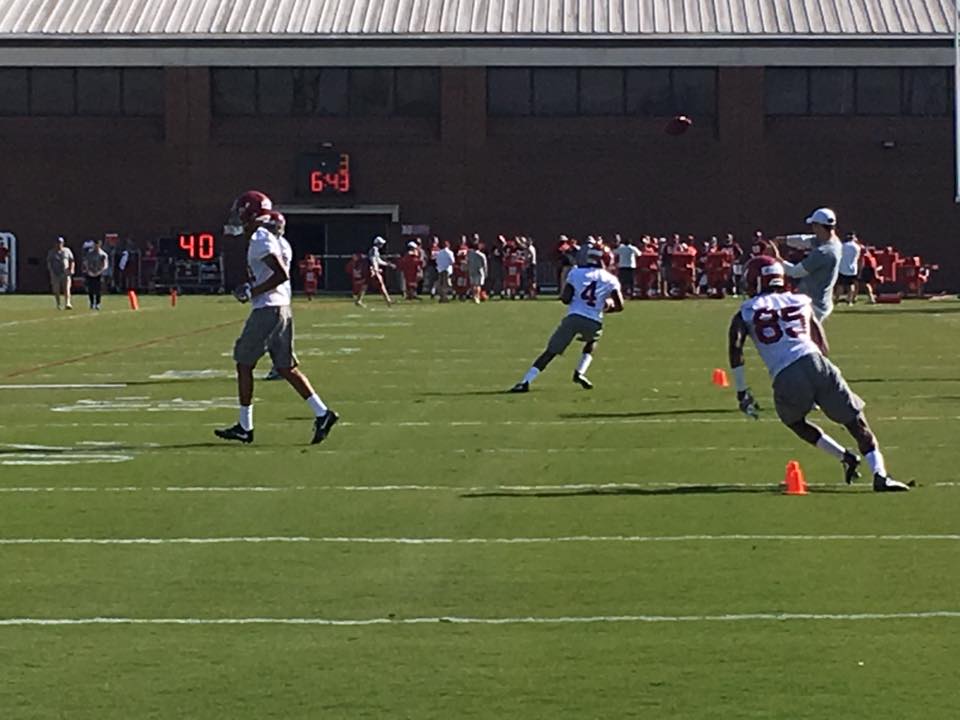 Spring practice usually doesn't tell a tale like this. It's usually a time of guarded optimism and hope, but read why this spring practice at Alabama is showing something totally different.
What We've Really Learned From Practice So Far at Alabama
By: Larry Burton
This time last year the coaching staff could see two things, that last year's squad would be a dominating team with a really tough as nails defense and that the all the building blocks were in place for a truly outstanding team next year. This is that year.
In many ways Alabama simply played beyond their experience level on offense last season and until the Clemson game in the national championship finals, were able to hide their weakness in the defensive secondary.
The last statement was the most telling from last year's squad. With injuries and inexperience, Alabama was forced to take their best secondary player on defense and move him from corner to safety in order to "spread him around" as much as possible. That player was of course Minkah Fitzpatrick, but moving him to be able to be more places still wasn't enough as Clemson's Deshaun Watson picked the Alabama secondary apart in the final drive of the game as he had done the whole game and seal a Clemson victory. Watson ended that day with 420 yards passing.
Also compounding the problem was that in the second half of that game, Alabama quarterback Jalen Hurts seemed unable to throw a football in the ocean from the beach completing just two passes in the third quarter, both to the tight end. The third quarter saw him go 3 for 8 with only 2 throws gaining any yardage. The fourth quarter saw him go 2 for 6 for only 20 yards. Though Hurts in his freshman year proved he was ready for prime time in a big game as far as leadership and determination, his passing game wasn't developed enough to drive the team down the field.
Still, had you told most people that Alabama would score 31 points in that game, most would have told you that with the Tide defense, that would be enough to win the game, but as we now know, it wasn't. The weakness of Hurts to complete critical passes and the defense's inability to shut down a hot quarterback with their defensive backs simply proved to big a hurdle for the Tide to overcome.
What we've learned from practice so far this year is that those weaknesses are not only being addressed but seem well on the way to being solved as the coaches knew they might as far back as this time last year.
All first year quarterbacks have a learning curve and Hurts returns with a new coach or should I say new coaches to him get his arm up to the standards that his legs helped the Tide last season. Further strengthening the team is the fact that Alabama now has not one, but two gunslingers in the backup role that may can do what Blake Barnett couldn't last season and that is push the starter really hard.
Tua Tagovailoa and Mac Jones each have field stretching arms that could create nightmares for a team that also has to respect what could be the best running back stable in America. With Robert Foster healthy to team with sure NFL talent Calving Ridley at receiver, no team can play to stop the run without fear of being torched on any play. So if Hurts can develop his passing game this could be the all time record setting offense of the Saban era. The coaches all know this, the players can sense it and the opposing teams are already dreading it.
On defense, Alabama have finally come not to moan the loss of NFL talent on defense, but to sit with wide eyes and enjoy the next crop of superstars to take their place. Each year the loss of some of college football's best linemen and linebackers that would cripple most teams have been seamlessly replaced by a depth chart of almost unfathomable depth.
Such is the case again this year. The fact that it happens this way every year of the Saban era is neither a surprise or a worry.
But the worry of the defensive secondary is always a fact at Alabama.
Take a look at every loss in the Saban era and most every one of those losses can be laid at the feet of the defensive secondary who just couldn't shut down a hot quarterback when they had to. This is not only why Saban himself spends so much time watching and helping coach the players there, but why he works so hard in recruiting to land top talent.
While Alabama has steadily supplied the NFL with great defensive backs, the problem at Alabama is that they never seem to develop a full group of them at one time. Look at the past years and you'll see one real superstar, as Fitzpatrick was last and this season and then a group supporting him that just tries to hide the problems.
What we've learned in practice so far this spring is that Saban is feeling comfortable enough to consider letting Fitzpatrick go back to his natural corner position and letting a now healthy Tony Brown or Anthony Averette be the other. Few defensive backs made more plays that youngster Anthony Averett last season filling in at corner. Brown and Averett could battle for the corner with the other playing at star. It's going to be the first time in a while that cornerback could be filled with experienced healthy playmakers and that a legitimate battle between great players take place to fill that spot.
As for the hole that would be created by Fitzpatrick going back to corner, Ronnie Harrison is expected to be 100% in the spring and has the size speed and experience to be a top safety in the SEC, so that only leaves one spot, the other safety and it looks like that may be filled by Hootie Jones. Jones has seen a lot of action at that spot as a backup and fill in any many feel he is ready to break out this season and finally get that permanent starting job. Deionte Thompson is a red shirt sophomore who adds depth at safety and has seen some action and that too may be making feeling the safety position is well staffed without Fitzpatrick being there.
Speaking of good backups at defensive back, Shyheim Carter has shown glimpses of stardom and could be a solid backup at star after a good freshman season of learning the ropes and fellow sophomores Aaron Robinson and Jared Mayden also have a year under their belts. But it doesn't end there, freshman Nigel Knott is sure to get more just a few looks this season and former walk on Levi Wallace, who was a solid backup last season are also on the bench for depth.
The pieces are all there for Alabama to finally stop the only real leak this battleship has ever shown, the defensive secondary and if it does in fact work out that the Tide finally has a shut down secondary, then this team could be totally unstoppable this season as was foreseen by last year's group of coaches.
Yes, this year's spring practice has shown us that while there has always been talent at Alabama in almost all positions, that this year is different, there's quality talent AND experience in numbers that just don't qualify a great starting squad, but one with depth to sustain the bumps, bruises and injury benching of key players.
As a writer who has covered the Crimson Tide exclusively longer than most sportswriters, I have never witnessed the depth of quality players with experience and knowledge at one time as this year's squad has. Every year it seems that the "best team in the Saban era" conversation comes up, but this year is the first that I stick my neck out and say that this could be the one to be remembered as the best and I've never been as anxious to see a season get under way to see what this team is capable of.
Larry has been published in almost every media outlet for college sports and now primarily writes here for Touchdown Alabama. Follow Larry on Twitter for inside thoughts and game time comments at https://twitter.com/LBSportswriter
THANKS FOR SHARING THE LINK TO THIS STORY ON YOUR FACEBOOK PAGE OR A FACEBOOK GROUP YOU BELONG TO, IT SUPPORTS OUR ENDEAVORS AND HELPS KEEP MOST OF THIS SITE FREE, SO PLEASE SHARE!