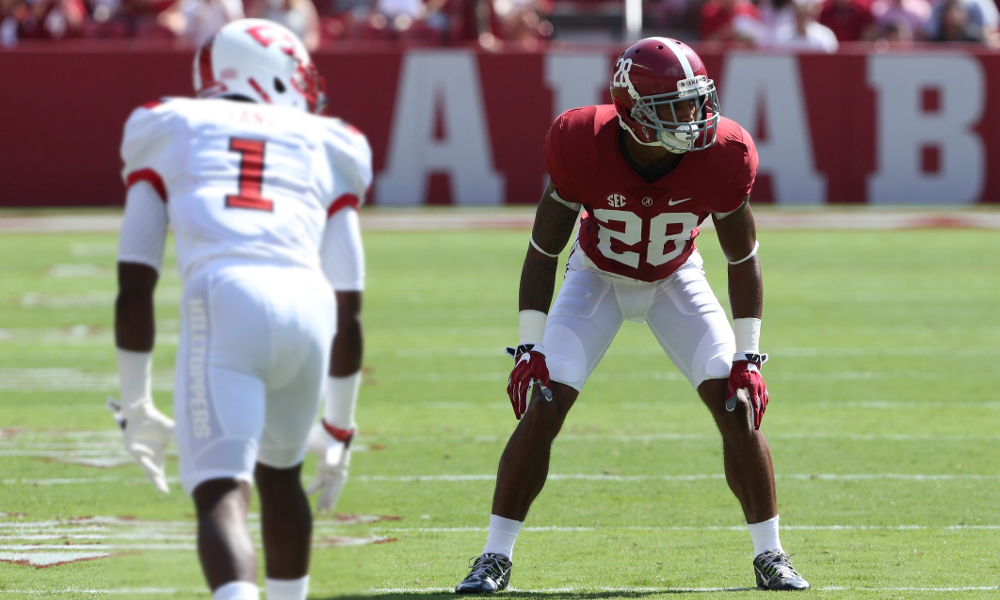 Marlon Humphrey, Johnathan Allen, Tim Williams, Ryan Anderson, Reuben Foster, Dalvin Tomlinson – all big name, early-round draft picks in 2017. Minkah Fitzpatrick and Da'Shawn Hand are already beginning to garner NFL scouts' attentions for next year's draft.
However, beneath the big names and multi-star recruits, lies one secret. The nation's best defense – that fueled a run through the SEC into the National Championship – still holds a secret weapon. This weapon was under those same lights, on the same fields, and playing against the same guys as the others listed.
Who is this secret, special-agent?
Averett. Anthony…Averett.
Standing six-feet-tall, the rising Redshirt Senior played the role of lock-down corner this past season. Despite not starting in every game, Averett led the team in passes deflected (8) and tied Tim Williams for second in fumbles forced (2).
He was named 'Defensive Player of the Week' by the coaching staff after the defeat of Washington in the College Football Playoffs Semifinals. He received the award after tying his career-high in tackles with eight stops, a huge sack, and a forced fumble.
Anthony Averett's season highlights are hard to come by, but a video produced by 'M&M Productions' sums up his season perfectly:
Highlight reels for Humphrey, Allen, or Williams tend to draw in the hundreds of thousands of views, but Averett's video has just over 5,000.
A former 4-star recruit from New Jersey, Averett redshirted his true freshman year. During his second season, he saw very limited playing time in just one outing. In his third year – as a redshirt sophomore – he accrued time mostly on special teams. Ultimately, 2016 may go down as his breakout year, and in 2017 he could become a superstar for the Tide.
The greatest asset to Averett's game is that he is a technique-first corner. As athletic as the guy is (has clocked a 4.49 40-yard dash), his instincts and technique are what makes him so effective. When the ball is in the air, he has no problem getting his head on a swivel while keeping up with his man. Even after the ball is caught, Averett can make an impact as he posted 39 solo tackles for the year – good for fourth on the team.
One of the biggest things the quietly rising star can do this season to continue improving his draft stock is to add a little bulk to his frame. Weighing in at just 183 pounds, Averett could use the additional five-to-ten pounds of muscle in order to cover the bigger receivers.
All-in-all, despite his name being called in multiple nationally televised games, Alabama has a secret weapon – a weapon who is ready to explode onto the scene. Expect to hear a lot more about Anthony Averett in 2017.
Jake Weaver is a contributor for TD Alabama Magazine and Bama Hoops Hype. You can contact him via email at [email protected], phone at 205-612-5060, and follow him on Twitter for sports news/commentary @JAWeaver0