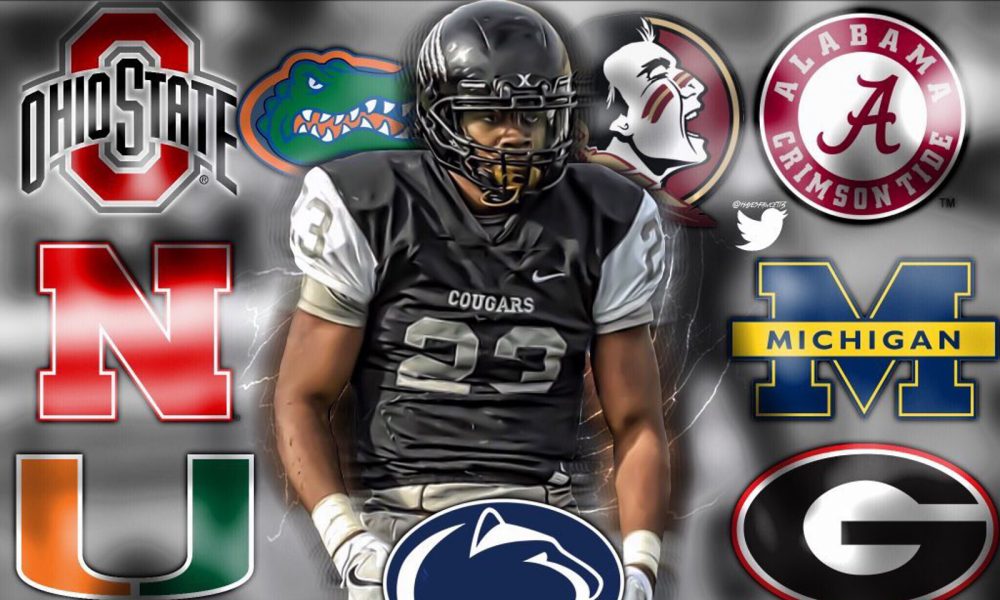 TUSCALOOSA, Ala.– The No. 1 player in the state of Pennsylvania, Micah Parsons, released his top nine schools on Friday. Alabama was among those institutions along with Nebraska, Miami, Florida, Michigan, Florida State and Georgia.
Parsons once committed to Penn State, but announced via Twitter that he would open his recruiting back up on April 23. He is a five-star recruit according to both ESPN and 247 Sports. The 235-pounder has the body and athletic ability to perform well at the next level. Standing at 6-foot-3, he is approximately the same height as former Alabama great and current Washington Redskin, Johnathan Allen.
Parsons is currently attending Harrisburg High School in Pennsylvania and has gain much attention. His speed and athletic ability gives him the rare ability to lockdown receivers and other skill players. He was seen doing this at the NFL Pro Football Hall Fame Academy in 2016.
A couple more pounds of muscles might be needed for him to be at his best, but by looking at his highlights, one can tell that he is a tenacious and hungry defender. In every play, he showed great persistence and drive in coming after both quarterbacks and running backs. The defensive end would be a wonderful addition to the Alabama 2018 recruiting class. A quality recruit like Parsons could really led other recruits to Tuscaloosa.
Justin Smith is a Scouting/Recruiting analyst for Touchdown Alabama Magazine. You can follow him on Twitter, via @jdsmith31Smith.