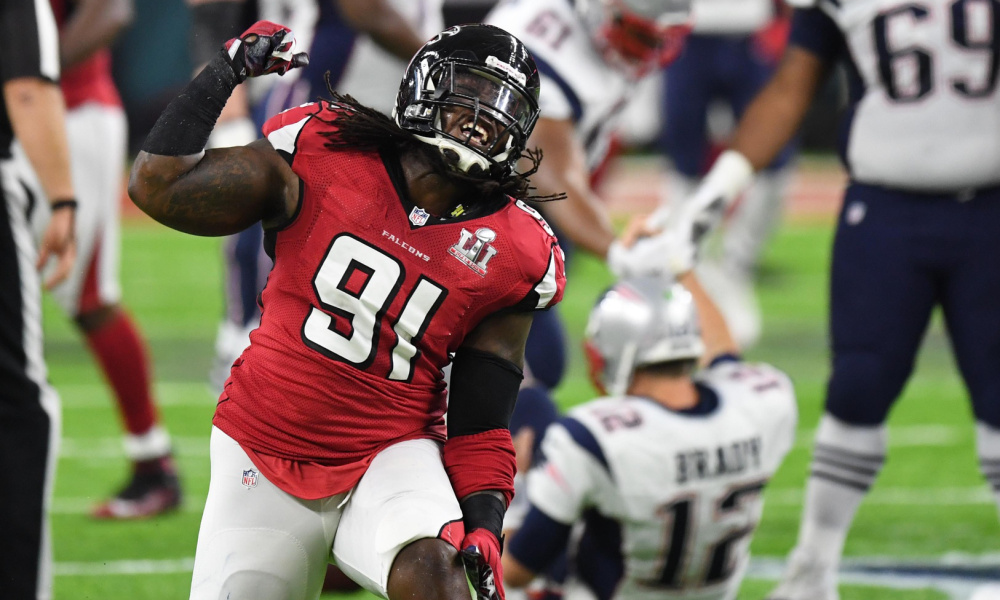 In Case You Missed It: Part One – Giving Back
In his four-year career at Alabama, Courtney Upshaw put up 141 total tackles, 36.5 tackles for a loss, 17.5 sacks, and one interception – which he returned for a touchdown. In his five-year professional career, he's compiled 124 tackles, 4 forced fumbles, 5 recoveries, 8 pass deflections, and 5.5 sacks.
After starting 51 of his first 64 games in the NFL, last season's five starts were a career-low. However, his dip in production was for good reason.
After playing outside linebacker for Alabama's 3-4 defense, he transitioned smoothly into the same position in Baltimore's similar scheme, but had to learn a new scheme in Atlanta.
A pass-rushing specialist with above average run stuffing skills, Courtney came in and immediately started in nine games his rookie year. His Ravens made it to the Super Bowl that year, and as always with Upshaw, the bright lights never seemed too bright.
Early in the second quarter, Upshaw tackled 49ers running back, LaMichael James, forcing a fumble in the process.
Four years later he decided it was time to move back closer to home and signed with the Atlanta Falcons as a free agent. For him, this season was not like the others, but the transition was still smooth.
"Coach (Dan) Quinn made it easy. There were some things and some decisions I had to make and Coach Quinn made it easy. The process had kind of went different than what I expected, but the offseason before last my agent talked with me and said Atlanta was showing interest, so I kind of felt it was in God's plan for me to be there."
"Luckily, we made it to the Super Bowl, although we lost. It was kind of crazy though, man. I tell people I would play for Coach Quinn any day. We preached a brotherhood there and it was just something different. I enjoyed my time in Baltimore, for real, and I definitely miss my teammates and some of the coaches there, but it was just something different about being in Atlanta."
One thing that was certainly different for Upshaw last season came in the form of a position change.
"They actually flipped me to defensive tackle. I came in, and my weight was a little defensive tackle-ish," he said with a chuckle. "I played defensive tackle, (defensive) end, and a little linebacker toward the end as guys got hurt. I'll be playing D-Tackle and D-End this season as well. They were talking about more playing time at both positions, so that's why I decided to sign back again this year."
The learning curve was steeper than most would imagine.
"It's very different, because as you guys know I was on the edge even at Alabama and then Baltimore as well. I have a lot of respect for those big guys down there, now, playing against the double team and just being down there in that close area. You know, on the edge you got a lot more room to work, but being on the inside you get double teamed, stuff like that."
"It was very difficult, but towards the end I saw myself getting better and better at it, and you know, it's on me to build on the little success I was gaining towards the end of the year."
Going up against some of the NFL's best offensive lineman now more than ever, he heard his fair share of players chirping, but the biggest trash-talker he's gone up against may surprise Crimson Tide fans.
"The biggest trash talker…probably DJ. DJ Fluker. When we played against San Diego this past year – even when I was in Baltimore – you know, DJ liked to talk. I always have to remind DJ, like, 'I know you' and 'I know what kind of guy you are, that ain't what you do'. All the respect to DJ, though. Atlanta plays his Giants this year, so it will be fun playing against DJ again. To be honest, some of the guys they try to have conversations after the play like, 'Hey, how you doin', and stuff like that."
"But, yeah, DJ talks some noise, man."
Though he started in just five games, he saw playing time in 13 – including another Super Bowl. In his professional career, he has played in more Super Bowls than most players will ever dream of, but the stage never gets old.
"It was great, honestly. I would have liked to have more snaps, but the game is over and done with and I really don't have a say in that. But, it was great, the atmosphere was great, being there with a new group of guys there. It went great. I had my son there, it was great being there with family. It was fun having one of my Bama brothers on the other side (Dont'a Hightower), competing against him. It was great."
In the 2012 National Championship against LSU, Upshaw recorded seven tackles and a sack, enough to take home Defensive MVP honors. He forced the fumble in his first Super Bowl as a rookie and managed a monstrous sack on Tom Brady in this year's game when he forced an offensive lineman to run over his own quarterback. No lights are too bright for the former All-American.
"It's that mindset, you know, everybody's always talking about switching that gear and going to a dark place, but for me it's honestly like 'I want it just this much, I gotta have it, I gotta go get it' and in order for me to go get it I got to put my best foot forward and I got to go out there and preform how I know I can perform. Honestly, I always tell myself before every big game 'you're going to be the best player on the field' and I also say I'm going to win MVP. It's one of those things where I'm hyping myself up like, 'you're fixin to go ball, you're gonna go eat' so after I get that first sack I'm like 'okay, I'm ready.'"
He acknowledged he had a lot of work to get done to have a successful year at his new position, but with a year under his belt, he has a new mindset going into next season.
"Get paid. I gotta be honest, I have a different mindset this year. A lot of off-seasons I go into the year thinking 'just go do what you do', but it's time to be a little selfish now, man. I got to go get paid. At the end of the day, I know sacks is what's going to get me paid and I gotta go produce. It's long overdue."
"I'm not really trying to sound cocky or nothing but it's long overdue. It's time to go get it."
His unquestioned determination underlined everything he said. He knows last year was his least productive, but he's out to change that.
Losing the Super Bowl in the fashion that Atlanta did is painful for anyone involved, but it didn't shake his confidence too much. I asked him if his Falcons would find their way back next February.
"Of course. We know what it takes to get there, everybody's bought in, even the young guys. Like I said man, there's something about being around this program man, being around the coaches. Even my teammates, we didn't really lose too much, we brought everybody back, thankfully. We know what we need to do, we just got to go finish."
After infamously giving up a 28-3 lead in the Super Bowl, it's reasonable to expect that the he and his teammates will come back next season with a fire lit up under them.
After a similarly devastating, last-second loss to Clemson in the National Championship game, Alabama should come back that way, too. Upshaw – who attended Alabama's A-Day in April – liked what he saw.
"I saw a lot of different things. I can't pronounce his name so I'm not even going to destroy it, but the freshman quarterback behind Jalen, he looked good. Other than that, I know Pruitt is going to have that defense looking nice, I saw that he just named his kid after Reuben (Foster) and Ryan (Anderson). I think we are going to be good. I always tell people as long as Saban stays here, Alabama is going to be good forever."
"I'm going to watch them every chance I get. I'll be waiting in the hotel on Saturday night before meetings start, watching the game, with people talking trash and hoping Bama loses."
With the prime time game set for week one against Florida State, I asked if he was getting any trash talk from former Seminoles.
"No, not really. I think a lot of people are really, really scared and I think they already know Bama's gonna come out on top. At least, the people I speak to. The only people I get noise from are the Clemson guys like Grady Jarrett and Vic (Beasley). I just got to remind them I got two rings."
Before closing out the interview, I tossed him one last question asking him about any of the best moments he had with Nick Saban while at Alabama. At first, he was a little hesitant to answer, but he eventually came around.
"Well, no, there might have been this one time my freshman year when he snapped on me. It was just, you know, being a young guy and messing up the plays. That was back when I had my little attitude and talked back to Coach (Lance) Thompson, and (Saban) snapped on me and sent me to the practice squad side. I never played a play on the practice squad side though."
I – along with the entire Crimson Tide fan base – will be rooting for one of the best to ever don a crimson and white jersey when the 2017 NFL season comes back around.
Roll Tide, #41.
J.A. Weaver is a lead writer for TD Alabama Magazine and Bama Hoops Hype. You can contact him via phone at 205-612-5060, or on Twitter @JWeaver_TDALMag