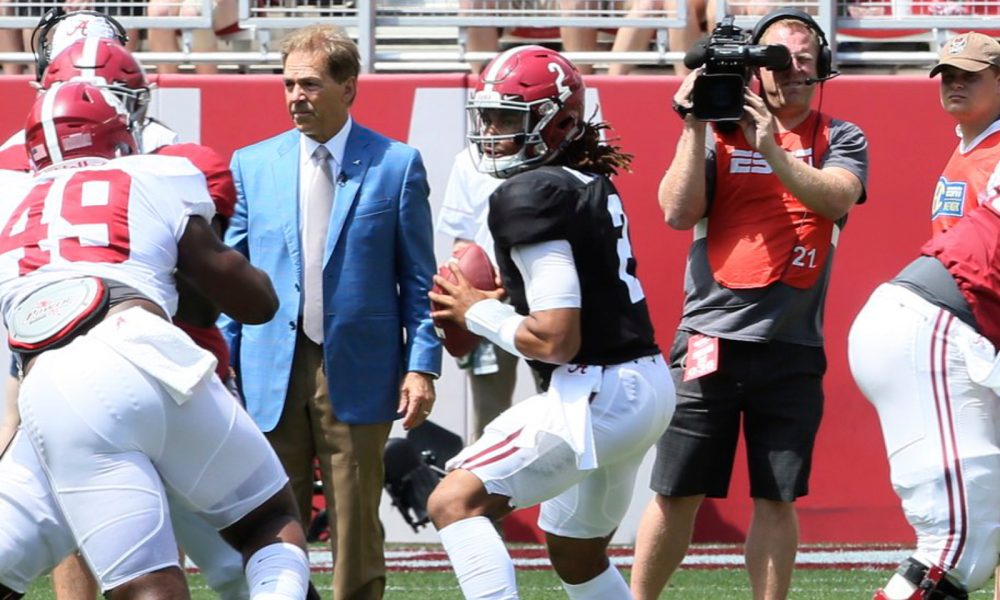 Few have dove deeper into the head of Jalen Hurts than Nick Saban and he likes what he's found. See if you see these things too.
Deep Inside the Head of Jalen Hurts
By: Larry Burton
Nick Saban is much more than a coach. Yes you may have learned that he's a businessman too, all Bama fans know he's a philanthropist too, but not many know he's quite a good ameteur psychologist too.
Because of that, despite knowing the wild upside in the talent of Tua Tagovailoa, even before he ever took a snap, Saban told all of us in the press that Jalen Hurts was the quarterback and there was no quarterback battle. The biggest reason was that through the psychology work he does, he knows what's deep inside the head of Jalen Hurts and he loves what he discovered.
Now it's time you knew it too.
First of all there is a willingness to accept you don't know everything and an even stronger willingness to improve and learn. Jalen Hurts came to Alabama with more hype than any previous Alabama quarterback in the Saban era. He was the hottest thing on campus and his early games on re-enforced that hype. But Hurts knew he still had a lot to learn and he worked hard to improve.
Many other hot prospects would have come in cocky, pushed the envelope and been resistant to changing anything that made him a number one prospect. Hurts played within his skill sets, rather than push those limits with risky throws, he resorted to using his feet to make a play, a less risky option when the pass wasn't there and sometimes that paid off with sensational results.
But no one has worked harder this off season than Hurts in trying to perfect his shortcomings. He wasn't afraid or ashamed to admit he had them and was eager to take instruction. He spent time this summer at the Manning Passing Academy seeking some polish. If he has a big ego, he's never shown it.
It is that work ethic that Saban saw and the psychological yearning for improvement that he sensed was just one of the big reasons for the coach's decision to name this young man his uncontested number one quarterback.
But there was more that Saban saw and those things figured into that decision as well, things that made the choice even easier to settle in with Hurts. The next thing was calm.
Being a quarterback in the SEC, especially for a top team, means that once the ball is snapped you live in a tornado for a few seconds until the play is over and then it all starts over again. As the ball is snapped, the heartbeat increases, you look at glimpses of your receivers streaking around while trying to account for the whereabouts of 11 other players seeking to make your life miserable, some of whom you can't see and account for and for all you know, they may be streaking toward you at that very second. It's very hard to remain calm.
Then if you do make a mistake, take a dumb sack, throw a silly interception or worse, some quarterbacks start to doubt their abilities, their teammates, their coaches and any other circumstance. That only makes the rest of the game that much more difficult.
But Saban sees the calm in Hurts and revels in having such a quarterback. This is a quarterback who drops back, sees the primary receiver covered, sees the secondary target equally blanketed and the dump off receiver in a position to be tackled for no gain. So rather than take a risky throw, this quarterback takes a split second to see the field one more time and decides to throw it away or take off and try and make a play with his feet.
He may choose the later and take off toward the line of scrimmage, but because he's so calm and not in panic mode to just duck his head and run, he sees the man defending the dump off receiver has left that man and is running towards him now instead to make a tackle, so then slows his run and hits the dump off man who takes it for a 17 yard gain and a first down.
Saban likes that he has seen this man make a mistake, but be able to shrug it off, put it behind him and start the next play without carrying that baggage any further.
Hurts coach also likes one of the big reasons for that calmness and that is confidence. Not to be confused with cockiness, confidence is the biggest reason he can remain calm. Saban knows that this man is not only confident in his own ability, but confident in the system he's running, confident that his teammates can and will do their jobs and confidence that if he doesn't do it this play, he will the next.
In the last national championship game, despite having a horrendous third and fourth quarter, with the clocking ticking down and the game on the line, Hurts summoned up that confidence and led the team on a go ahead touchdown drive that could have won the game, but Clemson drove the ball back down the field themselves with even less time to win the game. Still, Saban saw that with the chips on the line, Hurts could power through a bad half and deliver when he had to.
But that's just confidence on the playing field, there's also his confidence in himself off the field. Hurts has perhaps earned the right to be a little vocal in public. But he doesn't. When folks try his patience in public or even in private, he doesn't resort to vocal outbursts, silly Tweets,bragging or anger. Hurts has the quiet confidence to be a bigger man and let his both his play and character do the the talking for him. He just walks away from such things because he has nothing to prove to anyone, least of all himself.
To a coach, it's hard to ask for anything more than this, but there is one more thing.
Lastly Saban sees a leader. While Hurts hasn't been known a rah rah in your face yelling kind of leader, he has proven to be the lead by example leader. He works hard in every practice, he works hard in the weight room, he works to build up players around him, through coaching them, through giving them a little of his confidence and a little of his calmness. He shows them how to be like he himself is trying to be, just a guy trying to get better each and every play.
These are the things that Saban sees deep inside the head and heart of Jalen Hurts. That was why there wasn't and isn't a quarterback controversy on campus right now. No matter how much Tua Tagovailoa impresses us with his uncanny abilities, that is only one part of the total package of being a great quarterback. There is no doubt that Tua will learn these other things in time and even less doubt that he'll learn a lot of them from Jalen Hurts.
When you think about it, both Hurts and Saban are both the sons of coaches, both grew up that advantage and that curse as each pushed themselves to be worthy of their father's pride. Maybe that helped Saban understand Jalen a little bit better as each played quarterback for their fathers and were both so driven to succeed. If you're a professor's son, you're supposed to be the smartest kid in class. If you're the coach's son, you're supposed to be the smartest and best player on the team. That's a lot of baggage to have to carry around with you. The good ones learn how to deal with that, but most can't.
Those things deep inside the head of Jalen Hurts that have been discussed here and those that weren't will help Alabama this season for sure, but even after his playing days are over in Tuscaloosa, this team will still benefit from them because his influence will remain somewhere inside the heads of the teammates he leaves behind. That's what Saban sees and hopes for and he's not the highest paid coach without a reason. It not just about coaching, it's about building up a team, one player at a time to influence another player and spread like fire. Saban is accomplishing that with Hurts.
Larry has been published in almost every media outlet for college sports and now primarily writes here for Touchdown Alabama. Follow Larry on Twitter for inside thoughts and game time comments at https://twitter.com/LBSportswriter
THANKS FOR SHARING THE LINK TO THIS STORY ON YOUR FACEBOOK PAGE OR A FACEBOOK GROUP YOU BELONG TO, FACEBOOK RESTRICTS HOW MANY PLACES WE CAN POST IT ON, SO PLEASE SHARE!