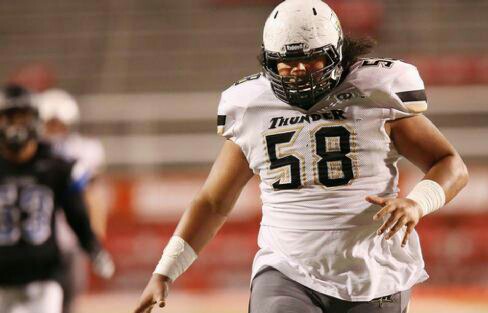 Alabama has had a pretty eventful recruiting season. They have missed out on some big targets, grabbed some big names and are still in the mix for some talented kids. The Tide currently has 10 commitments and their 2018 recruiting class is starting to take shape. With that in mind, here are some of the guys that should be considered top targets for The Alabama Crimson Tide moving forward.
Justyn Ross
Ross is arguably the Tide's top target at this point. He is a great receiver that will be a playmaker at the next level. He is a very lengthy guy that has great open field running ability. Clemson, Auburn, Florida State and Florida are still in the mix for the Alabama native. It seems that these teams are pretty tight at this point; things should thin out in the future.
The chances of Alabama landing Sewell went up incredibly after they landed fellow Utah Native Cameron  Latu. The 6'4″ 349-pounder is a huge guy that could become part of a recruiting class that has already landed two offensive linemen. 247 Sports has Sewell ranked as the No. 1 player in the state of Utah. He is No. 119 in the ESPN 300.
Cunningham shared with yours truly that he is deciding whether to commit before or during the season. The Tide has been waiting on him to commit for a long time now. This is one of the in-state targets that Alabama does not want to miss out on. He is an aggressive guy that uses his huge size to his advantage.
All signs are pointing to Ruggs committing to Alabama. His brother, Henry Ruggs III, is currently a wide receiver for The Crimson Tide. Kevontae' will most likely be a linebacker on the next level. He is a hybrid linebacker that is very mobile. He is able to play sideline to sideline.
Tanner McKee
McKee is one of the most outstanding quarterbacks in the 2018 recruiting class. He is one of the top pro-style quarterbacks in this very impressive recruiting class. He expressed to me that he really likes Alabama and they are among his top schools. The fact this guy will sit out for two years for a church mission improves the Tide chances — especially with the talent the Tide has on their roster currently at the quarterback position.
2018 Centennial HS QB Tanner McKee Highlights
Micah Parsons
Parsons is a 5-Star recruit and deservedly so. He is a special rusher coming off the edge and his speed allows him to defend the pass. At this moment, his recruiting seems to have a mysterious feel about it. He has not released a top school list and many high profile teams are after him. Penn State, Ohio State, Georgia and Alabama seem to be in the lead at the moment, but only time will tell.
Harold Joiner
Joiner is another great in-state recruit for The Crimson Tide to grab. He is a very impressive player that possesses great size and athletic ability. The 6'3″ 218-pounder lines up at running back for Mountain Brook High School. Alabama hasn't offered Joiner as a running back. There are a multitude of positions this kid could play, but it has been reported that he would like to be in the backfield at the next level.
Mountain Brook running back Harold Joiner highlights
Seth Williams
Williams is right inside Alabama's backyard. He attends Paul Bryant High School in Cottondale, Alabama. He could be a great addition to The Tide. His close proximity to Tuscaloosa could be used as a huge recruiting tool.
2018 WR/S Seth Williams 2016 season highlight REMIX
 Coynis Miller
Miller has The Tide in his top list of schools. This guy is a monster. The way he moves for a guy his size is incredible. The 6'1″ 300-pounder is one of the most athletic big guys that you are going to see in the 2018 recruiting class. His current high school uses him in a variety of different positions.
#3 Coynis Miller / DE / Jackson-Olin High (AL) Class of 2018
Horn is the son of former NFL wide receiver, Joe Horn. He is a defensive playmaker. He is the type of player that will jump passes and disrupt plays. When the ball is in his hands, he is taking it back to the house and in a hurry. He was set to commit in July and decided not to. His choices are narrowed down to Alabama and South Carolina.
Justin Smith is a Scouting/Recruiting analyst for Touchdown Alabama Magazine. You can follow him on Twitter, via @Jdsmith31Smith