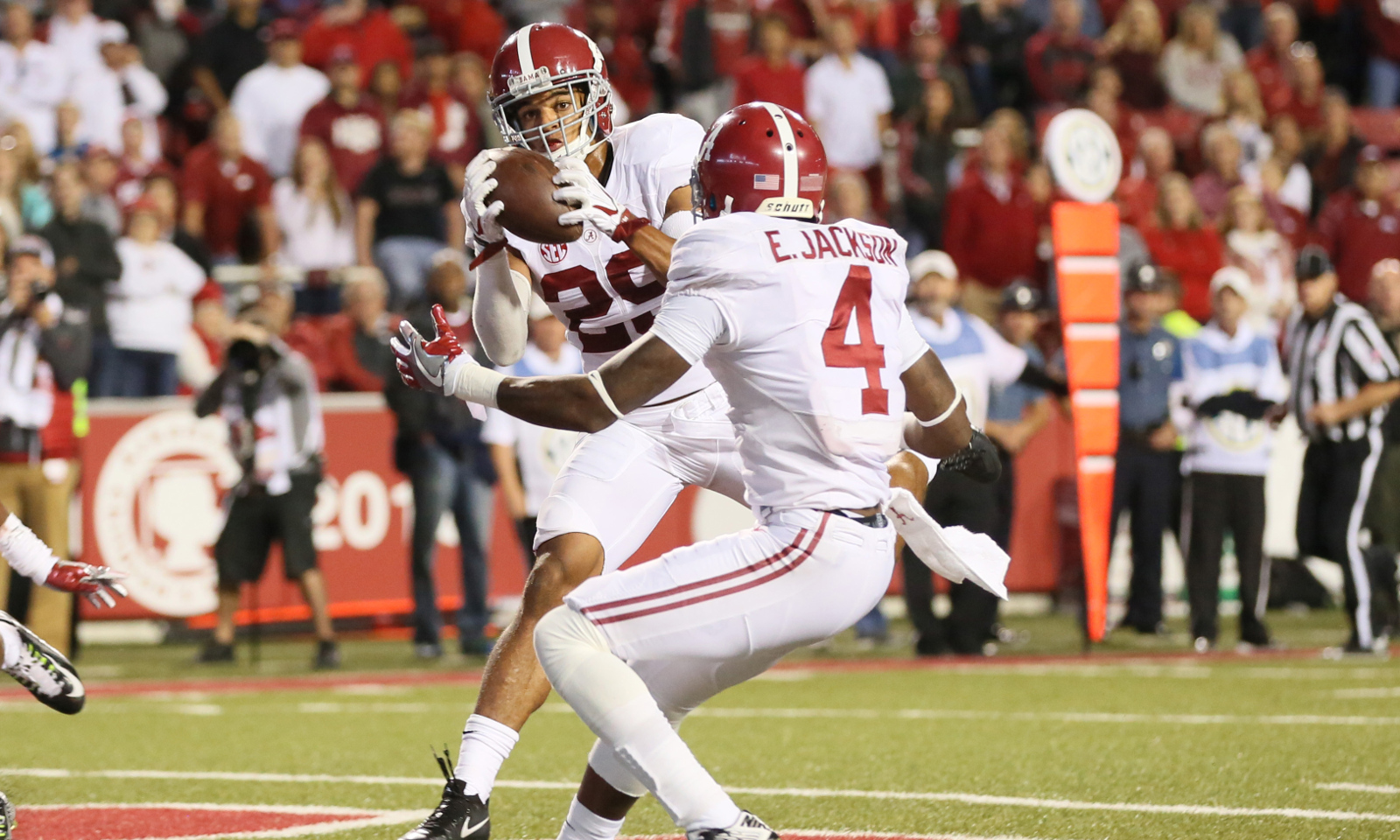 When the smoke cleared upon the end of Alabama's first scrimmage on last week, the glowing rumors and reports went toward the Crimson Tide's secondary. After enduring the offseason pain of not winning a national championship, the defensive backfield has been extra competitive throughout fall practice.
Junior safety Minkah Fitzpatrick was one of two players that spoke to the media on Monday, and he's still very excited about the way his position group stepped up. 
"We actually did a really good job," Fitzpatrick said.  
"Usually in the first scrimmage, we allow a whole bunch of big plays because we haven't been working together in a game situation. But we allowed only one or two big plays against the one's and both of those were fluke-like plays, where someone came down with the ball off a tip." 
Trevon Diggs, per rumors, emerged last week and has been doing well throughout practice. The sophomore saw action at wide receiver and defensive back in 2016, but has been fully transitioned to defense. Alabama head coach Nick Saban mentioned during the program's annual fan day earlier this month that Diggs is primarily at cornerback. 
"He really did a good job," Fitzpatrick said on Diggs' performance. "He did what he was supposed to do and made a couple of big plays. Obviously, he's going to make some mistakes because he is a young guy but he came back and did what he's supposed to do." 
Giving up 400-plus receiving yards to Clemson in the College Football Playoff National Championship and in the spring game has forced the Tide's secondary to maintain focus. 
"That's not what we do," Fitzpatrick said. 
"That's not who we are. It was a challenge to comeback and show what we really can do. I think we did a whole lot better this last scrimmage and hopefully, we can keep doing that." 
As Diggs continues to push for a chance to start at left corner, he's currently learning under Fitzpatrick: an individual that lines up at both star (slot corner) and safety for Alabama. 
"He sits next to me in the meeting room," Fitzpatrick said. "He follows me around in meetings and around the complex. When he's in the car with me, he's asking me questions. Because I've played the position before, he sees that I know what I'm doing and he trusts me. He's just trying to soak it all in and learn." 
Two years ago, Fitzpatrick was getting the same lessons from Eddie Jackson, Cyrus Jones and Geno Matias-Smith among others. He recorded two interceptions as a freshman, and returned both for touchdowns in a 41-23 victory over Texas A&M in 2015. Coach Saban was all over the New Jeresy native that season because he believed that Fitzpatrick was elite and that he could teach the next wave of talent. Under his leadership, Diggs and the rest of the secondary is ready for the upcoming football campaign.
Stephen M. Smith is the managing editor and senior writer for Touchdown Alabama Magazine.  You can "like" him on Facebook or "follow" him on Twitter, via @Smsmith_TDALMag.