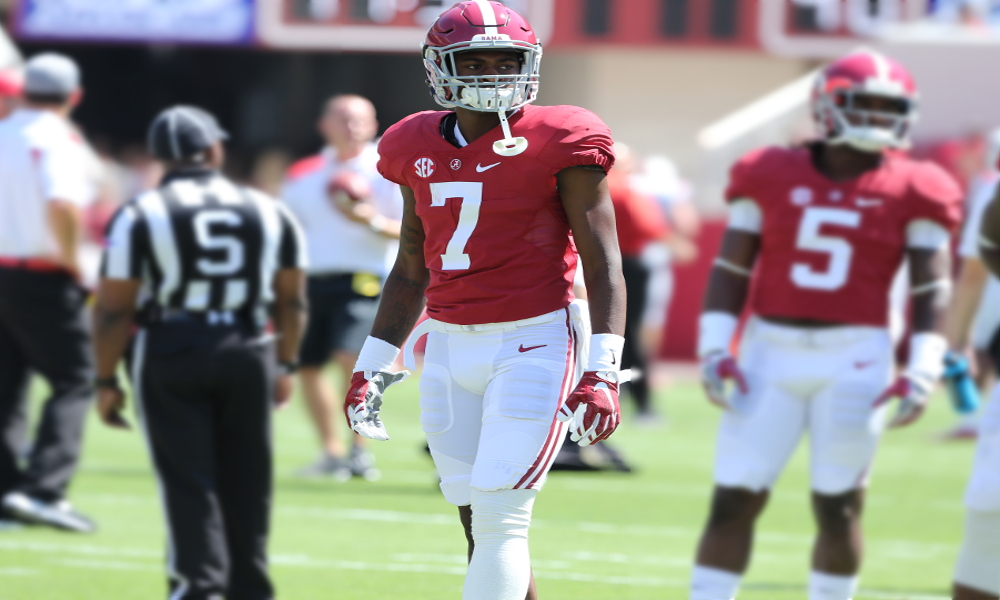 Weaver's Web is an opinionated column by TDA's Jake Weaver. All views and opinions shared are his own. 
The highly-touted wide receiver out of Maryland, Trevon Diggs, saw plenty of game action as a true-freshman in 2016. In 2017, it is looking more and more likely that he will be seeing the field covering the same position he used to play.
After a rough first outing at the position in spring's A-Day scrimmage, reports have surfaced of his improvements thus far in  Fall camp. Many of Diggs' defensive teammates have clamored at his progress, singing the praise of his abilities.
"He has gotten a whole lot better. He's getting more experience and practicing more reps," said starting cornerback, Anthony Averett. "The more reps you get the better you get. You know [how] to react…you see more…I know that worked for me."
According to defensive superstar, Minkah Fitzpatrick, Diggs has taken to him as a teacher. Fitzpatrick played cornerback during his true-freshman campaign but transitioned to safety before the start of last season. He excelled in both positions, making him a tremendous player to learn from.
"He sits next to me in the meeting room," said Fitzpatrick. "He follows me around in meetings and around the [athletic] complex. When he's in the car with me, he's asking me questions. Because I've played the position before, he sees that I know what I'm doing and he trusts me. He's just trying to soak it all in and learn."
Additionally, Minkah Fitzpatrick said after Saturday's first Fall scrimmage that Diggs played "very well" and that he "made a couple big plays." He also added that the secondary did "a really good job" as a whole.
At 6-2, Diggs has the height to cover taller receivers, and the speed to cover the quick ones. Despite making getting beat deep an unfortunate occurrence during A-Day, the light appears to have turned on for him. Nick Saban and Jeremy Pruitt continue to search for the answer at the other starting cornerback opposite Averett, and it appears as though they hope Diggs is the long-term answer.
Senior defensive back and track and field champion, Tony Brown, was the early favorite to win the spot. Injuries and off-the-field issues have kept Brown from achieving the amount of greatness many thought him capable of.
The most likely scenario is that Brown comes out of the gates as the starter with Diggs at the Nickel position. Against a highly-ranked Florida State team, it's hard to see Saban and company taking the risk of playing the inexperienced Diggs at such a crucial position. He could, however, see first team reps during as the schedule eases up in weeks two and three. Brown's speed makes him the better slot cover, as quick-twitch guys like Hunter Renfrow have given Alabama trouble in the past.
Eventually, Trevon Diggs' name will be called on defense. Probably sooner rather than later. When it does, though, it appears that he will be able to answer that call. As he gains experience, he could be a true game changer.
Jake Weaver is a lead writer for TD Alabama Magazine and Bama Hoops Hype. You can contact him via phone at 205-612-5060, or on Twitter @JWeaver_TDALMag