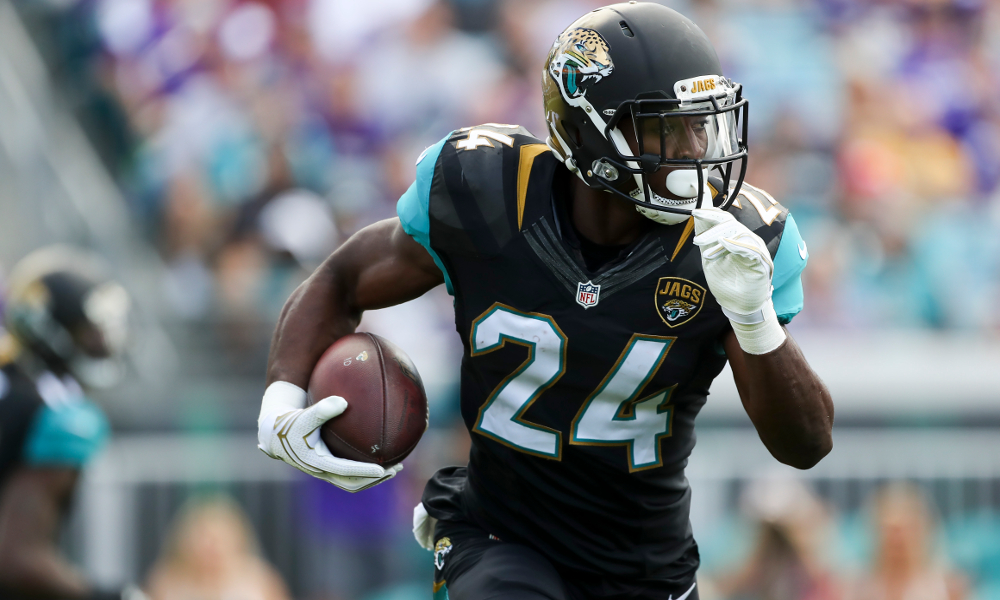 After rushing for over 3,300 yards and 37 scores at Alabama, T.J. Yeldon was selected by the Jacksonville Jaguars in the second round of the 2015 NFL Draft. His first two seasons have been nothing short of a disappointment, but despite some nagging injuries he should not bear all the blame. The Jacksonville Jaguars' offensive line has been one of the NFL's worst-graded over the last few seasons. According to Pro Football Focus, they ranked 18th in 2014, 19th in 2015, and 22nd overall in 2016.
In his first season, he started 12 games and managed just 740 yards on 182 carries – scoring only two touchdowns on the year. His second season saw even worse numbers despite starting in 13 games. He managed just 465 yards on 130 carries last year and only saw the endzone one time.
PFF has since ranked the Jaguars' offensive line 13th overall heading into the upcoming season after the focus they put on it during the off season. That ranking proved reasonable after a 200-yard rushing performance in week one of the NFL's preseason. While Yeldon rushed for a total of zero yards on two carries, two other former SEC running backs on the roster had big nights.
Former LSU star and early first-round pick, Leonard Fournette, carried the rock nine times for 31 yards and a score. He flashed the unique mixture of athleticism and power that elevated him in college. However, it was another player signed in 2015 that took the spotlight.
Despite starting his career at Alabama, speedster Corey Grant would end up compiling over 1,000 yards with the Auburn Tigers. Last Thursday night, he shined. Highlighted by a massive 79-yard scamper to the endzone, Grant led all running backs with 120 yards on 8 carries. He showed off the gaudy footspeed that led to his signing despite relatively low college numbers.
Where Yeldon excels over the other backs, though, is in his pass-catching abilities – a skill that needed in Jacksonville as his team has often found itself in a hole rather early. Throughout his two seasons, he has hauled in 86 targets for 591 yards and a pair of scores, good enough to be one of the better receiving backs in the country.
With such high expectations in Jacksonville this year behind a much improved offensive line, Yeldon's recent numbers will not cut it. Spending such a high draft pick to take another running back in Leonard Fournette ensures his carries will see a decline in 2017. Should Grant continue to shine during the preseason, he, too, will be in line for a share of the load. T.J. Yeldon has not shown a big-play ability in the pros just yet, and despite the reasons behind it, the time to do so is now.
Jake Weaver is a lead writer for TD Alabama Magazine and Bama Hoops Hype. You can contact him via phone at 205-612-5060, or on Twitter @JWeaver_TDALMag