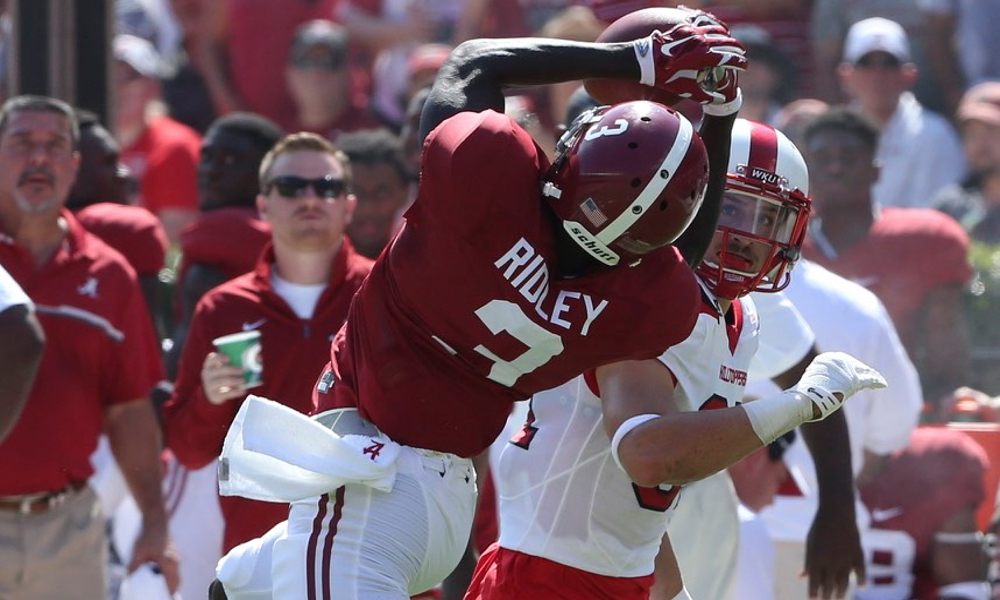 Fall camps are now in full swing across the college football landscape. Each day we grow closer and closer to the much-hyped clash with Florida State in Atlanta. As the season comes to a head, follow Touchdown Alabama's new player focus series, 'Crimson Spotlight', as we break down each expected starter and their impact on the 2017 season.
Crimson Spotlight #1: Calvin Ridley
---
Position: Wide Receiver        Height: 6-1
Number: #3                                  Weight: 190
Class:  Junior                                2016 Stats: 72 rec, 769 yards, 7 TD
One of the best receivers in recent Alabama Football history, Calvin Ridley is as electrifying as he is athletic. Following in the footsteps of Amari Cooper and Julio Jones, Ridley was a true-freshman superstar in 2015. He lead the team in receiving yards and was a large key to that national championship season. With a more mobile quarterback in Jalen Hurts, and a stable of injured running backs, Ridley did not get as many looks deep down the field last season.
Under the new offensive coordinator, Brian Daboll, that is about to change in a big way.
One of the most effective big-play offensive threats under Nick Saban has been the play action pass. Setting up the defense with a solid running game was critical in this game plan, but that was a missing cog in last year's offense. Damien Harris was the starting back for most of the year, but as he and the other backs on the roster became nagged by injuries, the position became an unforeseen question mark.
The additions of Najee Harris and Brian Robinson this season is sure to allow more stability and continuity in way of rushing yards. This, ultimately, keeps Hurts from needing to make up for the lack of a ground game by rushing for 1,000 yards himself. With the rumored off season improvements Daboll has assisted Hurts in making, the offense is in for as big a year as ever in 2017.
With the one of the best, young receiving corps in the game surrounding him, expect Calvin Ridley to be the biggest benefactor of the improvements. Another 1,000-yard season is easily achievable if all goes as planned, and by season's end he can be the favorite to win the Biletnikoff Award.
Projected 2017 Stats: 90 rec, 1200 yards, 10 TDs
Jake Weaver is a lead writer for TD Alabama Magazine and Bama Hoops Hype. You can contact him via phone at 205-612-5060, or on Twitter @JWeaver_TDALMag