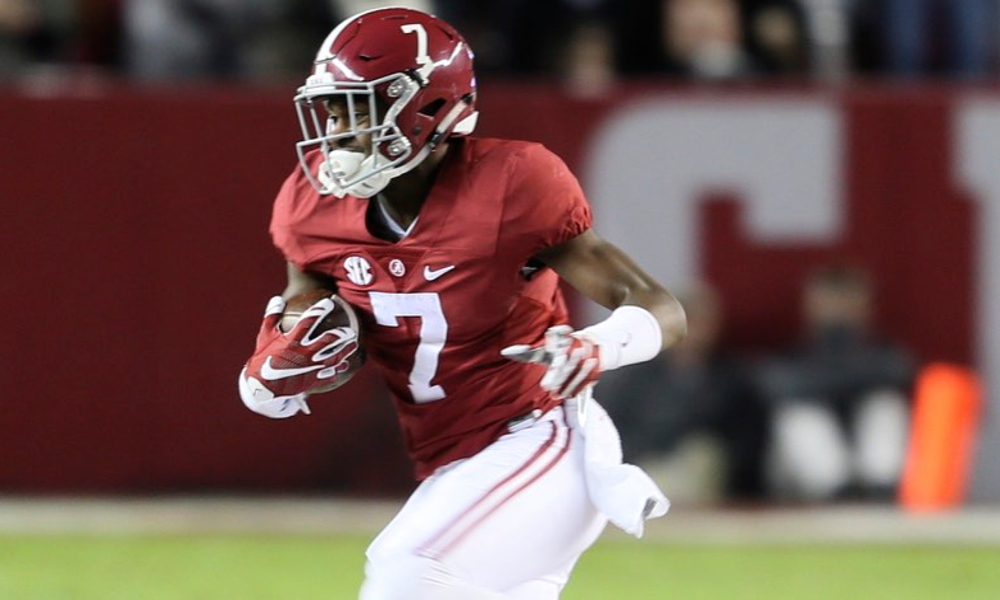 Fall camps are now in full swing across the college football landscape. Each day we grow closer and closer to the much-hyped clash with Florida State in Atlanta. As the season comes to a head, follow Touchdown Alabama's new player focus series, 'Crimson Spotlight', as we break down each expected starter and their impact on the 2017 season.
CRIMSON SPOTLIGHT #2: Trevon Diggs
---
Position: Defensive Back           Height: 6-2
Number: #7                                    Weight: 195
Class:  Sophomore                       2016 Stats: 11 rec, 88 yards, 1 TD
---
Trevon Diggs, brother of Minnesota Vikings' wide receiver Stefon Diggs, started his Alabama career off as a pass catcher, too. After losing Marlon Humphrey and Eddie Jackson from the secondary to the NFL, Diggs was asked to flip to the opposite side of the ball. While that began as a Spring experiment, it appears as though it has become a permanent position change. Fortunately for Jeremy Pruitt and the Tide defense, Diggs may be the answer at cornerback.
His height and long arms allow him to cover tight ends while his foot speed will help keep him from getting beat deep like he did during the Spring game. Diggs' defensive teammates have sung his praise over the past two weeks as he has shined during Fall camp in his new position.
"He has gotten a whole lot better. He's getting more experience and practicing more reps," said starting cornerback, Anthony Averett. "The more reps you get the better you get. You know [how] to react…you see more…I know that worked for me."
Star receiver, Calvin Ridley, also had great things to say about Trevon Diggs, as did Minkah Fitzpatrick – who has become Diggs' defensive mentor.
"He sits next to me in the meeting room," said Fitzpatrick. "He follows me around in meetings and around the [athletic] complex. When he's in the car with me, he's asking me questions. Because I've played the position before, he sees that I know what I'm doing and he trusts me. He's just trying to soak it all in and learn."
What has yet to be seen is whether or not Diggs can be a consistent tackler after spending a year on the other side of the ball. Marlon Humphrey, who is slated to make his NFL debut tonight, was one of the Tide's most physical tacklers in 2016. While he and the track and field champion, Tony Brown, will likely be splitting reps at the number two corner spot throughout Fall camp, Diggs seems to have the upper hand thus far. Tony Brown is an athletic specimen, but his quick-twitch, physical skill set is much more suited for the nickel/star role where he can cover speedy slot receivers.
Trevon Diggs' impact on 2017, should he earn first team reps, is something to keep an eye on as the secondary is expected to be Alabama's strongest position.
Projected 2017 Stats: 45 Total Tackles, 5 Pass Deflections, 2 Interceptions // 15 Kick Returns, 370 yards // 30 Punt Returns, 400 yards, 1 TD
Read More from the Crimson Spotlight Series: 
Crimson Spotlight #1: WR Calvin Ridley
Jake Weaver is a lead writer for TD Alabama Magazine and Bama Hoops Hype. You can contact him via phone at 205-612-5060, or on Twitter @JWeaver_TDALMag