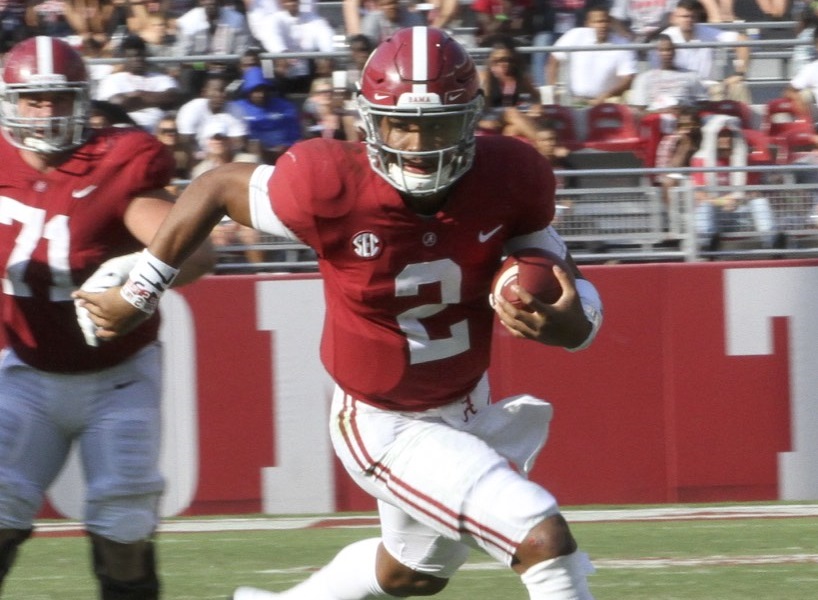 IT's not that Alabama scored 41 points, it's how the quarterback play is progressing that makes Tide fans happy.
Tide Finally Rolling on Offense With Hurts at the Helm
By: Larry Burton
Sure Alabama has scored 41 points before but this time it's the way rolled that made the Alabama fans smile with satisfaction. He only threw 17 passes and only completed 12 of those for a mere  248 yards. This is certainly no big stat, not even for an average Alabama quarterback. That's why stats are simple numbers on a sheet and won't explain the smiles because of the "eye test" the fans, coaches and teammates all saw.
In this game people finally saw Hurts going through progressions instead of seeing his number one target covered and taking off like a deer. He was calmer, more focused and it showed. Fans saw him scatter his passes to different folks. He threw deep, he threw short, he threw to different receivers and to different running backs, and all with success. No one had more than three catches, it was a good distribution.
Though he still was Alabama's leading rusher, many of them were designed runs and not improvisational  bursts from the pocket after seeing his first option covered. So now you add his 105 yards rushing to his 248 yards throwing and now a big 353 yards from Hurts.
Now in week three, fans are learning two things, that the work in progress of Hurts as a passer is showing signs of improvement and that those who thought Tua Tagovailoa should be running the offense can now see that he has a bigger learning curve than Hurts.
So for everyone who had doubts that Hurts was the best option forward after the A Day game, the fact that Alabama lives or dies with Hurts under center is now cemented, or should be, in everyone's mind.
No writer was more critical than I was over Hurts poor passing in the second half of the national championship game last season and earlier in this season no one complained more than I did earlier this season over Alabama's third down percentage ranking, only a few teams of the 130 teams in division one were worse,
Last week Alabama was averaging completing just over 26% of their third down conversions after two games. Last week Alabama doubled that average to over 58%, effectively doubling their average. That is as exciting a realization as Hurts showing progress in his his progression. In fact, the two go hand in hand.
So this week Alabama has good and great news to celebrate. The good news is that they are 3-0 in the young season and defeated one of the best teams in the nation in the first game while still being a work in progress. The great news is that they're showing signs of getting even better.
Alabama's defense will always be at Alabama standards and will always keep them in games, but this team will live or die against good teams by the play of Jalen Hurts. After this outing, that doesn't seem like such a bad thing after all.
Larry has been published in almost every media outlet for college sports and now primarily writes here for Touchdown Alabama. Follow Larry on Twitter for inside thoughts and game time comments at https://htwitter.com/LBSportswriter
THANKS FOR SHARING THE LINK TO THIS STORY ON YOUR FACEBOOK PAGE OR A FACEBOOK GROUP YOU BELONG TO, FACEBOOK RESTRICTS HOW MANY PLACES WE CAN POST IT ON, SO PLEASE SHARE!