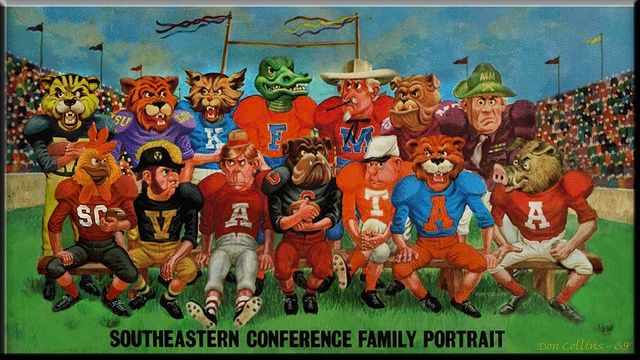 You couldn't have out picked us last week, but you have a shot with this week's games. See if you have what it takes to beat a writer and his pigskin pickin' pooch.
Larry's Losers in the SEC – Week 9 – 2017
By: Larry Burton
Well sports fans, it only took eight weeks, but the pigskin pickin' pooch and I finally made it the promised land, picking all the week eight games with prognosticating perfection. Bacardi the Wonder Dog is just beside himself after the week before's woes and now getting back to where we'd hoped to be all season long. He's definitely in "Who's your daddy" mode since the last whistle.
Oh yes, Bacardi thinks he's Pimp Daddy this week.
So now we'll get on to the task of tabulating the troubled teams that will travel down Losers Lane and populate the pages of the pitiful programs. But before we do, let us say that this past week's perfect picks helped us climb to 55-15 overall. That pushes us back up to 79% correct and we're almost back to a B that would please us greatly. We celebrated this big pick week and my 60th birthday this week in Orlando partying, playing and paying homage to the Mouse. Now it's back to work.
But you're only as good as your last pick, so here we go with this weeks list of likely losers and let's hope that the hot streak continues.
Arkansas at Ole Miss – These two troubled teams try to triumph this week and not end up on the bottom of the SEC West scrap heap this weekend when the Hogs hurry down to Oxford and try wreck the Rebels.
Now folks thought that sooner or later these Swine would figure out why they play like slop, but then since that's all they've been eating so far this season, that should be the first clue.
And despite all the problems at Ole Miss, there's still enough dry powder and talent to hold off a pitiful performer in their home parts and that's what we see happening this weekend. Larry's loser – Arkansas
Some things never change in the SEC and this is one of them.
Georgia vs Florida at Jacksonville – Well the biggest cocktail party isn't supposed to be called that anymore, but tell that to the flask hiders at this contest and you'll see why it still is.
Now these gaggle of Gators just seem to always have the Dog's number in this one despite the records and they're going to come in playing and praying for another miracle and the pooch is worried that this could be the upset game we miss even though the Dogs are vastly more talented.
But by the end of the game, those flasks will come in handy for the Lizard lovers as they'll want to drown their sorrows over this one. Larry's loser – Florida
Every Dog has his day and today's that day for these dogs.
Vanderbilt at South Carolina – The Captain Crunch bunch from singing city sail over to the smooth waters of South Carolina and hope to get back in the same winning ways they started the season with.
But Muschamp's got this brood laying golden eggs and they're hotter than an omelet right off the grill and they're not about to let these singing sailors try and swoon them with song and dance.
And that's how we see it too, as Bacardi says this one could be a blowout. Larry's loser – Vanderbilt
New take on the "Shining"…..
Missouri at U Conn – The Tigers travel up to Yankee Country to hammer the Huskies from U Conn in this contest in Connecticut.
Now the Huskies see a sullen SEC squad, down on their luck and mired in misery and hope to catch this Tiger by the tail and upset these miserable Missourians.
But though they're not doing well by SEC standards, when out of conference, these Tabbies are a trifle bit of trouble to tangle with and it'll be the Dogs headed to the house with their tail between their legs in this one. Larry's loser – U Conn
Yeah, but you should see the other guy…..
Mississippi State at Texas A&M – This week's head scratcher is the game between teams with identical SEC records and histories of running hot and cold, so when Mullen's Mutts head West to Texas to ambush the Aggies, we just don't see an easy pick.
The Aggies aren't playing this in November, so that's a plus for them as their November nose dives are notoriously known.
And the Dogs just haven't lived up to where we thought they'd be by now, so is this their time to shine? The boys in Lost Wages, Nevada have this a one point wager, we see it that close too. But one coach has a job next season and the other one doesn't  and we think the boys know it, so we're going to put Larry's loser as Texas A&M
We are absolutely sure the team with maroon will win this one.
Tennessee at Kentucky – The Champions of Life travel up to the den of the Kentucky Kitties this weekend and try to climb out of last place in the SEC East race by actually winning any SEC contest this season.
Butch Jones is gone after this season, if he makes it that far and it seems the Vols know it and are just playing out their time and waiting for the newest boss to come in and try and sort out this sorrow.
Meanwhile, the Wildcats are trying to finish the season strong and lock in a bowl trip against these losers before they tangle with better teams and that's what will happen this weekend when Larry's loser becomes Tennessee.
Because this season Vol Fans  are so stupid they need to be told what to do.
Well that's it for this week folks, with two possible head scratchers, we are going to watch these games with baited breath, well at least from me and dog breath from my little buddy who's as worried as me about some of these sooth sayings.
It's getting real now folks and the murky waters of the SEC is becoming clearer with this many losers haven been listed. It looks like it's Alabama and Georgia in the big one as we thought at the first of the season, so the only real question is who will be Kings of the losers? That is the only contest really in doubt at this point and many teams are playing like they want that title, so in the comment section below, list who YOU think will be Larry's loser of the East and Larry's loser of the West. Then next week, I'll give you Bacardi and my picks on that sensitive subject.
Till then, let's stock up the snacks and if you have great ribs in the smoker, Bacardi and I do personal appearances. So see you next week, same place, different losers.
LARRY HAS BEEN PUBLISHED IN ALMOST EVERY MEDIA OUTLET FOR COLLEGE SPORTS AND NOW PRIMARILY WRITES HERE FOR TOUCHDOWN ALABAMA. HE WRITES IN A COLLOQUIAL AND IRREVERENT STYLE FOR THIS SERIES OF ARTICLES. LARRY'S VIEWS AND SENSE OF HUMOR MAY OFFEND, BUT HE AIMS TO OFFEND EVERYONE EQUALLY. IF HE HASN'T INSULTED YOUR FAVORITE TEAM WITH LARRY'S LOSERS, JUST WAIT. FOLLOW LARRY ON TWITTER FOR INSIDE THOUGHTS AND GAME TIME COMMENTS AT HTTPS://TWITTER.COM/LBSPORTSWRITER
THANKS FOR SHARING THE LINK TO THIS STORY ON YOUR FACEBOOK PAGE