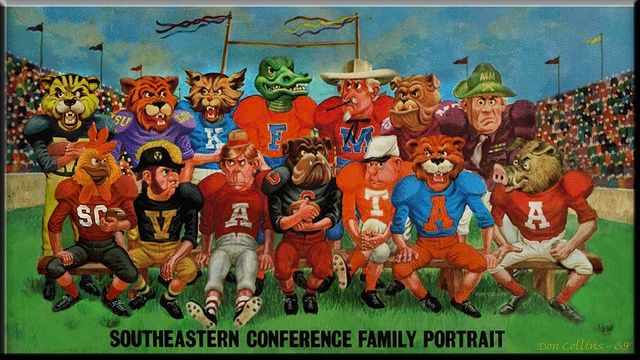 Last week Ole Miss fumbled away a perfect week for us. Do you think you can out pick this pair of pigskin pickin' prognosticators this week? Read and see.
Larry's Losers in the SEC – Week 10 – 2017
By: Larry Burton
Well sports fans, it was just too much to try and get two perfect weeks in a row as Ole Miss not just fumbled away not only a sure win, but our perfect record for last week. But we're not going to hate on Ole Miss any more, but I did have to drive to Oxford on Sunday so Bacardi the Wonder Dog could leave them a little present on the practice field. We're even now.
That loss puts us at 60-16 for the year and we're so close to getting back to a solid B rating we can taste it and this week we still aren't a 100% sure which team the old upset bug will bite, but it seems to always bite someone.
Auburn at Texas A&M – The Tigers from Toomer's toddle on over to Texas to tangle with the Aggies and they feel this is just is another game on the way to winding up the season with big boy Bama.
But Coach Kevin and his dirt scratchers have a few tricks up their sleeves and they hope that these War Eagles have the mindset of their cousin the buzzard and come in looking for prey that's DOA and overlook these middle of road players.
But even they do, they'll wake up by the second half and pull out a win, but the old pug says to watch out because he's feeling an upset bug in this one, but personally I think it's just a flea on his fanny, but in what could be a close one, Larry's loser – Texas A&M
U Mass at Mississippi State – In one of two cupcake classics this weekend, the "We'll look good for a minute men" from U Mass come down to Starkvegas with their hands out for a big payday and they pants down for the spanking that they'll get for that payday.
I'd like to say something witty here but if you want to see humor, watch U Mass try and be competitive in this one. That'll make you laugh. Larry's Loser – U Mass
Florida at Missouri – Two of teams having disappointing years meet up this week when the Gainesville Gators gather and meander into Missouri to tussle with the Tigers of the Show Me State.
Florida's really looking flat this season and Missouri has been like LSU, one of the teams that run hot and cold, so you just don't know how to pick this one, especially with the Lizards losing their leader this week.
But after a lot of head scratching and even a few coin flips, we're going to try and remember that Missouri is just not a good team and that the Gators may have more to prove, so we'll go with Larry's loser being Missouri.
Western Kentucky at Vanderbilt – In the days second cupcake classic, the Hilltoppers cross a few hills and wind up down in song city to pick up a big payday and have the Captain Crunch Bunch put a pounding on them in front of home fans.
Now if the Boat Boys plan on making it to a bowl game this season, this is the one foot putt they can't miss, then it's winning two of the remaining three among the worst three teams in the SEC East.
So with that in mind, you can count that these swabbies won't let this one get away and that Larry's loser will be Western Kentucky.
South Carolina at Georgia – The Carolina Cluckers come a calling on Kirby's Canines down in red clay country this Saturday and and while one is counting on a good pecking, the other's counting on a good plucking.
Now the Col. Sanders Clan has been amazing folks this season by how well they're playing and Coach Boom is hoping he can make a run at a division title by upsetting the dastardly Dogs that have bitten all comers this season.
If the Dogs overlook these egg layers, the yolk will be on them, because I guarantee you these pigskin playing Pullets have come to play. The boys in Lost Wages, Nevada think that these biting Bulldogs are 24 points better and my prognosticating pug pal thinks that's just way too much. So while we do see a win for the home folks, look for it it to be closer than most think. Larry's loser – South Carolina
Georgia's going to treat South Carolina a little rudely this weekend.
Ole Miss at Kentucky – The Rebels, Bears, Landsharks or whatever the hell they're calling themselves this week caravan up to Kentucky to take on the Tabbies in blue.
Last week the Rebels fumbled, bumbled and stumbled their chances of making it to bowl season by giving an easy win away to the sows. They have the talent to make this game theirs, but they also have the dumb luck to blow another one.
When in doubt, and this game could go either way, go with the home team and the one on a hot streak and the Kentucky Kitties meet both those criteria, so that'll make Larry's loser – Ole Miss
At Ole Miss, they change mascots and coaches quickly…
Coastal Carolina at Arkansas – The Chanticleers, and for those of you with a Big Ten education is a chicken, come a clucking down in Arkansas but they're not really looking for a competitive game, just a big payday and a thorough butt whipping and of course, they'll get both this Saturday.
Now for these pitiful Piggies to we, we, we all the way to bowl season, this is a game they'll have to have and they will. This is cupcake classic and they won't miss this six inch putt for an easy win.
The problem for these little Piggies is finding two more wins to rev up the resume and get to big number six. Larry's loser – Coastal Carolina
No matter how cool you make it, it's still a chicken…
Southern Miss at Tennessee – The poor cousin Eagles flap up to Hardknocksville this weekend and hope to find a team that's in disarray, down on their luck and dumping their coach. They think that might help them pull off a cupcake catastrophe and finally give the Vols enough ammunition to blow the business off Butch.
Not that this is gonna happen, because the Vols need a win in this one just to get to four for the season and that means that they'll have to beat both Vandy and those miserable Missourians just to make a bowl game. So this cupcake contest will keep their dream alive for the Sani-Flush Bowl and they'll worry about the rest later.
But a cupcake is a cupcake and these worn Eagles will roll over quickly and Butch Jones will somehow keep his job another week. Larry's loser – Southern Miss
The Vols show no respect to the national bird this weekend in Knoxville. 
LSU at Alabama – The bayou Bengal boys bus up to Bama this weekend for a little Saturday night action and they come remembering the upset they pulled off on this very ground just a few years ago and figure they can pull off another one with a little luck.
And knowing Nick, his schtick is to tell his boys that's just what could happen and that they are ripe for having their fanny chewed on by the upset bug.
But then they'll kick off, reality will set in and the Tigers will realize that with hope in one hand and elephant poop in the other that both hands really hold the same thing in this game and that Larry's loser will of course be LSU.
And there goes a perfectly good weekend for LSU fans….
Well that's it for this week folks. With so many Jekyll / Hyde SEC teams in the fold this season, you never know who is going to show up, so we'll just bite our fingernails and watch along with you this weekend.
So till next week, we're gonna be preparing our best work. To do that we're going to watch every SEC contest twice and I'm getting the pigskin pickin' pooch a new flea collar so he can just concentrate on football and not scratching.
Don't forget to post this on your facebook page and thanks to all the folks who send us cute photo ideas for this article. See you back here next week the good Lord willing and the internet don't break.
LARRY HAS BEEN PUBLISHED IN ALMOST EVERY MEDIA OUTLET FOR COLLEGE SPORTS AND NOW PRIMARILY WRITES HERE FOR TOUCHDOWN ALABAMA. HE WRITES IN A COLLOQUIAL AND IRREVERENT STYLE FOR THIS SERIES OF ARTICLES. LARRY'S VIEWS AND SENSE OF HUMOR MAY OFFEND, BUT HE AIMS TO OFFEND EVERYONE EQUALLY. IF HE HASN'T INSULTED YOUR FAVORITE TEAM WITH LARRY'S LOSERS, JUST WAIT. FOLLOW LARRY ON TWITTER FOR INSIDE THOUGHTS AND GAME TIME COMMENTS AT HTTPS://TWITTER.COM/LBSPORTSWRITER
THANKS FOR SHARING THE LINK TO THIS STORY ON YOUR FACEBOOK PAGE