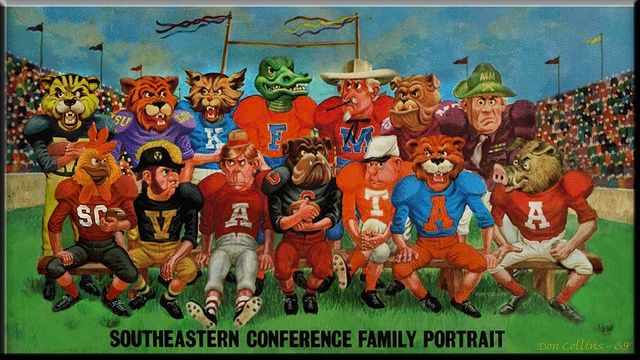 Can you outpick this pair of prognosticators from Panama City Beach? We'd love to know if you do, but it's gonna be hard to do. Read and see.
Larry's Losers in the SEC – Week 11 – 2017
By: Larry Burton
Hello again sports folks, what a week we had last week and even though we missed two games, one very badly, it was a week where we just enjoyed watching the wars and seeing how some teams did so little of what we thought they could do and should have done, to teams that just dazzled us with performances we just didn't think they had in them. College football, much more than pro, is all about emotion, pride and simply riding some excitement and taking total control of momentum. We picked Florida to win over Missouri and the Tigers simply shredded the Gators by the biggest margin loss we've ever missed. The other loss was Ole Miss, who farted, fumbled and fainted last week in giving away a game they should have won but they managed to dodge the bullet this week in beating Kentucky.
So now we're sitting at 67-18 for the year and the poor pooch has been hitting the bottle hard for not seeing that Missouri miss coming. But I've sobered him up long enough to help me get this week's picks in the parade and we're feeling like we're due to have another perfect week. So let's just get going and leap into this week's list of losers and laugh at the lot of them.
Arkansas at LSU – The poor little Piggies at the bottom of the SEC West come a calling on the Cajun Kitties down in Baton Rouge and they're hoping that these Bayou Bengals are still so sore from tussling with the Tusked Ones from Tuscaloosa that there won't be enough gas left in the tank to get them on the Bayou Barbecue.
Yes, the Hot Springs state Swine are feeling the love after finally winning an SEC contest and now they're planning on coming back from seconds and hold onto those slim hope bowl dreams for this season.
But these Tigers aren't about to let a good meal like this pass by they are ready to make a move towards a better bowl game, so don't look for an upset here. Larry's loser – Arkansas
Louisiana at Ole Miss – The Rajun Cajuns come a calling on their neighbors the Ole Miss Landsharks and they're coming with their hand out for a big check in return for keeping the Fish Head's slim bowl hopes alive.
Yes, this is a cupcake with extra icing and if you're looking for the upset bug here, keep moving, nothing to see here.
Though this win will get them to five wins, that sixth win might just be a hard row to hoe with the last two games having tough opponents, but they'll celebrate this week and continue to dream of what can still be. Larry's loser – Louisiana
Florida at South Carolina – The gutted Gators take what's left of their tribe and head up the big Chicken coop in the Carolinas to take on the boys with the big beaks.
Now we'll never know the real story of why the grand man in Gainesville thought this team would be better off to finish the season without their head coach, but judging from last weeks woes, that surely wasn't a great plan.
Since the Gators have appeared to simply roll over and play dead, these Pullets are gonna peck this pack these lousy lizards like a jackhammer and surely make this game's Larry's loser – Florida
You can look like a Gamecock, but these Gators won't play like one today.
Georgia at Auburn – Kirby's Canies come down to wire grass country to take on the Tigers of Auburn variety for a little Saturday afternoon squabble.
Now the Tigers are hoping that with the SEC East in their pocket and their ticket punched to Hotlanta for the SEC Championship Game that maybe they'll rest on their laurels and overlook these Tabbies with an eagle buddy and have the upset bug bite them hard.
And the betting boys in Lost Wages, Nevada seem to think that this is close to a 50/50 game with the number one team in the nation just a 2.5 point favorite. Meanwhile, the pigskin pickin' pooch and I don't see it that way and think that these Dogs have come raise their leg an Auburn's hopes for an upset and we see at least a 10 point win making Larry's loser – Auburn
We think this is how it's going to end, but we're nervous.
Kentucky at Vanderbilt – The Kentucky Kitties swing on down to Singing City and hope to get back on the winning path after a let down last weekend against Ole Miss while the Captain Crunch Bunch walked over the Kitties' poor cousins, the Hill Toppers.
Now this has been the game that's been keeping us awake the last few days because both these teams can be oh so hot and oh so cold. The betting boys almost have this a coin flip too, so at least we're not the only ones confused over this one.
Vanderbilt really needs this game to keep their bowl hopes alive while Kentucky has already met that requirement, so Vandy sure has a lot more to play for. That's why we're going to go Cats in this one because that's who we feel is just the best overall team. That'll make Larry's loser – Vanderbilt
Alabama at Mississippi State – The Tusked ones from Tuscaloosa travel down to Starkvegas to mix it up with Mullen's Mutts and many think that this could be a close game like the one Alabama had the week before.
Now the Bulldogs are hoping that the Tide is still weary from the war with the Bayou Boys and and are ripe to be tripped up this weekend on the road while they're still healing up.
But Saban's got more top players on the bench than these pooches have in their whole starting lineup, so just like the cream rises to the top, so do top teams, so that'll make Larry's loser – Mississippi State.
New Mexico at Texas A&M – The lame Lobos from cactus country come over to Texas to see how they stack up to an SEC squad, but farmers are used to killing off Wolves who bother the livestock and this won't be any different.
Now Coach Kevin doesn't have enough wins this season to maybe save his job, but he's hoping that a late season rally could buy him another year at the helm at this high paying gig.
In any event, this win will get them to a bowl where maybe he can add one win to the total, so that'll make Larry's loser – New Mexico
Tennessee at Missouri – The Vols aren't going to a bowl this season so they're excited to take a trip to Missouri and the scenery on the way may be the only thing they'll enjoy about this trip as the men from Missouri aren't exactly putting out the welcome mat.
Three of their four wins came against cupcakes and Tennessee may end the season as the only team without an SEC win making them the biggest SEC joke since they actually thought they'd contend for the East title this season.
So if this game doesn't seal Butch Jones fate, I'd love to the pictures he's got of his boss as they'd be a lot more interesting than watching the Vols play football. Larry's loser – Tennessee
When you trap a Tiger, you don't want to be in the same box with it.
So that's it for this week folks. We hope you see if your picks are different from ours, let us know in the comment sections and if you agree with them all, just tell us how damn smart we are.
It's going to be a great week for watching the wars, so stock in your snack, put new batteries in the remote and plan your Saturday well. If your team's on the losers list, get the alcohol or crying towels ready and if your team is on the other side, bite your fingernails and await the outcome and pray we're right. See you next week!
LARRY HAS BEEN PUBLISHED IN ALMOST EVERY MEDIA OUTLET FOR COLLEGE SPORTS AND NOW PRIMARILY WRITES HERE FOR TOUCHDOWN ALABAMA. HE WRITES IN A COLLOQUIAL AND IRREVERENT STYLE FOR THIS SERIES OF ARTICLES. LARRY'S VIEWS AND SENSE OF HUMOR MAY OFFEND, BUT HE AIMS TO OFFEND EVERYONE EQUALLY. IF HE HASN'T INSULTED YOUR FAVORITE TEAM WITH LARRY'S LOSERS, JUST WAIT. FOLLOW LARRY ON TWITTER FOR INSIDE THOUGHTS AND GAME TIME COMMENTS AT HTTPS://TWITTER.COM/LBSPORTSWRITER