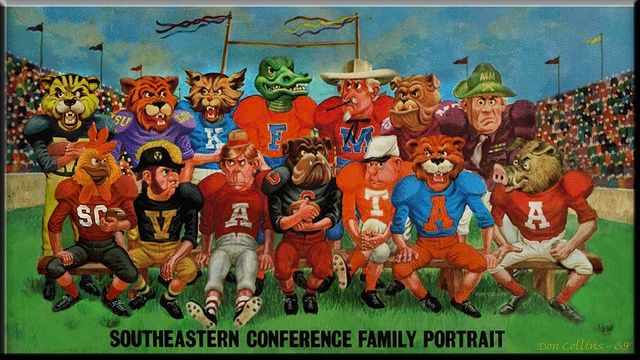 After yet another week of perfect picks, we're ending the year on a happy hot streak, but this is rivalry week and anything can happen. Did we make the right picks? Read and see.
Larry's Losers in the SEC – Regular Season End – 2017
By: Larry Burton
Welcome to Rivalry Week sports fans, that wonderful week where most teams wage warfare with their worst enemies, the cross state or next state rivals. What a week this is going to be, it's a fitting way to end this wonderful season.
Speaking of wonderful things, guess who was perfect in all their picks this week? Yes that's right, we went 9 for 9 last week bringing us to 83-19 for the year and for the math impaired, that brings us back up to a solid B and cements us in first place among all prognosticators from TV, print and all forms of media. Bacardi is just beside himself.
So let's see if we can stay on that hot streak and list those losers in not just a laughable, but laudable way again this week. And next week, we'll have Larry's losers in the SEC big SEC Championship pick. But for now, on this week's warfare woes…
Ole Miss at Mississippi State – In the early game on Thursday, we get an extra thanksgiving day treat when the Rebel Landsharks come to visit their cross state Canine cousins in a contest to settle bragging rights for the Egg Bowl Trophy.
Now this is the only thing that Ole Miss can put in the trophy case this season as theses Landsharks have been hooked, reeled in and gutted by most teams they've faced this season after getting their coach canned for call girl comradery.
The only thing that could cause this pick to poop are the Dogs worried about all this Mullen to somewhere speech. Otherwise these Bulldog's bite is much worse than their bark and that'll make Larry's loser – Ole Miss
Missouri at Arkansas – Friday's special treat is the now mighty Missourians headed down to the Hog Pen to try and picnic on the Piggies like every other SEC usually does.
These sad sack Sows have been competitive in so many SEC contests this season yet have only one win to show for it and even with a win this week, they still won't make a bowl game. Still they don't want to be the little Piggie that goes "We We We" all the way home.
But these Tigers aren't about to let this pack of Pigs catch them by the tail and keep them for a much better bowl and though it might be another close one, we're sure Larry's loser will be Arkansas.
Georgia at Georgia Tech – The big bad Bulldogs travel up to Hotalanta to try and take the sting out of the Yellow Jackets in what will be the first of their next two games in that city.
Now they'll be more rushing in this game than five o'clock traffic on the the 285 around Atlanta and this stinging squad figures that their defense knows more about stopping the run than their down the freeway Dog rivals and can come out ahead in this one.
And that might be right, but since these dastardly Dogs can also pass the ball, this is the difference in the game so with Kirby's Canines being a more balanced squad, that makes Larry's loser – Georgia Tech
Florida State at Florida – Who would've thought at the first of the year that these would be the worst two teams in the sunshine state? But when these wounded war painted warriors gather up at the Gator's ground, that'll be the case.
Last week these Gators finally ended a five game skid and they're hoping to keep riding that hot streak and end up eating these Seminoles and the horse they rode in on.
Now neither team is going bowling unless there's some sort of miracle, but these feather headed footballers know they're a better team that this record and we think so too, so that'll make Larry's loser – Florida
Louisville at Kentucky – The Red Birds fly over to the Kentucky Kitty corner and the winner can claim to be the Blue Grass boss before going bowling.
Now everybody's expecting last year's Heisman hauler to hurl a ton of passes and put a hurtin on these cross state Kitties and that may be the case.
But Bacardi the pigskin pickin' pooch says to watch this one for a possible upset bug special as these Kitties have claws and we both see this as closer than most think as they battle for the Governor's Cup. But in the end, we still think Larry's loser will be Kentucky
Alabama at Auburn – The only game with national implications takes place when the tusked ones from Tuscaloosa travel down to take on the Toomer's corner Tabbies in this year's edition of the Iron Bowl.
Now these Tigers have scratched and clawed their way through a tough season and in the last game of the season are still have their eyes on the big prize.
Most think this could be a war worthy of both these warriors and it very well could be. Now I'll be partaking this party from the press box and something tells me that when it's all over and I drive out of town that there won't be any toilet paper tossed at Toomers and that it will be used instead to dry the eyes of the fans who lost the prize, making Larry's loser – Auburn
Vanderbilt at Tennessee – The Commodores set sail to the stadium by the river and plan on dropping anchor on the heads of these Vols and while neither will go bowling, taking the Tennessee title will make sitting at home in the holidays a little easier.
Now the sad fact of this game is that the winner won't be worst team in the SEC and the loser will, so it really doesn't matter to awful much who wins this game. Bacardi warns me that this one could go either way and we aren't real sure on this one, do don't bet the house on this pick.
So in the real "Who cares" game of the day, we care because we want another perfect pack of picks to pretty up our record, so we'll go with Larry's loser being Vanderbilt.
Clemson at South Carolina – Those Carolina Kitties come a calling on the cross state Carolina Cluckers in a contest to decide the King of the Carolinas.
Now Dabo's Tigers have already had one slip up and they know another and they might not mingle among the teams left to tangle for the big prize, so they plan on taking no pity on these pullets.
Meanwhile the whole coop full of cluckers think they have one more miracle in them and they'd love to catch this Tiger by the tail and ruin their post season plans. And while it could be the upset we're missing, we do think this could be a closer contest than most think, but it'll still be South Carolina on Larry's losers list.
Texas A&M at LSU – The College Station clan busses down to the bayou to battle the Bengals in a night game at LSU and they'll find out that this isn't the friendliest stop they could make for a night on the road.
But coach Kevin thinks now that his den of dirt farmers have ended their November nosedive that they can keep the streak going for a while.
However, Coach O says something which we didn't understand except "Go Tigers" at the end, but the look on his face looked like a man with a plan and we both think it's going to go as planned for the bayou bunch. Larry's loser- Texas A&M
Well folks, we hope you all enjoyed this season of Larry's losers and had a big bunch of turkey this week. The only thing you can be sure of in rivalry week is that you can't be sure of very much and we're awful nervous about the outcome of some of these picks.
The regular season may be over but the list of losers just keep on going. Next week we have the SEC Championship Game pick, then the first round of bowl picks followed up with second round of bowls and the final playoff for the whole shebang. So finish up your Christmas shopping, stock up on your game time snacks and settle in for a great week of football. Bacardi the Wonder Dog and I thank you for your readership, all the likes, shares and comments and emails over this regular season and we won't you to know that you're the reason we keep on clicking on these keys to bring it to you each week. Have a wonderful Thanksgiving and give thanks to God for this wonderful country, people that defend our freedom and college football.
LARRY HAS BEEN PUBLISHED IN ALMOST EVERY MEDIA OUTLET FOR COLLEGE SPORTS AND NOW PRIMARILY WRITES HERE FOR TOUCHDOWN ALABAMA. HE WRITES IN A COLLOQUIAL AND IRREVERENT STYLE FOR THIS SERIES OF ARTICLES. LARRY'S VIEWS AND SENSE OF HUMOR MAY OFFEND, BUT HE AIMS TO OFFEND EVERYONE EQUALLY. IF HE HASN'T INSULTED YOUR FAVORITE TEAM WITH LARRY'S LOSERS, JUST WAIT. FOLLOW LARRY ON TWITTER FOR INSIDE THOUGHTS AND GAME TIME COMMENTS AT HTTPS://TWITTER.COM/LBSPORTSWRITER