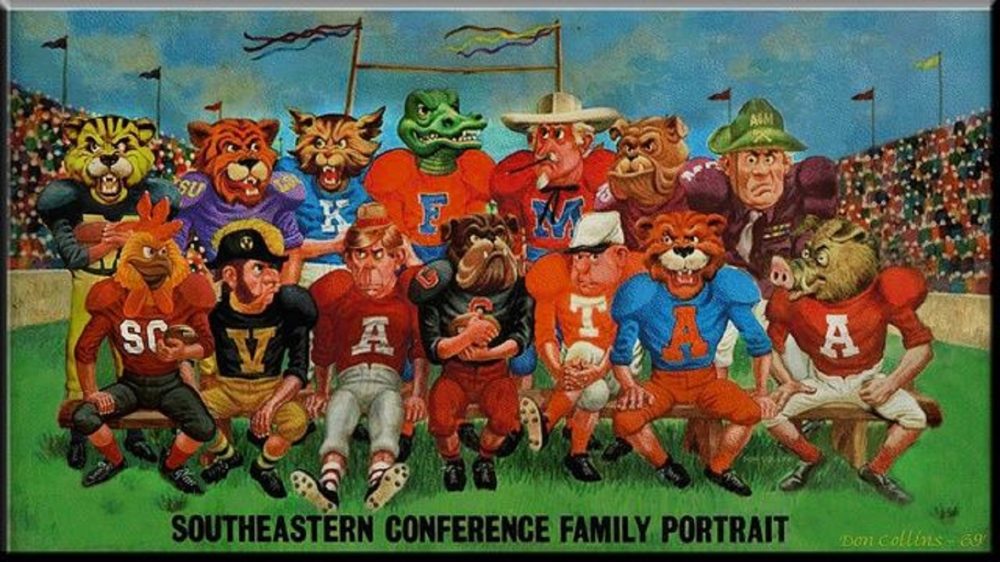 Larry Burton – Larry's Losers in the SEC is listing the losers of the bowl season and also is giving you the information in a way that gives you the schedule and television station they'll be on. See if you agree with the picks we've placed.
Larry's Losers in the SEC – Bowl Schedule and Picks – 2017
By: Larry Burton
Well sports fans, nine of the fourteen teams in the mighty SEC made the bowl season, now it's our time to list the likely losers and this year we're going to do it in a way so that you have the bowl schedule too along with where you can see them.
It looks like it's going to be a rough bowl season for the SEC and there's lots of room for losses and even more room for upsets. Boy the poor pigskin pickin' pooch has wracking his poor little mind trying to find where the upset but is going to bite and I'm trusting his instincts since he's been mapping flea bites most of his life and generally knows where to find them.
So with my intellect and Bacardi the Wonder Dog's instincts, we think we've got a fair shot of listing these losers with a longshot of picking them all perfectly. So here we go.
12/27/2017 – 8:00pm (all times CST) – Texas vs Missouri – Texas Bowl – Houston Texas – ESPN – The Longhorns mosey over to Houston to take on the Tigers of Missouri in the Texas Bowl. No really, the Texas Bowl. No sponsor name, no catchy phrase bowl, just the Texas Bowl, a bowl game in played in Texas. Who was the marketing genius who came up with that?
Now these Bulls have played a lot like steers lately and have been regularly neutered by ball teams for several years now. But a new sheriff in town, these Cows hope to stampede in a new direction and they seem to be headed to getting some new game balls.
But another team is rebuilding and they seem to be getting there a little faster and unfortunately for the future Big Macs it's the mighty Missourians and these Tigers want to end this season on a high note and we both think that this is what will happen. While it might be a battle, in the end these Tigers down the Texans. Larry's Loser – Texas
Long day for the Longhorns….
12/29/2017 – 12:00pm – Wake Forest vs Texas A&M – Belk Bowl – Charlotte, N.C. – ESPN – Those demonic Deacons come to Charlotte, but they're not going to a church like the good Deacons, after all, they are the Demon Deacons and they've come to raise hell and try and drag the Aggies down in defeat in the department store bowl.
Now both these teams come in at 7-5, but only one team expected to do a lot better, so these wayward church leaders are gonna try and catch a team between coaches and feeling sorry for their sad sack season. Now the betting boys think this what's going to happen too.
But we think these Texas troubadours will tally up one more win for the season to get things started for the Jimbo Fisher era and in the first upset of the SEC bowl season, these Ags will have the brags when the final whistle sounds. In what should be an entertaining contest, Larry's loser will be Wake Forest.
12/29/2017 – 3:30pm – Kentucky vs Northwestern – Music City Bowl – Nashville, Tn. – ESPN- The Kentucky Kitties caravan on down to Song City to take on their brother Cats from up in Yankee land and their won't be any catnip offered to the other in this one as this is gonna be a cat fight from kickoff to conclusion.
The Kentucky Clawers have had an up and down year this season and any team that catches them on a hot day is gonna pay. Problem is, the temps that day may kinda low and we're afraid these blue grass ballers may be too.
Now the Northern Wildcats think because they have a 9-3 record, they can cakewalk across their Mildcat brothers from the South who put up a paltry 7-5 slate. Even the boys in Lost Wages, Nevada think this is a done deal too and the Big 10 Meowers are a big favorite. And while we see them getting the W and giving the SEC their first black eye, it could be closer than people think. Larry's loser – Kentucky
12/30/2017 – 11am – Louisville vs Mississippi State – Taxslayer Bowl – Jacksonville, Fl. – ESPN – The Redbirds fly South for the winter as they should and they settle on a stop in Jacksonville to feather their bed with the fur off the Bulldogs butts in this bowl bash.
Now the Mississippi Mutts are without their beloved head coach who left to try and train some Gators as well as their quarterback who has razzled and dazzled at times this season and sparked more fires than a Bic Lighter. But they figure that at the end of the season defense rules and they still have one of those intact.
But something tells me these Dogs might as well chase their tails because it'll have the same result as trying to catch these birds. They say that one bird in the hand is worth two in the bush, but without thumbs, these Bulldogs may not even grab one. Larry's loser – Mississippi State
1/1/2018 – 11:00am – Michigan vs South Carolina – Outback Bowl – Tampa, Fl. – ESPN2 – The Michigan Mustelids, (now there's a word for your vocabulary word of the day, Google it if you don't know it), are going to Tampa to try and enjoy the warmth and a big Chicken dinner courtesy of the Carolina Cluckers.
Both teams have similar records, but the Cluckers feel like they're on a bit of a hot streak and can wallop these Wolverines like they have in past.
But something tells us that these Wolverines have payback in mind for the last meeting between these two and this is the game the Big 10 boys will hang their hat on for superiority over the SEC. Larry's loser – South Carolina
1/1/2018 – 11:30am – Univ. of Central Florida vs Auburn – Peach Bowl – Atlanta, Ga. – ESPN – The Golden Knights ride their white horses up to the new Peach Bowl party site this New Year and plan on slaying the Tigers of Toomer's Corner like they were yesterday's dragon.
Now these footballers in shiny armor think they were robbed for not making the playoffs and they intend on showing the world that the committee that tallied the teams made a big mistake leaving them out by whipping these troublesome Tigers once and for all.
Instead, we both think it'll be Auburn who'll make the case of who should be ranked higher and once this battle begins, these Tigers will quickly find a way to peel these players of their armor and scratch them in places they thought couldn't be reached. Larry's loser – UCF
1/1/2018 – 12:00pm – Notre Dame vs LSU – Citrus Bowl – Orlando, Fl. – ABC – The Pope's pigskin players take a trip to Mickey Mouse's main home and intend to convert the Bayou Bengals from winning sinners to non winners in this noontime contest.
There was a time when these golden domers thought they had a shot to win it all, but they know that with a big win today, that it will convince the unbelievers that they are truly a blessed bunch of ball players.
But everybody with any common sense knows what happens when you try and Baptise a Cat and these Papal pupils will soon learn this lesson the hard way. Larry's loser – Notre Dame
1/1/2018 – 4:00pm – Georgia vs Oklahoma – Rose Bowl – Pasadena, Ca. – ESPN- Kirby's Canines have made the big Dog show and they're taking on the big bad Boomer Sooners from out Okie way in the granddaddy of all post season pigskin parties, the Rose Bowl.
Now these covered wagon warriors come into this game thinking they're the hottest thing this side of the sun and they don't think these footballing flea bags are going to foul up their trip to the final game.
But Bacardi and I don't think that this how this one will end. While the covered wagon clan has a heck of a scoring machine, we think their defense is for the Dogs and if this gets into a track meet, we think that even though these Dogs look like their faces are all shoved in, they'll still win by a nose. Larry's loser – Oklahoma
1/1/2018 – 7:45pm – Alabama vs Clemson – Sugar Bowl – New Orleans, La. – ESPN – The tusked ones from Tuscaloosa travel to Sugar City to try and earn a sweet win over the Clemson Kitties in the first round of the big show playoffs.
Now these two teams have battled twice already for the big prize and these top rated Tabbies feel they can pick up where they left off and once again find a way to bamboozle these Bama boys once again.
But we both think that even though Alabama may have slid into this party through the back door but they have an awful lot to prove and they'll find a way to show the folks that this is one party that they not only belong at, but one that they own. Larry's loser – Clemson
Another game, another Tiger… This one of Clemson variety.
Well folks that's it for this season except for the biggest game of the year, and at this point we're only hoping that they'll be an SEC in it so we can list the last loser of the season. So this old college football codger and his pigskin pickin' pooch will be watching all these games with baited breath and be hoping that at least one of them makes the big show, but are secretly hoping that both SEC teams make the final festivities. That would sure make the rest of the country whine like losers and since we're in the business of laughing at losers nothing would please us both more to end the season with the biggest laugh of all.
LARRY HAS BEEN PUBLISHED IN ALMOST EVERY MEDIA OUTLET FOR COLLEGE SPORTS AND NOW PRIMARILY WRITES HERE FOR TOUCHDOWN ALABAMA. HE WRITES IN A COLLOQUIAL AND IRREVERENT STYLE FOR THIS SERIES OF ARTICLES. LARRY'S VIEWS AND SENSE OF HUMOR MAY OFFEND, BUT HE AIMS TO OFFEND EVERYONE EQUALLY. IF HE HASN'T INSULTED YOUR FAVORITE TEAM WITH LARRY'S LOSERS, JUST WAIT. FOLLOW LARRY ON TWITTER FOR INSIDE THOUGHTS AND GAME TIME COMMENTS AT HTTPS://TWITTER.COM/LBSPORTSWRITER