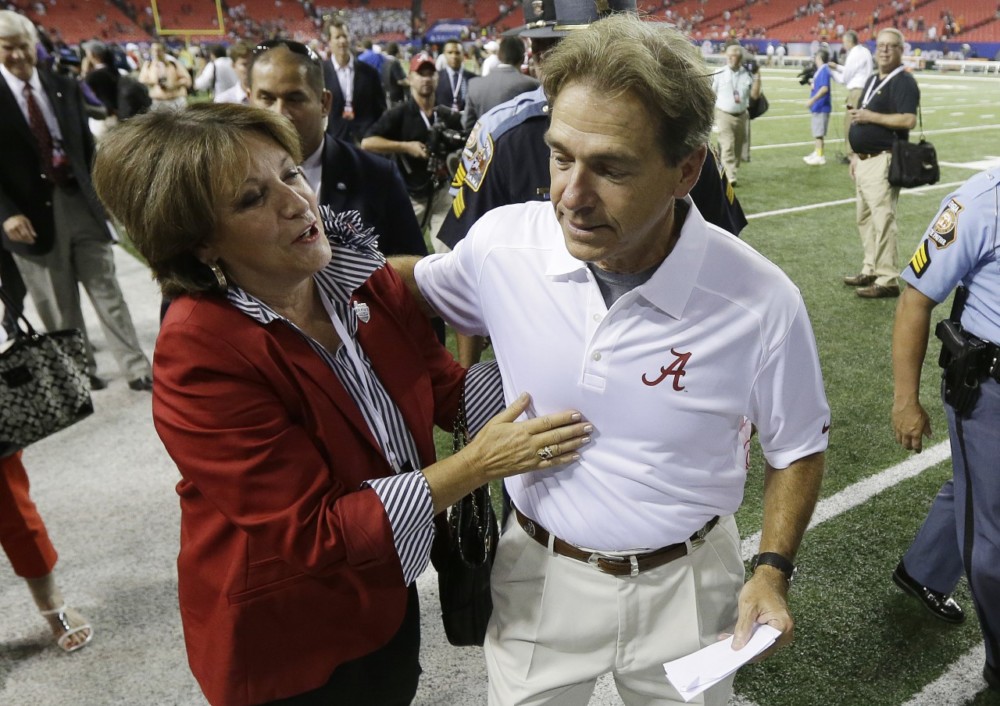 While it may be debatable on whether Nick Saban made Alabama the best present day program, or Alabama made Nick Saban the best present day coach, no one can argue that Alabama finally gave Nick Saban he didn't have at his other stops, a home.
Saban Found More Than Success at Alabama, He Finally Found a Home
By: Larry Burton
At a meeting several years ago, maybe into year two of the Nick Saban era, I was asked by Mal Moore in the presence of Nick Saban himself what was the worst thing I ever wrote about our new coach. Without hesitation, I said, "That he was a hired gun, but I didn't care as long as he shot all our bad guys." Nick Saban couldn't resist smiling and he leaned over and said, "That may have been true at one time, but I'm home now."
Now nine years later, he and Terry have decided to sign on to yet another contract, one that will take him through 2025, the year he'll turn 74. That gives him eight more years at the reigns of the nation's best college program. And given that he's won five national championships in just eleven years in Tuscaloosa, it's all but a sure bet that he'll leave a few more championship trophies in the case before he hangs it up.
At that meeting, Mal Moore smiled and told the story of how he "captured" Nick Saban and Nick sat, listened and laughed and interjected comments. Mal told how he knew he had to sell Terry on the idea and let her be his ace in the hole. It was fun watch Nick and Mal having fun but as an amateur psychologist it was easy to see that the two genuinely not only liked one another, but felt family comfortable with one another. In a sense, Mal Moore sort of became a father figure and the banter between them had that kind of comfort and joviality.
Looking back, Mal didn't just offer Nick Saban a job, a place to practice his profession of being the "hired gun", Mal sold him on the idea not just coming back to college football, where Saban's heart has really always been, but coming to a place that could finally be "home".
Once Saban decided on becoming a football coach, he knew and told Terry that there would be lots of moves to lots of towns and that home would just be wherever they were at the time. That was certainly true. As an assistant coach, Saban went from Kent State, to Syracuse, to West Virginia, to Ohio State, to Navy, Michigan State and then a year with the NFL's Houston Oilers.  That made seven stops in 16 years.
Then he became a head coach. Toledo came calling, but after just one successful year there, he was lured back to the NFL to work with Bill Belichick and the Cleveland Browns for four seasons. Though he learned a lot, Saban said those were the "worst four years of my life".
Now 20 years into his coaching career, nine stops later, he became a head coach again, this time at former stop, Michigan State. He stayed there and took a terrible team to the second spot in the Big 10, was seen as an up and comer and was hired away be LSU after five years as the Spartan coach to try and turn their fortunes around as he did Michigan State's.
Once again he took over a team that was wallowing in mediocrity and on the down side of football and his five years there not only got them out of mediocrity, but to the very top of college football by winning a national championship.
Feeling one last desire to try the NFL, Saban left college football again to work as the Dolphin's head coach for two seasons before realizing how much he missed college football.
Now 32 years into coaching, 12 stops later, he came to Alabama. If he stays through 2025. that will be 18 years at his last stop.
Many thought that Saban would last no longer than five years, the maximum he had ever stayed at one place before leaving, but in Tuscaloosa Saban found three things he didn't have at other places. First of all he got what every coach wants, and that was everything he wanted. Bigger stadium, Mal made it happen, great new player facilities and money for great assistant coaches, Mal made it happen. And it was the job that made Terry happy again and Nick is a firm believer that if "Momma ain't happy, nobody's happy". He came to love Alabama, for the history it had and the glory it could bring. It was a place that put up his statue that placed him in a place of honor and gave him a place to build a legacy and be part of a wonderful history at college football's storied institution.
Secondly, Saban had a home. The fans not only took him as one of their own, but adapted him. He was given the house that Terry picked out and given the thing, lock stock and barrel. It was his for as long as he wanted to live in it, coaching or not coaching. It was the first house that really became a home to Nick and Terry. Here they could do whatever they desired and not have to worry about resale when the next job came along.
Lastly, it gave him roots. Nick's children, Nicholas and Kristen both melted into life here as did Terry. Nicholas finished his schooling nearby, Kristin was a local high school cheerleader and loved her time at Alabama. Today both children reside in nearby Birmingham. He also has business interests in the area, the best known of is the Mercedes dealership. The big things that Saban loves and holds dear are in this area. It's where he belongs now. The area is as much a part of him now as he is to the area.
Yes, however you wish to look at it, Nick Saban didn't bring all this glory alone, Alabama helped Nick Saban achieve it. So while the combination of the two brought Nick Saban all the success that both he and the fans may have ever dreamed of, it brought him something more special, it brought him home.
Larry has been published in almost every media outlet for college sports and now primarily writes here for Touchdown Alabama. Follow Larry on Twitter for inside thoughts and game time comments at https://twitter.com/LBSportswriter
THANKS FOR SHARING THE LINK TO THIS STORY ON YOUR FACEBOOK PAGE OR A FACEBOOK GROUP YOU BELONG TO, FACEBOOK RESTRICTS HOW MANY PLACES WE CAN POST IT ON, SO PLEASE SHARE!