Alabama Football News
NFL Draft-bound Minkah Fitzpatrick pins final, heartfelt message to Alabama football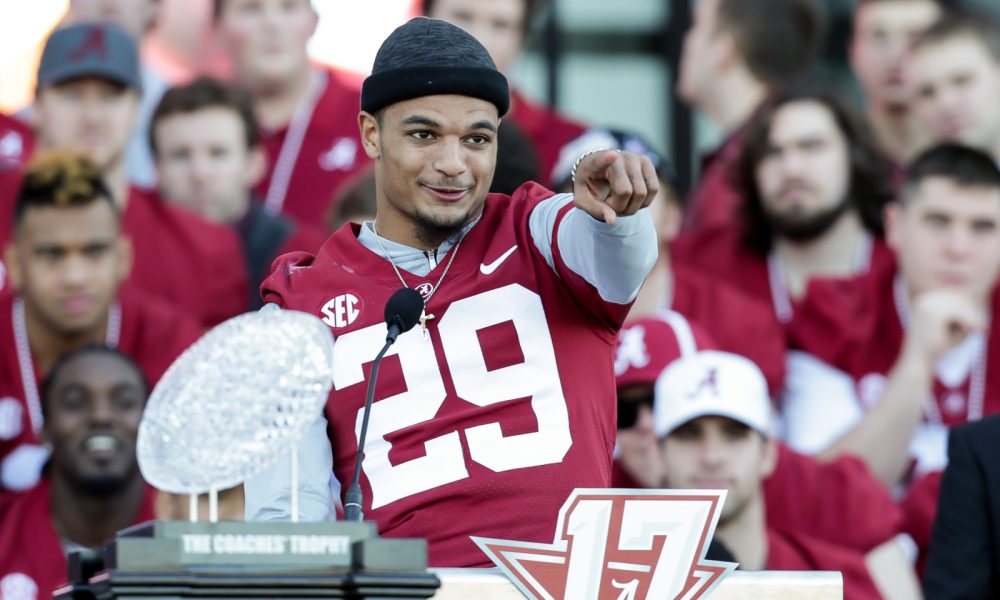 In every university, there is at least one student-athlete that understands the impact and excitement of making a difference in the lives of those in sports and in the community.  
Although its fan base would love to have him for one final season, the University of Alabama received a heartfelt letter from safety Minkah Fitzpatrick in Wednesday's edition of The Players' Tribune. 
Fitzpatrick, a native of Old Bridge, N.J., leaves Tuscaloosa as one of the greatest defensive players to learn under head coach Nick Saban. A two-time consensus All-American and first team All-SEC honoree, he ended his junior year with both Chuck Bednarik (college football's defensive player of the year) and Jim Thorpe awards (college football's top defensive back). 
While he would record nine career interceptions, Fitzpatrick's pair of Southeastern Conference championship and College Football Playoff national titles stemmed from the first encounter he had with Saban. Per his letter, the former five-star said he met the six-time national championship coach at a camp in Tuscaloosa when he was a high school sophomore. 
"I was in his group during the camp, along with a few other DBs, and even though we were 15-year-olds from all over the country, he coached us as if we were his players," Fitzpatrick said.  
"There were no pity claps or "good try's or anything like that. He wanted us to be perfect, and if we weren't perfect, he told us how we messed up in very direct terms. I really liked that." 
From that moment, a bond was formed between Saban and Fitzpatrick.  
Both wanted to achieve perfection and for the projected top-10 draft pick, his personality on the field drew comparisons to his coach. It is easy to view the 66-year-old as a tightly-wound, control freak that only wants to win; however, Fitzpatrick and others understand Saban's competitive side yet they also see his fun side: an aspect in which they all cherish. 
Whether it was watching freshman quarterback Tua Tagovailoa complete a game-winning touchdown pass versus Georgia or bonding with teammates and coaches, Fitzpatrick viewed Alabama as his second home. Shortly after earning his second national championship, Fitzpatrick would declare for the upcoming NFL Draft and take time to sign autographs at different venues. 
Minkah Fitzpatrick || "Natural Born Leader" || Alabama Career Highlights || 2015 - 2018
He brought smiles to a multitude of Tide fans inside of Dick's Sports Goods, including a young girl who cried at the sight of him.
Despite those that know football in Alabama, seeing him interact with you at a common place has significance. 
"Right away I tried to calm her down a bit. I smiled and told her not to be nervous, but she just kind of stood there frozen. I reached over the table and touched her shoulder, and right away she just started bawling. Her parents said how excited she was to meet an actual Alabama football player, and I gave her a hug. It was kind of a scene, but one I'll always remember. This little girl didn't know me, but she knew me. She had developed a connection with me by watching me do what I love. The only thing in the world we probably had in common was Alabama football — and that was more than enough for us to share that nice moment," Fitzpatrick said.  
Like most players, Fitzpatrick came to Alabama for education and football, but leaves with a lot more.
He exits with a wealth of relationships, championship hardware, and fans that believed in him from the first moment he entered the program. Reflecting back on his letter, he still looks at New Jersey as home (as he should) but he coins 'Bama' as family.  In his endeavors at the NFL Combine, Alabama's Pro Day and the NFL Draft, family will be cheering for its Fitzpatrick. 
Stephen M. Smith is the managing editor and senior writer for Touchdown Alabama Magazine.  You can "like" him on Facebook or "follow" him on Twitter, via @CoachingMSmith.